It's official guys. Instagram had hit the 400 million (monthly active users) mark. Yes, there are 8 zero's in it and Instagram ain't kidding.
The numbers are just growing by the days and popular social media tools are integrating Instagram as one of the highlighted features.
The biggest question would be this: How do you use Instagram for business?
Folks, we are going to discuss Instagram in today's post and it doesn't matter if you like it or not. Instagram is a must if you are in social media marketing and that's a definite must.
So, how do you actually use Instagram for business? Here are some super actionable tips you can start using right now (seriously).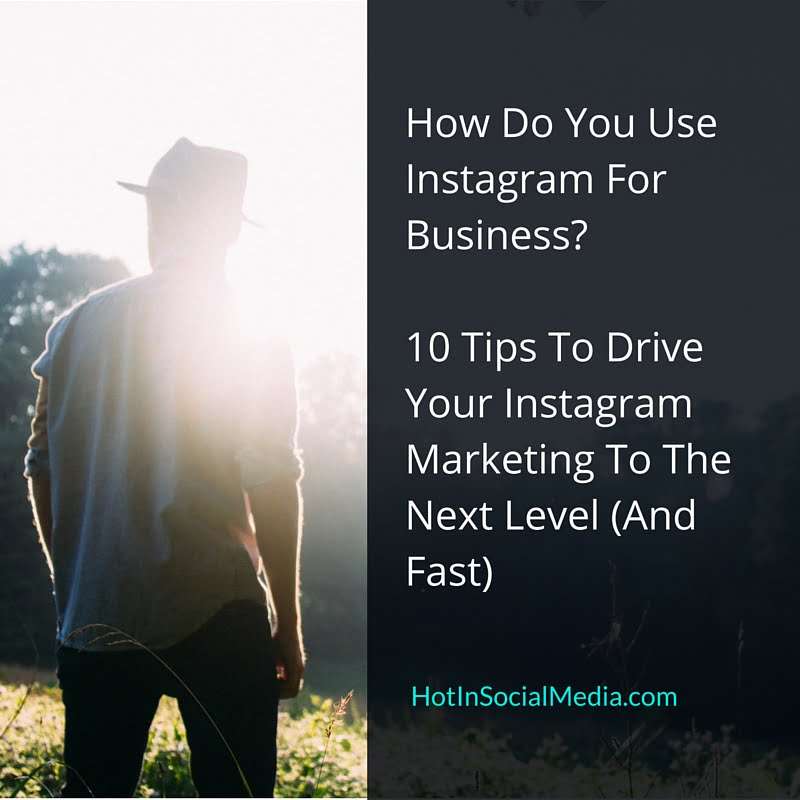 10 Tips to drive Your Instagram Marketing to the next level
1. Create an Instagram account
Don't throw flying projectiles at me but it is the truth. If you do not have an Instagram account, don't worry.
Click on this link (it will automatically open on another tab so you don't have to lose this page) and it takes around 3 minutes to create an account.
Yes, no trick here.
2. Find a damn good Instagram account handler
Have you ever seen an Instagram account name that is pretty much gibberish? Here are a few:
dopqety1268
1351ahdy
typw45ab
No offence but the above are just a few examples (Warning: The above are just purely examples).
If you are choosing an Instagram name, please (please, please and P-L-E-A-S-E) choose something that represents your brand.
Okay — with 400 million active monthly users, you probably won't find the perfect account name but do choose one that is easy to remember and makes sense to your followers.
Here's mine for example:



Having the perfect Instagram account (which is my name — by the way) creates branding and most importantly, brand visibility.
3. Your Instagram bio matters
This is where the fun part begins.
Instagram allows you to add emotions and emoticons to your bio. Well, this is absolutely where you put on your thinking cap and start creating a unique bio for yourself.
Let's take my bio for example:
Success Advocate ? Top 100 Influencers In Social Media & Blogging ? Podcaster ? YouTuber ? Motivator ? Authorpreneur ? Start here ??
I leverage icons and my personal descriptions in my Instagram bio.
For example, I am always focusing on success, personal achievement and as well as my likings. In this case, podcasting, creating YouTube videos, motivating others and writing.
So, how about the "start here" part?
If you view my profile via mobile, "start here" and the two fingers are pointing directly onto my website link. So, does this increase the chances for me to drive traffic from Instagram back to my blog?
Yes, yes and hell yes!
When it comes to creating the perfect Instagram bio, focus on KISS — Keep It Simple Stupid type of mindset.
4. Originality is always the best
You can image anywhere. From Google images to some random royalty free graphics on the Internet.
If you are publishing images to Instagram, take the opportunity to share some images that you took personally. It doesn't only give you the edge but as well as creating your own style which is important for branding purposes.
At the same tie, originality allows you to be creative and start thinking out of the box.
Trust me — if you are an entrepreneur or a marketer, you can thank me later on this!
5. Branding yourself
You don't have to do this for every photo you upload on Instagram, but it is highly recommended to do it from time to time.
Placing your name or brand name in the photos would easily allow your followers to recognize them. Most Instagram tools allow you to place a small watermark in the photo (editing feature).
The only thing you would need to remember is not to overdo it as it can be really annoying for many.
See also: 10 Ways to Grow An Engaged Audience On Instagram Account
6. Don't hard sell on Instagram, please!
I find people who oversell on Instagram is really annoying and I'm sure a dozen of others (including you) may agree with this too.
Instagram is a social platform and it is certainly not a place too hard to sell your products or services. Yes, you could do so from time to time but moderation is the key.
If you are constantly promoting your products in 9 out of 10 Instagram posts, you are going to lose followers and trust. Plus, that move will not help you in your business either.
7. Respond to comments
All of us do get comments from time to time, don't we? But how many times do we actually respond to them?
I noticed that the more I respond to my commenters, I get more engagement back from them in the future (it can be in a form of resharing my image, commenting or liking).
And if you are planning to respond to the comments, remember to tag and mention the commenter or else, your efforts are basically useless.
8. Taking Instagram messenger to the next level
If you are wondering, yes — there is the Instagram messenger and it is used to communicate to others.
However, it is not for you to sell your product or even promoting it. If you are serious on making Instagram work for you, use the messenger feature to build relationships with your potential followers (or current ones).
Trust me, the feeling of being acknowledged or a little "thank you" message to your followers goes a long way, especially in Instagram marketing.
In my experience, the best way to manage social media accounts for people who are using more than one social media for their business or personal accounts is to use a social media management tool, which will help with sending messages from one place as well.
9. Balancing between leisure and business
As an Instagram follower, I feel bored especially when I am seeing constant photos of products / services on Instagram (by the same person).
How about using Instagram for a 'balanced' marketing strategy?
Here's a simple example that you can use:
Work-related images are shared during work times and weekdays
Non-related work images are shared during off work and weekends
Pretty simple right?
10. Cross promoting — duh!
The last one is pretty simple. No one knows you are on Instagram if you don't promote it.
The next time you share an update on Instagram, remember to share it across various social platforms as well.
The good thing? Instagram allows you to automatically publish the images to Tumblr, Twitter, Facebook and a few more social platforms in just a few clicks.
Now it is your turn
Are you ready to take Instagram to the next level? Leave a comment below and tell me what you think!
See also: Six Actionable Tips for Writing Best Instagram Captions