I have recently launched the product called as SE Ranking in November 2012 that helps to track website rankings in search engines. There are a lot of buzz over the net that content is a king of SEO. I have decided to put into practice content marketing (CM) tips and use them for successful website promotion.

How Content Marketing Helps to Increase Traffic
1. Search results tracking
The case study is noteworthy for the opportunity to get clear search results of the marketing campaign because of the lack of other marketing activities with SE Ranking. This tool helps to track website rankings, get a list of search hints to keywords, but it is possible to download this list via the registration. Therefore, except organic traffic on the website, a total number of registrations was chosen the KPI. In addition, we can also track a total number of backlinks and mentions and analyze the overall link profile.
Our targets:
to increase a number of regular users;
to grow the number of registrations;
to create a good link profile to increase website visibility in search engines;
to enhance the growth rates of brands in search.
2. Preparatory works
I should mention that I am using content marketing strategy with Reputation Management. I haven't developed the structure of own channels as it is usually used in classical content marketing. I didn't spend time on organization, optimization and making my own channels like social networks or my own blog. I have decided to simplify this conversion case using the schema "visitor->lead". Actually, I have cut down the half of classical content marketing strategy.
Here is the checklist of preparatory works on content marketing:
Strategic planning of content marketing activities;
Evaluation of key tools for marketing program;
Drafting of main segments for target audience;
Drafting of working plan with certain deadlines;
Drafting of plans with intermediate KPI;
Drafting and scheduling of main points for positioning;
Preparation of analytics systems.
Right now I have prepared all necessary tools and resources for long-term and effective campaign:

Crowd marketing;
Guest post requests;
Review requests;
Social media pitching.
3. Implementation of the content marketing strategy
After preparatory works, I have started to analyze my product with key tools. In general, I just have the service SE Ranking itself and the press release. The first step was to deliver this press release by emails. The result of it was not quite satisfactory, generally, only 238 persons click to the product since day one (1,90%). I have decided to take important measures and go ahead.

3.1. Crowd Marketing
Crowd marketing is the second type of activities for my marketing campaign. It is a massive posting of my brand mentioning on relevant resources and websites with the purpose to boost brand awareness. The main target for me was to do the following tasks:
To register hundreds of accounts on forums, blogs and communities;
To post good comments on them;
To leave mentions about the product, and if I am lucky, leave the link on SE Ranking.
For example,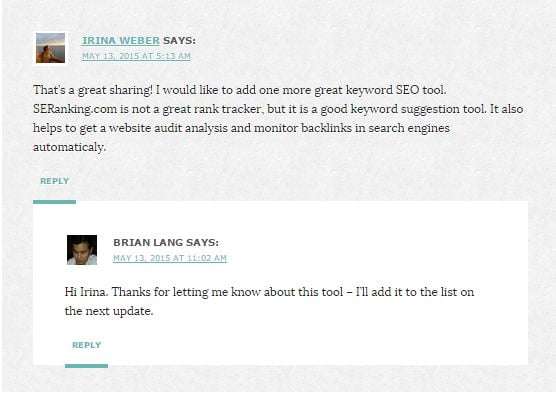 Within 5 months, I have left 250 mentions about SE Ranking on different forums, blogs and communities. 30-40% of them are still live and worthy for attracting traffic and increasing my brand awareness (that was my target!).


Usually, I left comments and posts on topics about ranking tools or SEO tools.

3.2. Review requests
The next target is to get as many as possible reviews about SE Ranking on trusted blogs and websites. I should mention that the hallmark of the product is simplicity. That helps to drive more traffic to SE Ranking and improve the website performance in search. It is a multifunctional service and there is much to say about SE Ranking.
I have started to search relevant websites and blogs, trusted bloggers and SEO influencers. A list of influencers and bloggers with their emails, social media accounts and personal info help to create an impressive email with hope to get a reply back. I have tried to write a personal email for each blogger within this period.
Look at the example of the most successful pitch: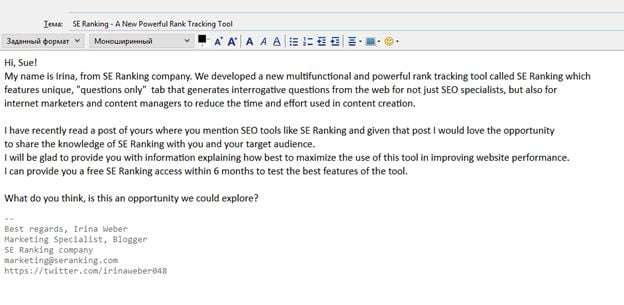 My target was to attract blogger's/influencers' attention starting with the headline and telling him the most important information about the product. The main KPI is the conversion of sent mails into favorable replies.

3.3. Guest post requests
There is much talk about guest posting lately, but I am sure that there is much value from guest posting. I have decided to make a list of topical and authoritative websites and blogs where I can offer website owners my quality guest articles. I have personally written all the articles and have tried to avoid promotional content, but make it quite fresh and viral. I have created different topics about SEO and internet marketing. You can look the example of the post here:


The life hack of work with guest posts is quite simple. If you send bloggers an email with an epic content, you will get a quick reply from him and a good opportunity to post your article on a good source.

3.4. Social Media Pitching
The next step is to stay active in social media networks such as Twitter, Facebook and Google Plus. Actually, Twitter is the best social network to reach SEO influencers. They are always ready to interaction.
What we have done:
I have followed famous SEO specialists and influencers;
I have searched those who have already tweeted and retweeted SE Ranking;
I have tweeted those who wrote something on my target keywords.
4. Results
Before analysis, I should mention that the particularity of this content marketing campaign is orientated at longtermness. For example, if you are doing white SEO, you will be highly interested in growth rates of results. As soon as you stop doing off-page SEO, the index of organic traffic will be decreased because of new search engine algorithms and new competitors on the market that spend more money and efforts to get top ranking results in search engines. Content marketing is considered as a long-term job with a brand.
Within the bounds of this project, I have reached the limit, and now I can stop content marketing campaign at any time, but it doesn't affect a number of new posts and traffic. Because this content is actively shared by users in networks. Including the factor of longtermness, it is possible to understand that any rate of conversion reached with content marketing will be reduced monthly because of «conventional longtermness" of posted content and new user's publications. Let's look at the results.

4.1. Overall results of content marketing campaign
Analyzing results of the campaign, first of all, it is necessary to study Google Analytics data:



Statistics:
Organic traffic: 12 534
Unique visitors: 7 714
Registrations: 371.
Conversions of visits per registrations: 2,95% (34 visits per 1 registration).
Conversions of visitors per registrations: 4,8% (21 visitors per 1 registration).
Content marketing perfectly works for brand and referral traffic, I have got 79, 27% from brand awareness and links.

4.2. Link Profile
Ahrefs was one of the intermediate metrics to explore my link profile. I was interested what link profile I can build due to the results of my activities that are connected more with content than with links. What I have got:


Regionality of links: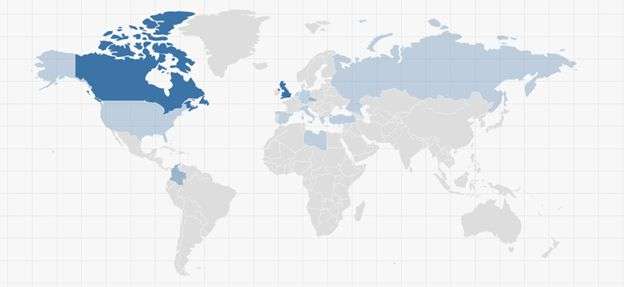 When I was writing this case study, I have found out 96 referring domains and 161 links on SE Ranking. For getting more details, I have gathered a list of top 10 domains with backlinks on SE Ranking.

4.3. Results of guest posts
Within 5 months, I have made 51 guest posts with direct links on my product. In general, I have got 6031 clicks.
For detailed analysis, I have collected all posts in one file, analyzed traffic for each post. I have made this to optimize the content marketing strategy, to find out the most effective sources and channels and define the further work with these sources.


General traffic of these publications made up 3 652 clicks. It is 60, 55% from CTR. Traffic from social media and forums made up 2 379 clicks (39, 45%).
Engaging analytics:

I didn't get any traffic from https://blog.bufferapp.com/. I guess it is connected with the peculiarity of the content itself. I have posted 39 tools and users can just lose the tool out of sight.
the most powerful post was on http://contentmarketinginstitute.com where 1423 visitors clicked the website that made up 23,59% of all organic traffic and 38,96% of traffic from guest posts;
10 posts (20% from all publications) made up 91,54% from CTR and 55,43% from all organic traffic;
20 posts (40% from all profile) gave me traffic that is equal 0;
4.4. Financial analytics
Starting this case study, the budget of the campaign was $9250 ($ 1850 per month). In fact, I didn't spend money on publications, all posts were published for free. The entire amount of the budget was calculated based on the personal cost of an hour of specialists and their amount of time spent on the project. As a result, I have obtained the following figures:

5. Conclusion
Content marketing helps SE Ranking to get enough organic traffic after the first month, and analyze this way of audience capture. I've got 371 registration, 12 534 visits and a good link profile with authoritative domains. This link profile made us get the leading positions in Google US based on the main keyword.



A few points:
Content marketing is an expensive way of promotion.
Content marketing is not for you, if you don't have anything to say and interest target audience.
Content marketing gives long-term results, although they are clear after preparatory works and cost efficient for several years.
Content marketing helps to build up a good link profile and can be a good way to replace a part of off-page works.
Content marketing without a long-term strategy loses its potential.

See also: 10 Ways To Drive More Traffic To Your Website