With the risen of video, every social network today is trying to improve the user's experience when it comes to sharing moments, thoughts or ideas.
This time Instagram introduced a new feature to the live video option: Go Live with a Friend on Instagram. This feature allows users to add friends or followers to their live video as guests. This step was made in order to encourage more and more of the 800 million users to share their thoughts live. This feature was first launched this August, to be tested by a small group of users in order to see the traction it has.
Following-up the feedback received from the beta testers, Instagram released the new feature to the public, encouraging users to engage with the live videos more. If maybe there was somebody too shy to do one by himself or herself, now it's the perfect moment to share moments with friends: whether for making plans to go on a holiday and ask recommendations from followers with pros and cons or making homework.
The new feature is easy to use: when starting a live video, you can choose a guest from the ones that are watching it. You just have to tap the new icon on the bottom right and add the follower you want to have a chat with. After this, the screen splits into two and your friend will appear below you. You can choose to remove your guest at any time and add a new one. Of course, your guest can choose to exit the live video at any time. When the live video ends, you can choose to share it with your story or discard it and it will be forever gone,  as it happens with regular live videos.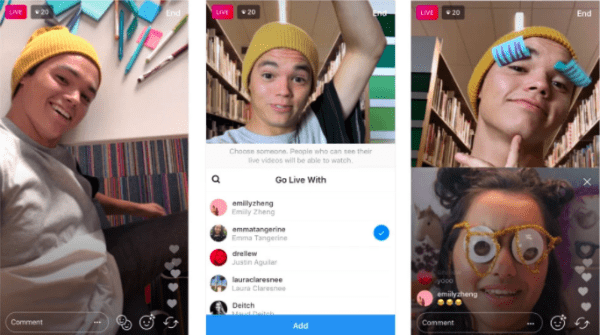 When one of the users you follow starts a collective live video with a friend, you will see two circles stacked together in your stories bar. To see it, you just have to click on it, being also able to comment and like it as you watch it.
This update is perfect for businesses as well, as they can now use the live video feature taking interviews, asking opinions from celebrities or influencers. This new type of interaction should not be disregarded.
The update is available both for Android in the App Store and for iOS in the Apple Store.
Will you use it on a personal level or for your business? Let us know in comments your opinion on this new feature!
See also: Tips about Instagram Stories Polls