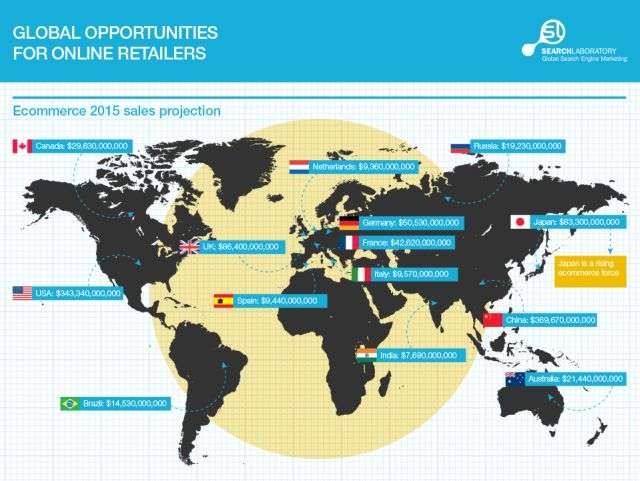 2014 was a landmark year for growth across digital, and studies suggest that in 2015 we will see even more astonishing numbers. Search Laboratory takes a look at how mobile is dominating the ecommerce landscape at the moment and what we can expect from social media in the next six months.
Global Opportunities For Online Retailers in 2015
Mobile domination
As mobile devices are cheaper, and more available, with affordable data connections that reach even further, an increased growth in mobile retail is definite. Search Laboratory recently researched internet usage and ecommerce practices worldwide. The research shows that almost 42% of the world's population has internet access and, based on these trends, it's expected that mobile will push global internet penetration beyond 50% by late 2016. As internet usage continues to advance worldwide, global ecommerce sales are expected to reach nearly $2.356 trillion by the end of 2018.
Last year, US adults spent more time on mobile devices than they did on PCs, and that gap will widen even further this year. As of April 2015, Google expanded its use of mobile-friendly websites as a ranking signal, which indicates the critical importance of mobile-friendly websites in ecommerce.
Furthermore, with mobile-focused services like Facebook, WhatsApp and WeChat achieving the top social media ranking spots in some of the world's largest economies, it's evident that much of our digital consumption is converging around mobile devices.
Social media expectations in 2015
We will see as many as 1.65 billion active mobile social accounts across mobile users of the top social networks in each country.
Instant messenger (IM) services such as Viber, WhatsApp, Facebook Messenger and WeChat continue their impressive growth with more than 100 million new monthly users reported over the past 12 months. The increased prominence of mobile devices in consumers' everyday lives has much to do with this growth, and we are likely to see this trend accelerate for the remainder of 2015.
Social media use continues to increase and top platforms such as Facebook are growing at a rate of almost 1.5 million new users every day, which is more than 17 every second.
Given the vast growth of mobile users and rapidly increasing chat app and mobile social adoption, it's clear that from a user perspective, mobile social is going to be the leading factor throughout 2015.
Optimizing your social media channels to your international audiences are increasingly vital for businesses as social media continues to grow steadily globally, with active user accounts being nearly 29% of the world's population.
Reports published by GlobalWebIndex suggest that the average social media user spends 2 hours and 25 minutes per day using social networks and microblogs. And although, mobile is a smaller proportion of businesses, it can't be ignored. In 2013, $13.4 billion was spent on mobile ads, as expected we will see an increase here and it's estimated that by 2016 this number will rise to $45 billion.
The social media rise and effect on global ecommerce leaves us questioning how brands and businesses will target readers and overcome the globalization versus localization of social media efforts.
In a recent study by Search Laboratory on the US market, it was found that 75% of decision-makers in US companies believe that they are missing potentially profitable opportunities to trade abroad, with 23% of US businesses still only using an English-language website and social media profiles.
So, if you're putting together your marketing plans for next year, make sure you include an adequate budget for mobile social activities. And, while you're at it, make sure you also check out some social media management and analytics tools like the examples presented in our article. If you're using multiple social media platforms for your business, you'll definitely need free or paid software to help you manage everything in one place.
See also: Does social sharing drive sales? (Infographic)