Are you looking for a free online designer and editing tool that caters to all your photographic and image creation needs?
I know you do so… today's post is all about Fotor (some call it Fotor Photo Editor). As for the record, I am lucky to be able to put this tool to the test.
Therefore, this article will be all about Fotor review and why you should be using it today for all your visual needs.
With the festive season being just around the corner, I couldn't find a better time to publish this Fotor review.

Fotor – A Great Image Creation Tool
Introduction to Fotor
Fotor is a free online designer and editing tool or a solution for all your photographic and image creation needs.
With this special tool, you can easily edit, create a collage and perform multiple designs under one roof. At this point in time, Fotor has over 1 million Facebook likes and it is also one of the top developers on Google Play.
At this point in time, it has been installed between 10 to 50 million times and has over 540, 000 reviews, it stands strong at 4.5 out of 5 stars review on Google Play.
This free app that you can download and use, has also in-app purchases you can use for additional features.
If you take a look at Fotor's official website, it is currently offering loads of attractive cards, covers, posts, collage templates, stickers for users like us to create and spread the holiday joy!
This useful tool offers a wide range of services and in this post, we are going to have a quick review of features that you can instantly leverage on especially in this festive seasons.

Greeting cards
Do you know that old school, card sending and exchanging is pretty much 'dead'? In today's technological world, people are slowly resorting to the online resources such as Fotor.
Here's what it looks like on the greeting cards design page: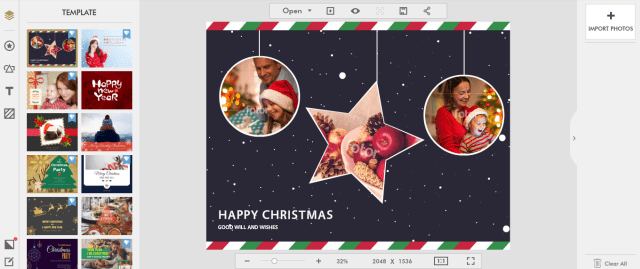 On the left side of the screen, there are options to select the pre-made templates which can speed up the greeting card creation process.
Of course, you can even create your own design from scratch using the inbuilt editor.
I find Fotor's greeting card editor very flexible as it offers a wide range of settings that you can choose from. Take a look at the image below:



These options are available for you and trust me, it makes the entire process more fun. For a person who is very attentive to details and extremely particular, these features are heavenly and definitely a must-have!
Personally, I have used over a dozen image creation tools and none of them provide this level of satisfaction like what Fotor can provide. No joke!
Facebook Cover Maker
Here's the tagline by Fotor themselves, "Integrating both the world famous utility functions of Fotor, coupled with the new Design feature, Fotor's Facebook Cover brings a new world of creativity to you!"
Let's be really honest here. There are probably hundreds of so-called Facebook cover maker that you can find on the market today.
So, what makes Fotor's Facebook Cover Maker unique and highly sought after?
For starters, Fotor makes it really easy for anyone without graphics knowledge to create awesome Facebook Covers. As a matter of fact, it takes only four simple steps to create a mesmerizing Facebook Cover.
Step one: Open Fotor Design feature and choose the Facebook cover templates.
Step two: Choose from the many pre-made Facebook cover templates. Here, you can drag and drop photos of your choice into it, or simply design one from scratch!
Step three: Using the multiple Fotor's features, you can easily modify and design the Facebook cover to satisfy your needs. Don't forget that you can use Fotor's overlays feature to create even more stunning Facebook covers in just a few minutes.
Step four: The final step consists of reviewing the Facebook cover that you have created. Here, you can preview, save, choose the right format and even resize if needed.
If you are wondering, Fotor can create more than just Facebook cover images. Here's a list of social media headers and covers that you can create using Fotor designer tool.



With Fotor's design tools, you can easily capture your personality, feeling and idea in just a few clicks!
Plus, the sky is your only barrier when it comes to designing an image.

Collage Maker
Are you looking for something that is going to "wow" you? Introducing, Fotor's Collage Maker.
For the record, this "wow-ed" me when I first discovered about it. But wait! What is it all about?
Let's see what Fotor has to say about this, shall we?
Fotor's world famous collage maker provides you with hundreds of photo collage templates under various styles for you to make photo collages online for free! Create your own picture collages now with Fotor!
Personally, collage is probably the new thing that gives some life towards the current trend in visual marketing. Sure, we all love simple, yet stunning images but what happens when you see an artistic collage?
Your mind literally goes "boom!!" and that you know that is true. Fotor took this powerful concept and made it pretty easy for anyone who wants to leverage it for your visual marketing.
For starters, Fotor allows you to create several different types of college such as:
Classic Collage
Artistic Collage
Funky Collage
Photo Stitching
Each of this collage would create powerful effects to whoever who see the images. In the competitive social media industry, you know that this is something that will stand you out from the crowd.
Here's what Fotor's Collage Maker looks like.



Do you notice the panel on the left?
This panel allows you to choose the basic layout of your collage. Now, this makes it interesting as there is a huge array of choices that you can choose from. For those users (like me) who have very limited artistic and designing knowledge, this is golden.
I can easily choose a layout without even need to image the entire image.
If you are not sure which collage to try on, you can go with the classic one which you just cannot go wrong with!
If you are feeling adventurous, consider funky collage as this is going to put your thinking cap on! You are going to discover several cool artworks which can really turn heads. Here are the default choices you can choose from (for the funky collage):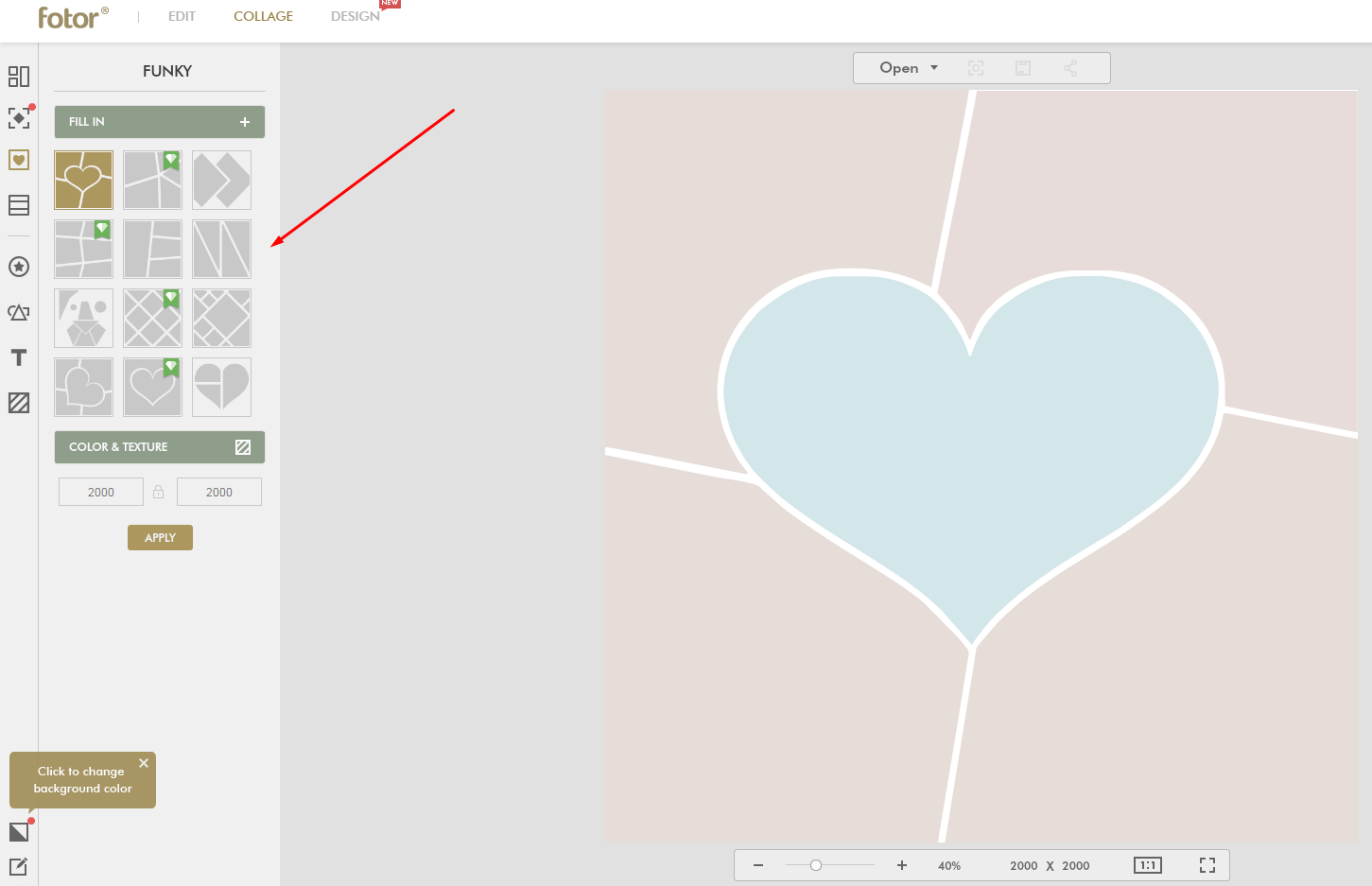 As you can see on the left side of the screen, the designs are unique and all you need to do is to upload images or photos to Fotor and drag them into the collage.
By the way, this is a great way to create memorable designs or photos with your loved ones during this holiday season!

Overview of Fotor
I'm lucky to be able to use Fotor for a time period and to be extremely honest, this tool is very flexible for a social media marketer like myself.
Fotor provides a lot of features which allows users to convert ordinary images into extraordinary ones in just a few clicks. Plus, Fotor provides the ability and platform for nondesigners to create powerful mesmerizing images easily and hassle-free.
If you are looking for a good image creator, you don't have to look further. Try Fotor today and I'm sure you will not regret it!

See also: Facebook Marketing Tips For The Holiday Season