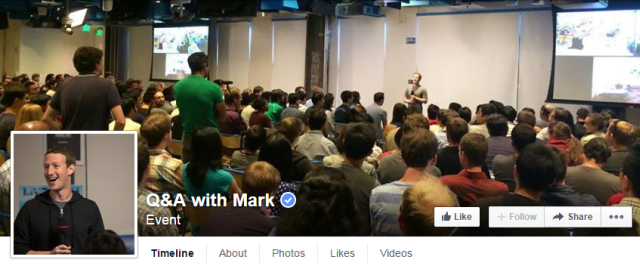 This Thursday (November 6) at 2:00 p.m. (Pacific Time), will be the first public Facebook Q&A session with Mark Zuckerberg.
If you have any question for the Founder & CEO of the Facebook, Mr. Zuckerberg, you better write your question asap, as a comment, on a dedicated Facebook page named: Q&A with Mark or you can click on the embed post below:
There are already more than 7000 comments on the single post for this dedicated Facebook page which has more than 70k likes in just 4 days from when it has been published. Also, Thursday you can watch the livestream of the first public Facebook Q&A session hosted by Mark Zuckerberg on this dedicated Facebook page.
What is the question that bothers you the most and you die of curiosity to find out,  even from the person who created the largest social network in the world? Please add in the comment box below this question, too.
See also: Facebook Messenger: A Change in Mobile Social Media