Facebook is improving their Stories strategy, merging the Messenger Day with Facebook Stories in a new feature called simple, Stories.
Whenever users post Stories across either Facebook or Messenger, they will appear on both platforms. Even though this might look as duplicate content, Facebook thought of this and viewing is synced: if you watch a story on Messenger, for example, it will appear as seen on Facebook as well, so you won't be notified anymore of that story.

via TechCrunch
The functionalities that made the platforms stand out remain the same: within Messenger, the camera will still focus on adding captions and text on photos or videos, whereas the Facebook camera still focuses on augmented reality and other effects.
This way Facebook is encouraging users to post more stories and to make use of the Facebook Stories feature as well, the one that has not been as popular as Instagram Stories. Last month, Instagram announced that cross-posting stories are available and users can post on both Instagram and Facebook Stories. Now, all those stories will appear on Messenger as well.




After introducing this new feature, Facebook will not have anymore the Facebook Direct feature, which allowed users to send messages that were deleted right after the recipient read it. After doing research on this and got the feedback from users, they have decided to send all the replies from Facebook Camera to Messenger. With Facebook Direct disappearing, Snapchat now has a feature that is specific to them.
And this is not the only move that Facebook has done with the stories, they have also introduced stories to events and groups, where members that either attend an event or are part of a group can post stories that might be of help for other members. Those stories will be moderated by admins and work like private hashtags, where only selected few can see the stories. Users will be notified to post a story from an event by a pop-up that appears if they RSVP'd for an event that is happening at a certain moment in time.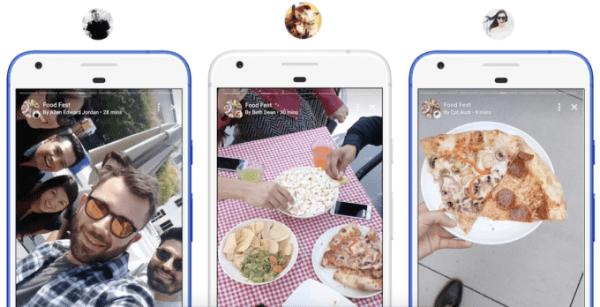 via TechCrunch
Besides all these features, users will now be able to choose who sees their stories: public, friends, friends and connections (this means every individual that is connected via Messenger, but it is not in the friend list of a specific user), or just a custom list of friends.
With all these improvements, Facebook is demonstrating that doesn't want to be just a Snapchat copycat anymore and it is taking the whole Stories experience to a new level.
Do you use Facebook Stories? What is your opinion on this?

See also: Now you can add Facebook Messenger to business websites