It seems that the audio content is taking more and more place in the tech and social industry, alongside the video. We don't know for sure when will it dethrone the most powerful content type at the moment – video that is – but we know for sure that it is slowly conquering people all over the world.
Truth be told it is easier and sometimes safer to listen to a podcast instead of watching a video. Take for example driving or cooking. You could get hurt if you don't pay attention to what you're doing, so why risking?
It seems that Facebook is embracing this new trend and it is launching its own podcast.
What will it be about?
Called "Three and a Half Degrees: The Power of Connection", the podcast's host is Davis Fischer, Facebook's VP of marketing and partnerships.
The guests will be from different industries and have different positions within the companies they work for or have founded, in order to find out different opinions and views on the business world.
The podcast name has been inspired by what we used to know Six degrees of separation. But Facebook representatives believe that technology has changed the way people interact and the six degrees of separation have turned into three and a half.
The first episode brought together Bradford and Bryan Manning from Two Blind Brothers & Blake Mycoskie from TOMS. The two brothers have been inspired by Blake Mycoskie in their business model and they talked about big and small steps they had to take to become a successful business model.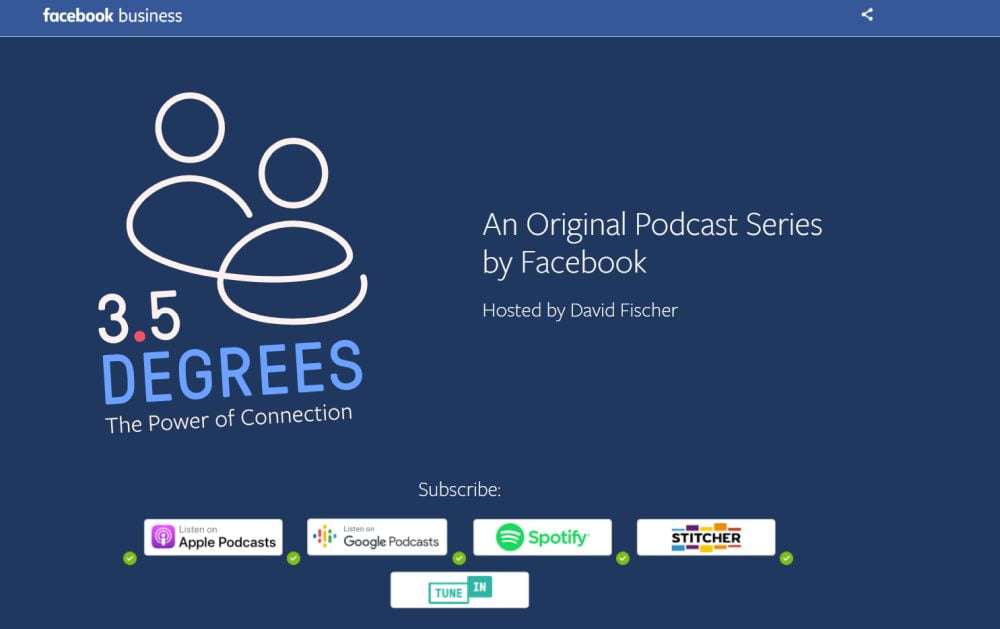 Next episodes
Here you have some of the episodes, which will be broadcasted one in two weeks' time:
1/14 EPISODE 1 – The Power of Social Good – Bradford and Bryan Manning from Two Blind Brothers & Blake Mycoskie from TOMS
1/28 EPISODE 2 – The Power of Disruption – Monique & Chevalo from Charleston Burger Co. & Chris Kempcziski from McDonald's
2/11 EPISODE 3: – The Power of Family – Stephanie McMahon from WWE & Gary Vaynerchuk Entrepreneur / Vayner Media
2/25 EPISODE 4 – The Power of Purpose – Victor Lezama from PC Landing Zone & Jake Wood from Team Rubicon
3/11 EPISODE 5: – The Power of Change – Suzanne Gildert from Sanctuary and Kindred AI & Beth Comstock* formerly with GE
3/25 EPISODE 6 – The Power of Wisdom – Ben Rattray from Change.org & Advisor Chip Conley
4/8 FINAL EPISODE 7: The Power of Cognitive Diversity – Antionette Carroll from Creative Reaction Lab & Jonathan Mildenhall from TwentyFirstCenturyBrand
You can listen to the podcast on the following platforms: Apple Podcasts/ Google Podcasts/ Spotify/ Stitcher/ TuneIN.
Are you going to listen to this Facebook Podcast? Which episode is the most appealing for you?
See also: Facebook Portal is the First Facebook Device for Video Chat