We have Apple Pay. We have Google Pay. And now it was about high time for Facebook to launch its own payment solution: Facebook Pay.
This is why over the years they have introduced payments with their products, such as sending money through Messenger, donate on Facebook or even buy from WhatsApp or Instagram. So this next step they have taken was the natural one within this context.
What are the advantages of Facebook Pay?
You have access to payment history, see and change payment settings – do it all from the same place;
If you have any issue, you get instant customer service fit for your needs;
Understand which payment methods are part of Facebook;
Set up Facebook Pay app-to-app or across multiple apps – this gives you the mobility to choose which apps to use Facebook Pay and which not;
Add Facebook Pay as your preferred payment method and once you have done this, you won't have to re-enter the payment information every time you want to use it as a payment method.
How does Facebook Pay work?
In order to use Facebook Pay, you have to follow the next steps:
go to Facebook settings on your desktop or mobile —> select Facebook Pay;
add a preferred payment method;
next time you use your devices to pay for whatever you want to buy, donate or send money to friends, use Facebook Pay.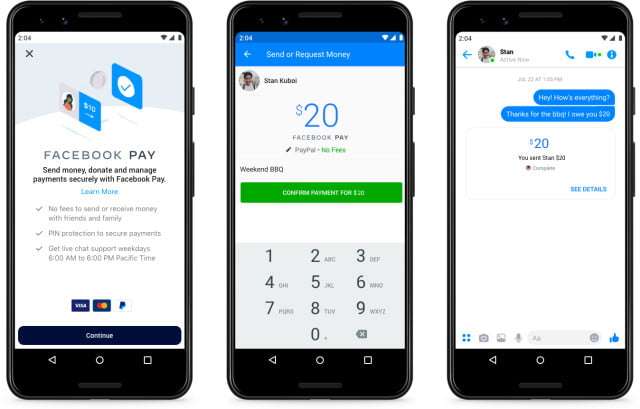 Facebook representatives say that Facebook Pay is a secure payment network. They support all major credit and debit cards and even PayPal.
Where is it available?
For now, Facebook Pay will only be available in the US for Facebook and Messenger and its functionalities include help for fundraisers, event tickets, in-game purchases, sending money to friends or purchases from selected Facebook pages on Marketplace.
But this is only the beginning, as they plan to expand Facebook Pay to more markets in the future.
See also: New Branding for Facebook