In a period when fake news take control over the world and the information is spread both via newspapers – whether they are online or print – or event influencers, Facebook is trying to block as many of the fake news as possible through different means. They are deleting accounts that spread the news and now they have made a step forward and started a new mechanism: telling Pages admins if a content they shared was penalized.
What does this mean?
Since a couple of days, Pages admins can now see a new notification tab under "More" on their pages, called "Page quality". Once they get to that section, they will receive a message saying: "We're making it easier for you to see when we've taken action against content posted or shared by people who manage your Page. Pages that repeatedly violate the Facebook Community Standards or share misleading content may have reduced distribution or be unpublished. The information shown here is not a comprehensive list of all of the violations that your Page may have."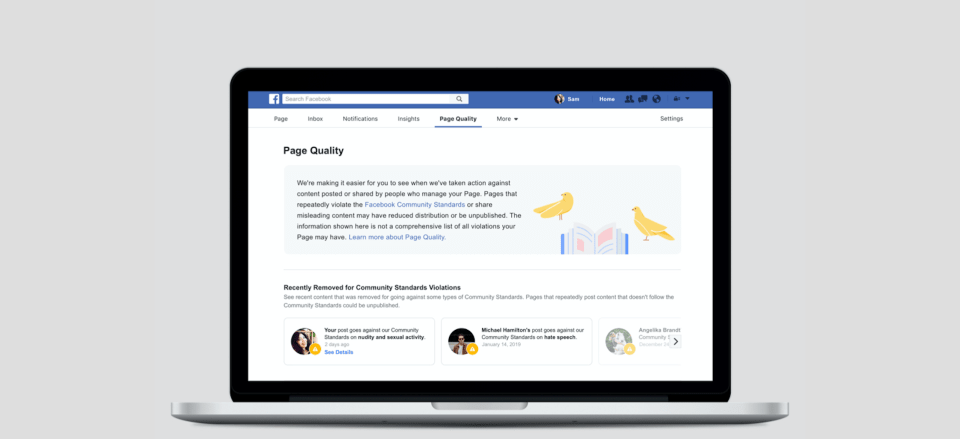 Then, another two sections appear: "Recently removed for Community Standards violations" and "Recently found to be false news by independent fact-checkers". So Facebook doesn't work on this alone. They also hire third-party helpers that identify the false information Pages might share.
For now, there are some topics that are covered by the new feature, such as: harassment, hate speech, bullying, nudity or sexual activity, graphic violence, regulated goods or support or praise.
If there is a piece of content that has been deleted from your page and you think it shouldn't have been, all you have to do is write back to Facebook asking why that content has been removed and let them know if they drew a wrong decision about deleting it from your page.
Recidivism policy
Let's say you had a Facebook page, event, group or account that has been deleted from Facebook due to violating Community Standards and want to have it back online. From now on, this won't be possible anymore, because Facebook will look more in detail for such situations and will still delete any of the pages, accounts or events that try to violate their standards.
See also: Facebook Launched Its First Podcast