Facebook marketing for small businesses.
What do they have in common? For starters, most of the small businesses are either using Facebook for marketing or thinking of using it. The moment you press "start" for the paid advertisements on Facebook, you will probably the praying hard to see a success in the social sphere; you are able to increase your reach, boost sales and create life-long happy customers.
The above certainly sounds good, right?
Here's the challenge. Most small businesses doesn't enjoy such success with Facebook and there could be a zillion reasons behind that.
In this post, you will find a bite-size guide for Facebook marketing for small businesses which will help you to increase reach, business growth and increase sales.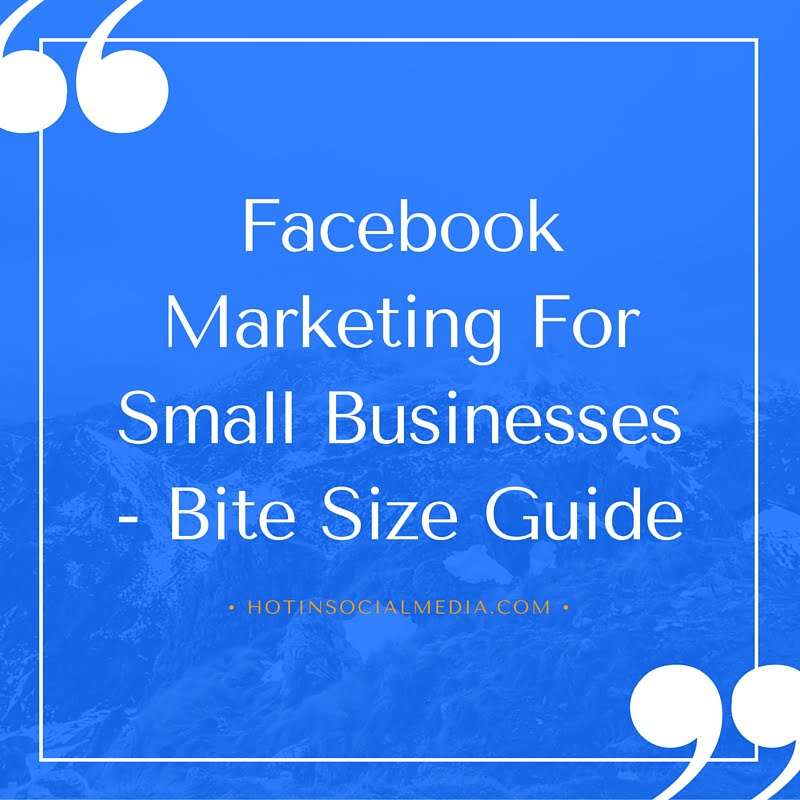 Facebook Marketing For Small Businesses
1. Analyzing stage
The first step for any Facebook marketing is to analyze your business. With the proper analyzing process, yo will able to streamline a lot of important information to guarantee the success of your business.
Analyzing can be done through several methods:
Type of product
Geographic level of the audience
Age of targeted audience
Competitors
And the options are countless!
Analyzing process is all about understanding your targeted audience. The more you know about your audience, the better opportunity you will have to generate successful Facebook marketing for your business.

2. Facebook advertising
It is important to understand that Facebook advertising (or marketing in this case) can only bring you that far in business.
If you want to be successful in Facebook marketing or simply, having a super tight budget for online marketing, you need to streamline your target audience and planning with Facebook advertising.
While Facebook advertising is important and usually works for many small businesses, you need to understand that it will only work like a charm if you have a detailed plan under your sleeves.
You will only be wasting money and effort if you are using the wrong Facebook marketing strategy.

3. Types of Facebook advertising
Make no mistakes. There are several choices you can choose when it comes to Facebook advertising.
Here are some of them: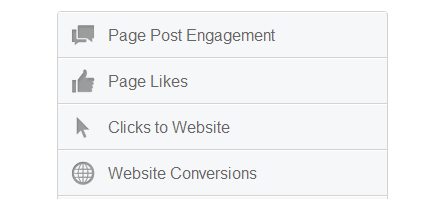 As you can see, there are many different options you can choose from.
For example, increasing page likes is extremely vital when your business is just starting up. You want your business to be exposed to the maximum amount of audience while creating sufficient visibility.
Once you have got sufficient traction, you can start focusing on increasing post engagement, clicks to website or even website conversions (especially important for e-commerce websites).
Sure, some of these advertisements would cost slightly more than others and it is extremely important (emphasizing once again) to use the right type of Facebook advertising for the right desired outcome.

See also: Facebook Advertising Tips For Business Owners

4. Organizing a contest on Facebook
Running a contest on Facebook is a great way to publicize your business. Not only that you will enjoy a huge jump in social media followers, you will also enjoy (literally) free word of mouth marketing.
Running a contest on Facebook is easy if you have the right plans and goals. Here are some guidelines you start with running contests on Facebook:
Choose prizes that will definitely turn heads
Choose different methods you want to use to gauge and allow participants to engage in the contest (point of entry)
Select a timeline for the contest to run
Build a contest page (landing page for example)
Promote the contest on various social media platforms (not only Facebook)
[Optional] Create Facebook ads to promote the contest
Monitor the statistic of the contest
Selecting a winner (or winners) and publish them
Don't just stop there after you have announced the winners! By now, you will have a nice list of social media followers. Take the time and effort to reach out to them, ensuring that they will be constantly engaged with you.
You can do so by using email newsletter, Facebook posts etc.
Here's an awesome information (Slideshare) credits to Wishpond:


5. Go back to basics
Did you know that while you may have the best Facebook advertisements, you might not attract the right audience because you have bad images, about us information and many others which are published on your page?
Well, images are just one part of the whole equation.
When you start a Facebook page, I am sure you will be bombarded with dozens of Facebook automated tutorial. Now, make sure you fill up every column available to ensure that all those vital information about you and your business are complete.
This is to ensure that new and current social media followers (especially Facebook followers) are able to reach out to you and resonates with you especially with your business's vision and mission.

6. Facebook Insights
When it comes to Facebook marketing, analytics can cost a bomb for many businesses. Thus, this is often one of the most common, left out option for them.
Don't sweat if you are one of those. If you are using Facebook for marketing, you will have access to Facebook Insights.
What is Facebook Insights?
Facebook Insights is a pretty powerful tool for those wanting to track user interaction on their Facebook Fan Page. Facebook Insights can be seen by all the admins of your page and it can help you track the number of active users to better understand page performance. Credits: KISSmetrics.
The keyword here is performance. Facebook Insights will be able to tell you a whole lot of things especially with the interactions you received on your Facebook page.
Basically, you will learn what's working and what's not. For example, the type of posts that interest your readers and type of content that drives the most engagements.
The best part? Facebook Insights is free to use and is available to everyone!

Summary
In a nutshell, there are many ways you (small businesses) could use Facebook marketing correctly and effectively. Always plan your Facebook marketing as the right strategy is going to save you a lot of money, plus doubling the effect of your Facebook marketing to a whole new level.
What do you think? Leave a comment below and tell me all about it!

See also: Lead Generation Using Facebook