Although lookalike audiences have been an available Facebook feature for some time (since 2013 to be precise), the value that this element of Facebook advertising provides is not to be overlooked. However, this does all depend on the quality of the source, and we can tell you which ones are the best
If you're not using lookalikes, here are some reasons you should be:
Make the most out of your previous ad spend by using data and information to help you reach people that are highly likely to be interested in your business and increase your chance of leads
Gain more control over who sees your ads by selecting your parameters, and honing in on the people that matter, to give you higher quality audiences and higher conversion rates
Specify which countries you wish to target even if your source audience doesn't contain people from these countries (amazing if you're looking to expand overseas!)
Specify your audience size and how similarly matched they are to your source audience to target for a wider reach or a more specific group of people – however, do note that a 10% lookalike audience may produce fewer leads and a higher cost per action than a 1% lookalike audience
How to create Facebook lookalike audiences?
You can create a lookalike audience by going into Ads Manager and opening the "Audiences" module. From here, select "Lookalike audience" from the "Create Audience" drop-down.


 At this point, you need to select the audience you wish to create a lookalike from and fill out the parameters which include geographic location and audience size – remember what we said about the differences in audience sizes above, but also recognize that there are benefits to all audience sizes depending on your objectives.
There are several different types of source audience that you can create a lookalike from, and you need to have created this audience first. Luckily for you, we've spent thousands of pounds doing lots of testing and here are our top 3:

Top 3 best source audiences
1. Video engagement lookalike
This is not the easiest source audience to create a lookalike audience from, but boy-o does it work! Video engagement is becoming more and more popular on Facebook, and people who have engaged with your videos will be familiar with your business and have shown an interest in it. Therefore, these are the ideal people to create lookalikes from. People with similar interests are a potential gold mine for increased conversion rates, and you can even specify which videos you want to create your audiences from (nifty!).
To create the engagement audience to have it available as a lookalike source, you need to create a Video Engagement Custom Audience in Ads Manager.
If you want to learn more about creating videos, and why they are so great, check out this guide on how to get the best results from videos from Facebook ads specialist Upbeat Agency.
 
2. Website traffic
By installing a Facebook Pixel to record how customers interact with your website, you can use this information to create a source audience. There are many benefits to creating a lookalike of website traffic as you are matching new potential customers to people who have already paid an interest in your business. This means that you have a very high chance of generating fresh leads and of increasing conversion rates. Lookalike audiences from website traffic respond well to a 1% lookalike setting in the parameters as it gives you a closer match to the people that are interested in what you're doing.
You can create a custom audience from website traffic through first creating a website traffic custom audience in Ads Manager.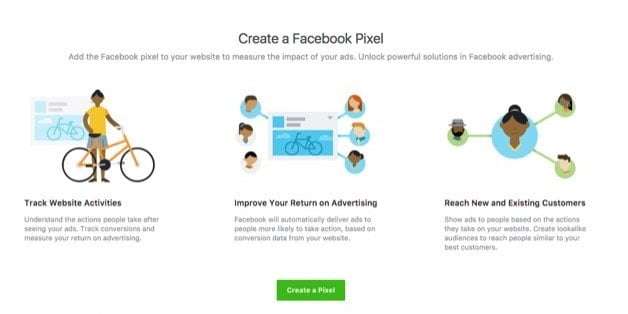 3. Customer database
By uploading customer information such as email addresses and phone numbers that you have collected from sales and mailing lists, you can create a lookalike audience which will give you lower costs per acquisition than other targeting methods. Facebook's algorithms allow you to optimize for reach or similarity which means you can create larger, less precise lookalikes (great for trying to expand to new markets), or for similarity to find customers which have more in common with your current customers. With this option, you can also choose demographic and interest-based targeting options to reach a very specific group of people.
You need to prepare data in a CSV or TXT file for importing and include specific columns such as country name and country code for phone numbers. More information on how to format and prepare data can be found here.
All these audiences are a great way to reduce costs by using data you already have and to put you on a sure path to achieving high converting and lower-cost advertising.
So, there we have it, the best lookalike audiences you can build.

See also: What is Social Media Marketing?