With the new Facebook redesign, it seems that the social network is also changing algorithms and wants to deliver relevant videos to its audience and make Watch the place to go when in need of entertaining. At this point, Facebook is showing its users videos based on their activities on the social network and what they know about them.
So then why is Facebook introducing Topics for Watch?
During the past days, some users have noticed the possibility to add topics they are interested in on Facebook Watch within the mobile app. 
The topics are the best way to deliver relevant videos to audiences, based on what those choose to be of interest. As we were saying, until now, Facebook was showing all kinds of videos to their users and not all of them were suitable for them or according to their tastes.
When you go to the Watch Tab on your mobile phone, you will get a pop-up message saying that from now on you can select topics you are interested in in order to get the videos that suit your interests.
How do you select Topics in Watch?
Of course, everyone wants to see content that is relevant for them and videos are the next big thing on Facebook. 
If you want to select topics you are interested in, go the profile icon on the Watch tab on your mobile app and then tap on the link to "Your Topics" to see the available categories and choose your favorite ones.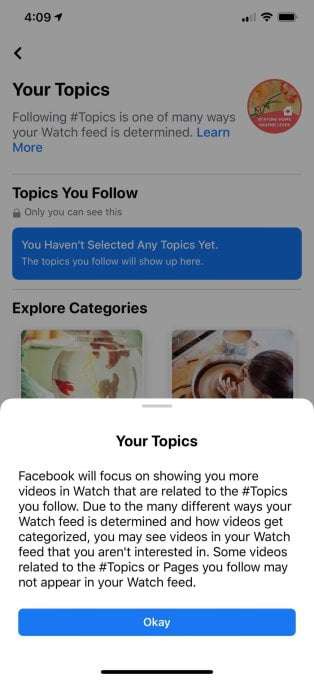 Once you found your favorites and selected them, you can find them under the "Topics you follow" tab. After that, you can change the list whenever you find a new topic you like or get bored of one you already selected.
This new feature looks like good competition for YouTube, so who knows what will follow next. What's your thought on this?
See also: Apple blocked a Facebook update