Facebook announced on 31st July the launch of  "embedded Posts" for websites and blogs. In fact, to understand is the same principle as sharing a video "embed" on Youtube.

Facebook introduces Embedded Posts
"Today, we are beginning to roll out Embedded Posts to make it possible for people to bring the most compelling, timely public posts from Facebook to the rest of the web.
Embedded Posts let people add public posts from Facebook to their blog or web site. When embedded, posts can include pictures, videos, hashtags and other content. People can also like and share the post directly from the embed."

A blogger or journalist should just get code like this: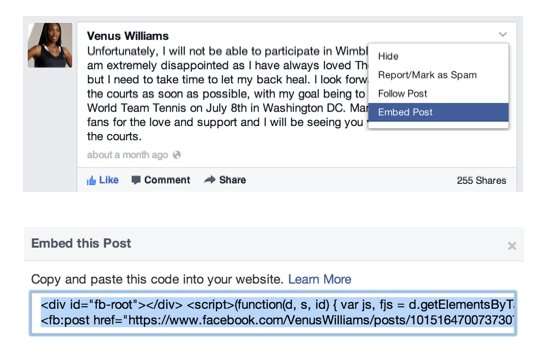 For the moment, only five test sites already include such "embedded Posts": Huffington Post, Mashable, People, Bleacher Report and CNN.