Businesses all over the world are affected by the mondial crisis we are currently living, called Covid-19. And besides the health crisis that is affecting us, an economic one is just around the corner.
With many businesses that had to close during the pandemic, Facebook is giving a helping hand to small businesses that might need it: Facebook gift cards for local businesses.
Ever since the pandemic started to grow and affect more and more countries, the social network giant has thought of several ways to help and this is how they do it.
Facebook Gift Cards For Local Businesses
1. $100 million grant
Facebook has announced last month that it is offering a $100 million grant to help more than 30.000 small businesses in 30 countries to surpass the crisis.
If you are a small business, check here if you are eligible for the grant and if the answer is yes, then apply for it.
The way the programme can help is the following: covering rent costs; help you reach more customers; keep your workforce strong or cover operational costs.
2. Gift cards listings
You have, for sure, a business that you love or at least like and that is closed for the time being. And no one knows for sure how long will it last.
So Facebook is coming to help the small businesses by creating ways to buy gift cards and use them for delivery where possible or when the store or restaurant – for example – will reopen. You can even give those to your friends and families and through this you all support the business you love.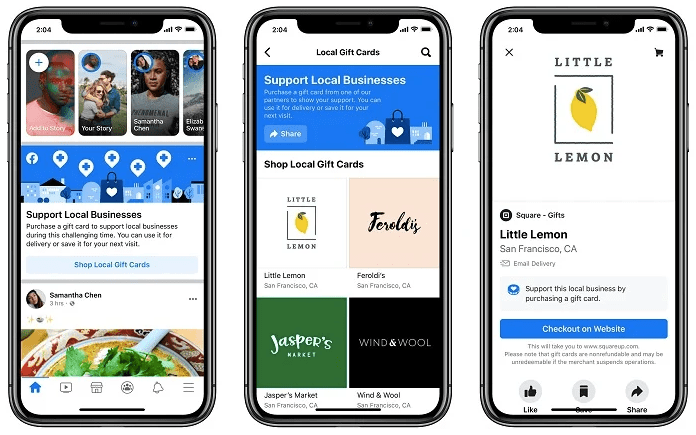 When scrolling on your news feed, a new section will appear and you will see a list of businesses in your area that you can support with the new Facebook gift cards for local businesses.
The feature will be available throughout US at the moment and maybe, if it will be successful, it will be available in other countries as well.
Local businesses can check out details about the eligibility of the gift cards here, the same place they can also apply for them.
3. Facebook Fundraisers for Businesses
The third way in which Facebook is trying to help businesses is by making the fundraising feature available for them as well.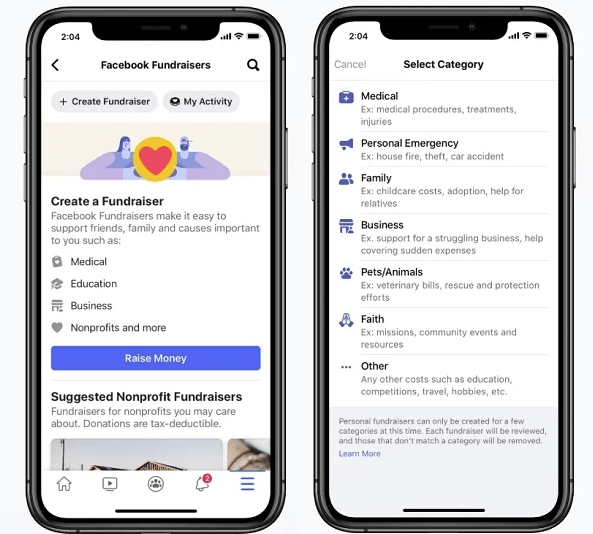 And this is an awaited Facebook future, as there have been businesses all over the world that wanted to create fundraisers for friends, family or causes they supported and it was not possible.
4. New page options
Due to the changes businesses have gone through during this period, Facebook now allows them to update their services.
Find here the new options and update your Facebook page.
See also: Is there a desktop version of Facebook Messenger?