Back in 2014 Facebook was launching Facebook Mentions, a tool for public figures and influencers that helped them get verified and allowed them to interact in a more complex way with their audiences: share videos and live Q&A's, photos and videos in a more interactive way than the majority of the users do it.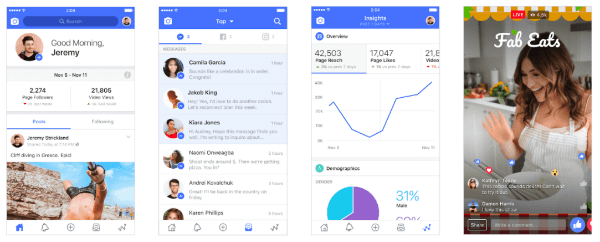 Three years after, Facebook Mentions gets a redesign, getting new features and a new name: Facebook for Creators. But the name is not the only one that changed for Facebook Mentions, there are also new features added that help influencers get in touch more easily with their fans and create communities that matter. The app is available only on iOS at the moment, but soon enough it will be available on Android as well. But no worries, Android users that don't already benefit from the app, you can get used to the new concept on the website Facebook has created for the new feature. On the website, creators can find inspiration from what other do or resources and help when in need.
So what is new on Facebook for Creators?
There are several changes that have been made to Facebook Mentions, but also old ones are still kept. From the newest features, we will present you a few, that are to be completed with other ones in the near feature, depending on the feedback given by the ones that are already testing the new app:
Community Tab: even though this is not the newest feature, it is worth mentioning it: a tool that unifies the inbox from Facebook and Instagram, bringing together both messages from Messenger and other notifications such as mentions, likes or comments.
Camera and Stories: creators can use the filters on photos, videos, and stories to engage with their fans and even to cross-posting to Instagram, for example. This is a good example of how influencers can interact with their fans and, why not, ask their opinion throughout live videos.
Live Creative Kit: several exclusive tools that help creators design a more integrated brand: from intros and outros to videos – that can be always the same, as a distinctive trademark -, to frames or stickers on live videos, that users can interact with.
Insights: analytics that let you know more about fans when they interact better and to which content. Including analytics on your page.
If you are a creator or work in an agency and your client is a creator, you are invited to join the community here.
See also: Facebook bring Messenger to all the websites