In order to keep privacy at a certain controllable level, Facebook has begun a test for several users that implies friend requests that would delete 14 days after they've been sent.  Being stuck for more than a week now in the Cambridge Analytica scandal, Facebook is doing its best to protect the data they have from users and make undesirable friend requests disappear.
We all get very often friend requests from people across the globe we don't know and more than often we consider that as spam. Not accepting those friend requests isn't necessarily a problem for us users that get them, but we can't know what information they can actually see when we post – even though the settings are for friends only, for example.
Also, if we keep those people in limbo for a long time, the chances of accepting their request are decreasing day by day. So Facebook decided that it would be more useful to introduce the ephemeral friend requests and let the user that gets them know that he has a limited amount of time to accept it. And by a limited amount of time we mean 14 days.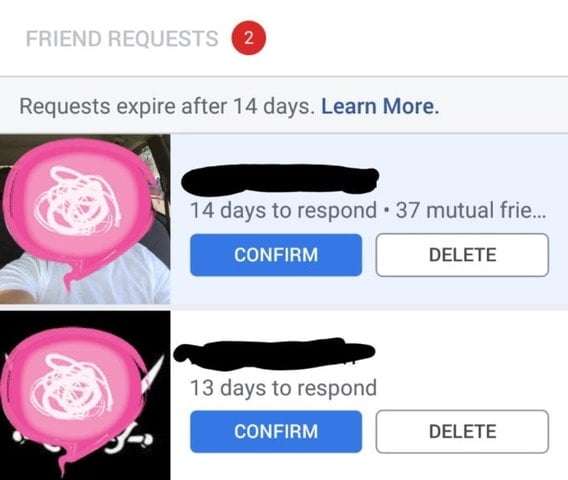 The algorithm behind this is the same one you see in shops: buy this product until a certain date and get a special offer or discount. This way, it is more likely for them to accept the friend request in a shorter time than usual. Of course, we are talking about friend requests from people they might know or at least have some friends in common. If you receive a friend request that you don't want to accept, you won't have to worry about it anymore, as it will vanish away and you can forget about it.

How does this expiring friend requests help public persons that don't have a fan page?
You know that the friends' limit on Facebook is 5000. After one reaches that limit, he won't be able anymore to accept other friend requests and the only solution is to follow them or like their fan page (if they have one). Still, the second option won't allow you to see things they publicly share on their personal profile, so you will miss some things.  The expiration date will help them keep track of the friend requests they get and make it more possibly they accept the ones that might be of interest to them.
What do you think of the new Facebook expiring friend requests feature? Do you find it useful?
See also: Facebook Ends the Explore Feed Test