In one of my recent projects with a startup company in Asia, I introduced Facebook advertising to them as a way to grow-hack the company.
And the reply was pretty much what I was expecting:
"Facebook advertising is expensive"
"I have no idea how to use Facebook advertising…"
"I doubt if Facebook marketing will work for my budget…"
The list goes on and on.
Long story short, I managed to convince the company to try out Facebook advertising. To prove my point, I told them to set a budget of $100 (lifetime goal) for starters. Within days, the numbers of likes on their Facebook page tripled and they were mesmerized.
Apart from the likes they gained through Facebook advertising, they earned a few (bonus) enquiries which are easily converted to sales down the pipeline.
The Facebook page which is pretty much quiet suddenly exploded with engagements and it doesn't take long before it becomes lively.
Well, that's the dream that most of us (business owners) are looking for, right?
Lucky for you, I will try my best to explain everything I know about Facebook advertisement in this post … and how you can leverage Facebook advertising for your own business.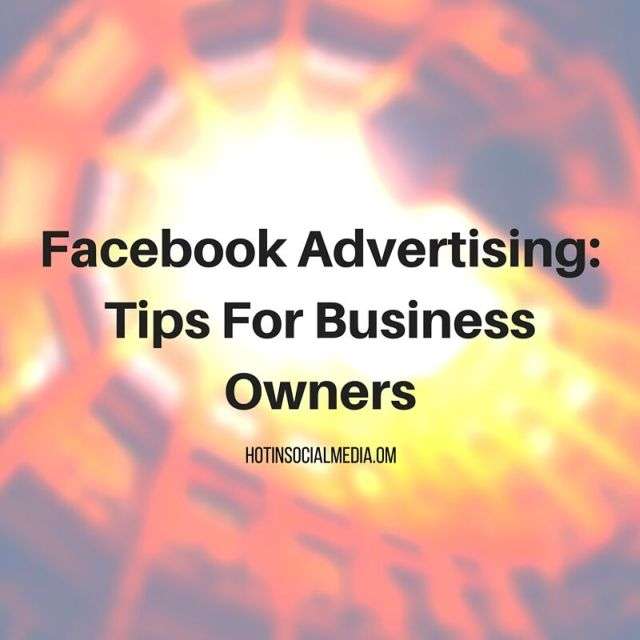 Facebook Advertising Tips For Business Owners
How much should you spend on Facebook advertising?
Let's be really honest here. There aren't a specific or best practises when it comes to budgeting your Facebook advertising. Sure, having a budget in mind is a great way to ensure you don't overspend your budget.
So, if you are wondering what is the best budget to work with, here are some guidelines:
 
Targeting Facebook Likes
For this, I would recommend having a budget between $50 to $500 per month.
On average, $50 budget in Facebook Likes can easily earn you at least 500 likes. With proper targeting, you can gain at least 1,500 likes on Facebook.
If you are wondering, proper targeting means you are only targeting audience which are more likely to like your product. The key to successful Facebook advertising (likes) depends highly on your filters.
In this case, filters can range from:
Gender
Location
Interest
Marital status
Education level
Of course, the above are just a fraction of what you can filter and choose from. There are dozens of other options and criteria's you can select to ensure that you are only reaching the right audience that fits your requirement.

When should you choose Facebook likes as your marketing strategy?
Facebook likes is best and most suitable for companies which are new in the field. When you are new or penetrating the industry, you do not have the audience and more importantly, you don't have enough visibility to drive the business.
With Facebook likes, you are going to create tons of visibility around your business and potential customers will tend to realize your brand.
Also, Facebook advertising is extremely affordable especially when you are in a business that requires a lot of trusts (more Facebook likes and followers would represent a higher level of authority).

See also: 6 Reasons Why You Should Start a Facebook Store Now

Using Facebook Sponsored Post
Facebook sponsored post is extremely powerful. Compared to Facebook likes, sponsored post is all about promoting a specific post of yours.
Here's how a Facebook sponsored post looks like:


Using Facebook sponsored post is slightly different compared to Facebook likes. Facebook sponsored post is more focused into promoting a post (as a goal).
While Facebook sponsored post promotes some sort of like feature, the ultimate goal is to drive traffic back to your product or landing page.
Sponsored post isn't really that cheap compared to Facebook likes. However, in terms of return of investment (ROI), Facebook sponsored post is often more lucrative and effective as you are driving the traffic directly back to your own products.
Compared to Facebook likes, people are generally liking your page and getting them to purchase or engage with your brand is much harder.

How to make Facebook sponsored posts work for you?
For starters, you need to set a budget (either daily or lifetime) – which is pretty obvious. Of course, the next step is to manually select the minimum bid daily or to use the automatic feature which allows Facebook to automatically place the bid for you.
Now, you will be wondering, "Why should you actually use Facebook sponsored post?"
The answer is simple.
Facebook has reduced the organic reach (not once but several times) this year. And this means that the standard craft and publish on Facebook is no longer effective.
Instead of having a 30% chance (or more) reach, you are only getting a handful in reach.
Now, make no mistake. Facebook sponsored post can be really expensive if you are not using the right strategy. You do not need to promote every post you have or plan to publish. Instead, be choosy!
And here's how:
Choose post that will resonate with your audience
Promote your own content
Share content that will help you achieve a specific goal (increase traffic, sales or email subscribers for example)

Here are two additional tips for you.
Firstly, it is highly recommended to promote posts to audiences which have not heard about you or have not liked your page. This is because if they have followed you on Facebook, chances are they had already seen (or will see) the post.
Secondly, you need to plan on the duration of the advertisement. For example, there is absolutely no (or not much) point to promote a post for months … unless it is an ongoing promotion. The best posts to be used in any Facebook sponsored posts should always be something of an interest to your audience and at the same time, offering way more than what others are offering.
For example, instead of promoting the "top 10 ways to use Facebook advertisement", publishing and promoting "top 100 ways to use Facebook advertisement" would most probably allow you to gain more traffic and response from your audience.

Conclusion
In a nutshell, you need to be absolutely clear in what you want to offer to your readers using Facebook advertisements. Each advertisement has their own pros and cons; which you need to decide based on your business needs.

See also: Top 10 Facebook Tools For Serious Marketers