"Email falls prey to social media marketing"
"Facebook and Instagram are killing email"
Every time a new social media platform debuts, obituaries are written about emails. You would have read such articles how email is being edged out by social media platforms. While social media has captured the attention of Internet users throughout the world because of the ease of use and accessibility, it is too early to write off email marketing. Email marketing has not lost its charm yet and is here to stay despite the stardom of social media.
Although social media marketing requires minimum effort, it cannot build person-to-person communication like email marketing. Sure, social media followers and email subscribers look forward to hearing from you, but there is a bigger commitment made by email subscribers. While it is much easier to follow someone on Twitter or 'Like' a Facebook page, email signups reflect that a person is genuinely interested in your brand (most of the times).
Let's explore more about why email signups are better than social media followers.
Why Email Signups are Better than Social Media Followers?
1. Emails garner more attention
When compared to social media posts, emails capture more subscriber attention. The algorithmic changes in social media platforms has drastically reduced the reach of the posts. Consequently, it has become a challenge to drive organic traffic on these channels. Email marketing, on the other hand, eliminates some of the competition and drives better visibility.
2. You can personalize the communications
Email creates the feeling of one-on-one communication, which is not possible with social media. The ability to impart a human touch to the message makes email sign-ups more important than social media followers. You can address a subscriber by the first name in emails, which is obviously not possible through social media. Moreover, artificial intelligence has paved new avenues in the field of email personalization and given a leg up on conversions. Take a look at the email by Lyft, the best example of personalized communication.

3. The marketer has complete control of the content
Whenever a marketer creates an email campaign, he or she has full control on the message that needs to be conveyed. Whether it is the content or visual elements, the possibilities are endless. Unlike social media marketing, there is no restriction on the word count or the usage of rich media like GIFs. You can try new techniques like gamification through keyframe animations in emails, which is only possible through GIFs in social media. Email subscribers, therefore, have a better experience than social media followers.
4. Micro-segmentation is possible for email signups
Social media allows you to target audience falling in a particular age group or residing in a specific geographic location. Email marketing goes a step ahead and facilitates micro-segmentation by considering factors like past purchases, products searched for, total purchase value etc. This precision is not possible on social media channels.
5. Email marketing allows you to test what works
Through email marketing, you can carry out A/B testing and check multiple variants of the same campaign. This tactic allows you to evaluate the metrics and figure out what kind of emails are working for your business. Such trial and error method is not very feasible through social media.
6. Your email list is yours
You never know when social media like Facebook or Twitter might decide to bring down your page or remove your followers in case of an accidental violation of privacy policies. This does not happen with your email sign-ups as you have the full ownership of those subscribers. You just have to follow the anti-spam rules like CAN-SPAM and GDPR to ensure a quality list of email subscribers.
7. Emails yield more engagement
As social media platforms like Facebook keep changing their algorithms every now and then, you might not be able to drive sufficient engagement for your posts. It is sad that your engagement rate does not cross the range of 2-6% on Facebook unless you post something viral. Email is a relatively consistent marketing channel as it can bring you 20% open rate when done right.
Take a look at the average email campaign stats of Mailchimp customers based on the industry.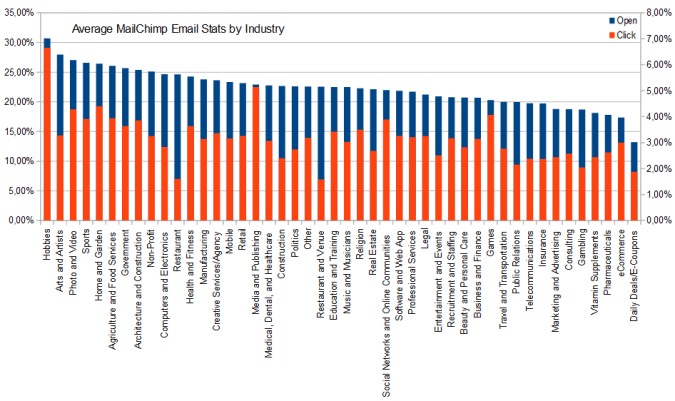 Let me share a personal experience with you. Back in 2017, EmailMonks had organized "Email Design Hunt 2017" contest to recognize the top three email designs of the year. We had aggressively promoted the contest throughout the social media platforms, emails, and contest or giveaway forums. We received the maximum participation through our email marketing efforts, demonstrating the fact that "Email is King".
8. It is preferred by customers over other channels
Customers are familiar with the promotional messages sent through email. It is also considered to be among the most important commercial channel. What would you appreciate more—A personalized email or a broadcasted message from a Facebook page? I would certainly prefer the former because I have expressed explicit consent to receive their communication, which is not the case when I have simply 'Liked' a page on Facebook.
9. More effective automation is possible with emails
Once someone has signed up on your email list, you can send out triggered emails based on the subscriber's activity. Let's say you are an e-commerce store owner. If a prospect abandons a cart without completing a purchase, you can send out a series of automated cart abandonment emails to get back the lost customer. Moreover, you can also set an automation workflow of re-engagement emails for the dormant customers who had purchased from you in the past. Such emails can help you in retaining the existing customers and save the cost of customer acquisition. Although social media enables automation, it is not as effective as email automation.
10. You can get exact metrics for your email campaigns
Email service providers give accurate results for your email campaigns that includes open rates, click-through rates, unsubscribes, and bounce rates. As a result, you can have a clear picture of how your emails are performing. You can analyze the past campaigns to understand the kind of emails that are resonating the best with your subscribers. Even though social media provides you with metrics such as the reach of the post, audience engagement, and click-through rate, email metrics are much more detailed as they also offer the subscriber information.
Final Thoughts
An email subscriber is more like a school friend you adore while a social media follower is merely an office colleague with whom you can have small talk. However, this does not imply that you dissolve your social media marketing team. It just means that you should focus more on your email marketing efforts rather than paid social media.
See also: Grow Your Email Marketing Contact List Using Social Media Marketing