Did you know that sharing life lessons on social media can be very effective? For example, Gary Vee does that all the time and people are digging into it! Some call him a fake, where others say he do that for business. Either way, he kept incorporating his life lessons in his content which makes it truly powerful.
For those who don't know me, I am a huge fan of eBooks and audio. Each day, I devote time to listen to my audio collection on Audible. The most recent (and longest) audio book I had listened is from Kevin Hart, "Life Lessons: I can't these up."
The audio book is all about the life lessons he had gone through. From a super tough life, broken family and multiple failures in life, he learned from his mistakes and finally become successful. And of course, before he started to become famous within his industry.
The book taught me one great lesson which relates closely to the topic I'm discussing today. Sharing real matters in social media actually helps a lot. In this article, I'm going to share how I do it and why it is so effective.

Sharing real topics and feelings on social media while expressing your professional thoughts is a greta way to get attention. Of course, please refrain yourself from publishing content that you will regret much later on. You have been warned.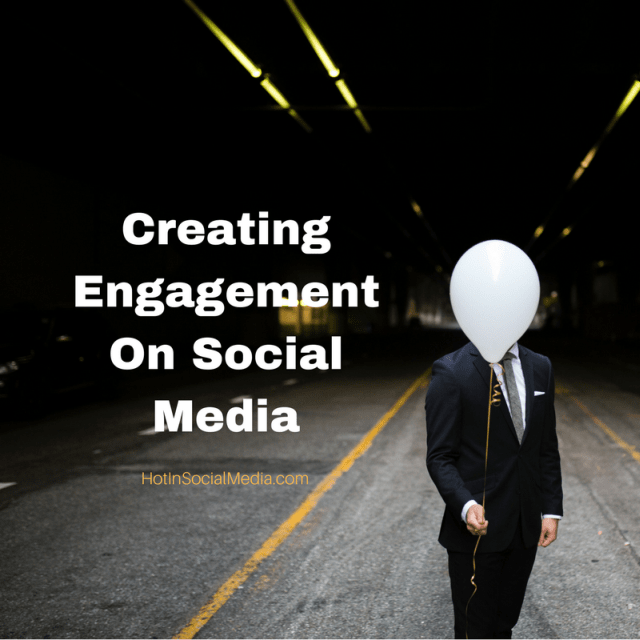 Sharing deep thoughts on LinkedIn
You know I'm a huge fan of LinkedIn. LinkedIn is a professional network if you are looking to break the ice and start getting others to engage with you, try this.
Here's a recent post I did on LinkedIn. Just a random post and sharing my thoughts of the day.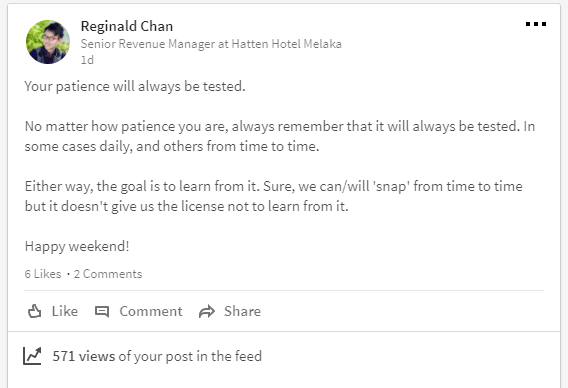 I shared my thoughts that happened to me either on the same day, or days before. I made the post pretty long and without images (from time to time). In this post, it is all about my 2-cents and it took me less than 5 minutes to compose it.
There wasn't any tagging required and you may add in hashtag if you wish.
Now, take a look at the insights of that particular post.




Tell me, what do you think?
Why are people engaging with me and to that post?
Firstly, I was speaking from my heart. I believe that if I'm experiencing such, I'm sure there are others (at least 1%) of the world population is experiencing the same too!
Secondly, I'm not self-promoting in any way I was just trying to share things that happened in my life. Therefore, it is easier for me to connect with others because I wasn't doing any sales at any point in time.

Sharing on Facebook
I got to admit that I am not the biggest fan of Facebook but I still use it from time to time. Sharing life lessons are a pretty powerful way but you need the right crowd (it is easier to do so on LinkedIn that on Facebook).
I tried the same technique on Facebook but it didn't work well. I wrote powerful content and published it and didn't get much of an attention. Guess people love GIF and memes more.
I decided to share content of others that inspires me; Tony Robbins, Jim Rohn, Vanessa Jane Patrick and much more. Yup, the whole 9 yard.
At the end, it was clear that those content (reshared from popular influencers) were more powerful than my own words. However, I wanted to change the way it works. I'm not just sharing their content. Each time I share their content, I make sure to include things that matter to me and my own life experience.
This created more uniqueness in the post and I get more engagement from it too!
Why is this step critical?
Firstly, Facebook has a lot of content in it. Therefore, sharing your own thoughts may not get a lot of engagement. Let's face it, we love to share content from others influences and not just from any Tom, Dick or Harry.
Secondly, Facebook's algorithm isn't the best in our favor. This means that popular users will only get more visibility compared to others like us.
So, it is always important to share content that attracts your audience (especially on Facebook).

Sharing on Twitter
Sharing on Twitter is just like Facebook. The only difference is that it doesn't run on popularity algorithm and each tweet lasts several seconds on your timeline before it gets out of sight.
To be honest, I'm a huge fan of Twitter when it comes to engagement. But since it has several million users, it is pretty much a no brainer NOT to involve me on Twitter.
The way of getting engagement on Twitter is very much different from Facebook and LinkedIn.
The first step is to build a strong following. There are many tools out there that can help you build your Twitter following legitly or you can do it yourself. Basically, you need to follow influencers that you are interested in (or in your niche).
The second step is to follow the influencer's followers because chances are they are very interested in his tweets.
The last step is to share the influencer's tweet publicly and mentioning the influencer along. This way, both the followers and the influencer can see your tweet. And if you do it long enough, you can easily generate a lot of engagement through likes and retweets.
All in all, helping you to get more engagement on Twitter itself.

While there are only several steps here, it is very much a huge hassle when it comes to building followers on Twitter. You are advised to be patient as much as possible.
Now, it is your turn!
Getting engagement on social media is always important. Thanks to Kevin Hart, I have found a powerful method to get more engagement without actually using paid advertisements.
What is your favorite method to get engagement on social media?
Leave a comment below and let's discuss further. Plus, don't forget to try this out this tactic in the coming days!

See also: How To to Improve Social Media Engagement in 7 Steps