Have you tried social media advertising and felt that it doesn't work for your business? You heard from influencers and other business owners that social media works for them.
So, why isn't working?
You tried everything, from setting the right budget to keywords and this is definitely driving you nuts.
Let me tell you something. In my consultancy business, I came across this matter one too many times. And it has nothing to do with you or simply because you didn't hire the 'professional.'
You see, social media works like charm for most businesses — but not to every business in the world. There is a possibility that it may not fit you and at some point, you may want to consider to stop using social media advertising. I could think of many reasons why this happen – you get lack of traction, or you are spending too much money on social advertising and the results are not paying for it.
But wait!
What happens when you stop social media advertising? What is your alternative to social media advertising?
 
Introducing Google Advertising
Google Advertising is always a great alternative to social media advertising. When social media advertising doesn't work for you, you would need to consider Google Advertising as it is really powerful for your business.

When Should You Consider Google Advertising?
Google Advertising works like Facebook Advertising.
For starters, you'll have to start by choosing the right keywords, followed by target audience and budget. Once that is all done, you might need to upload some artworks to ensure that your ads look good. Again, this is highly dependable on the type of advertisements you are planning to advertise. If you are going to text-only ads, then media works or artworks are not needed at all.

What makes Google Advertising works better than social media marketing?
It depends. However, assuming that your business isn't growing with social media marketing, it is definitely high time to try on something new. In this case, Google Advertising.
Allow me to give you a good example.
If you are targeting audiences which are often highly paid and executive level (and above), chances are they don't have time for Facebook or social networking. Sure, they have social media accounts just like you and me, but they won't spend a lot of time with it.
In most cases, maybe just once or twice a day. Due to this, you may notice significantly lower results when using social media marketing to reach out to these people.
So, where do these group of people hang out mostly?
Email, most of the time and search engine occasionally. When you use Google Ads, you can ensure that your products or services are constantly displayed in places they are in. For example, Gmail has ads integrated into it to ensure that you notice them.
Personally, I find Google Ads to be very effective and can be very powerful if you are targeting the right audience.

How do you set up your Google Ads?
Step 1: Select your new campaign type and name


This is the most basic part of Google advertising and you should choose "Search Network" only if you are starting out. There are more options you can choose when you are much more familiar with Google Ads.

Step 2: Selecting the geographical location


This is where you tell Google the location of the audience that is able to see your ads. You can go crazy here by even entering latitude-longitude coordinates or the radius of a set number of miles (or kilometers) nearby a specific address. If you have a small budget, I recommend you to start focusing on a small area before expanding the location to a much wider area.

Step 3: Choosing your bid strategy


I prefer to control the bid myself but if you want to be more efficient, you can use the automatic version which saves you a lot of time. You also need to set a budget here which is calculated daily. By default, Google offers several different payment methods.
Always remember to set up your daily bid to ensure that you don't blow your credit line.

Step 4: Creating your first ad group and crafting your ad
Are you ready to get your hands dirty and start advertising? This part is crucial!
One important tip to start with is that you should write your headline with some keywords in it as people are often attracted so selected words they see and read. In the title, you are limited to 25 characters, so make sure you think hard about it.
On the second and third line, you have the option to craft the perfect words in just 35 characters each.
Of course, the 4th line will be your display URL (make sure you get this right)

Step 5: Selecting your keywords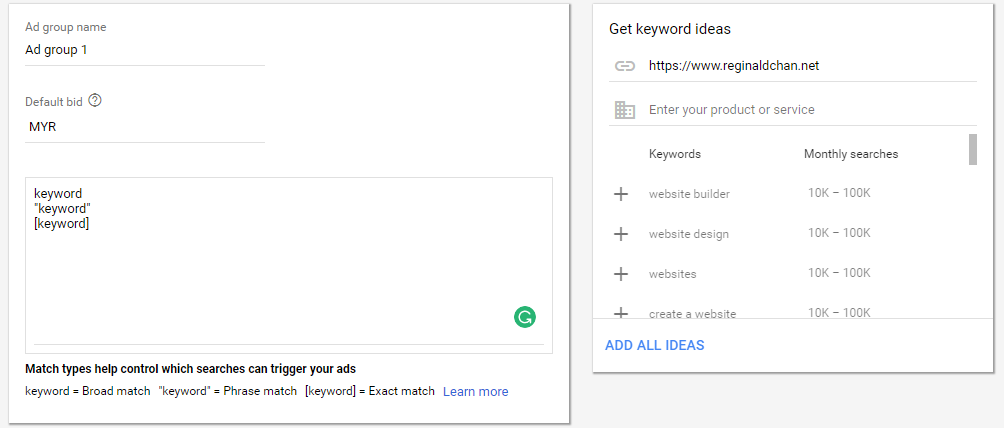 Choose the keywords you want to target and you can put in quite a lot of keywords in it. However, it is not advisable to put in hundreds or dozens of keywords simply because you can.
Be selective and choose only a few keywords that best fits you (and you can further tweak down the road).

Step 6: Review and make sure everything is in order
This is pretty much the final step where you review the ads and make sure everything is correct. Make sure you avoid typos and do not be afraid to tweak the ads until you are happy with it.



Conclusions
If you are wondering about Google Ads, it is one of the best advertising methods apart from social media advertising. However, you need to understand that the cost of Google Ads is often higher (slightly higher) than social media advertising but in return, you often get better results from it.
Are you using Google Advertising for your business or maybe, you are just planning to use Google Advertising? I'm curious about what you have in mind and tell me more about it in the comments!
If you find this article useful, I would appreciate it if you share this with your friends!

See also: Twitter Advertising Best Practices