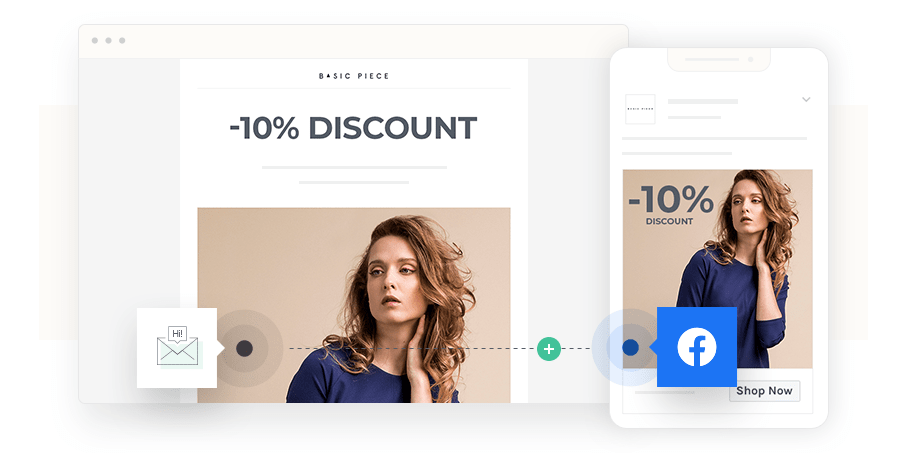 Many companies know the importance of marketing through social media and emails to reach more people and to bring success to their business. Some people do research on the best time to send marketing emails or when to post on their social media pages. However, it's important to consider the benefits of combining both together to improve your business' marketing.
Combining your social media and email marketing can provide many benefits to your company.
Keep your style consistent between platforms.
Cross promoting each marketing platform to gain more followers and subscribers.
Recycle material to save money.
Keep these five tips in mind as you want to combine social media and email marketing. These various tips will help you to have your social media and email marketing campaigns work together to grow larger and reach more people.
5 Ways to Combine Social Media and Email Marketing
1. Maintain Consistent Branding
Many customers like to see consistency between different channels that companies use. You can do this with your social media and email marketing strategies. People pay attention to the way that businesses brand themselves, so you need to maintain consistency between your various platforms.
While you do have your social media and your email campaigns to communicate with people, you want to maintain a consistent tone between them. If you tend to have a relaxed business, then reflect this in your social media and emails. You can also make your emails more upfront and serious. This all depends on the approach you want your business to take.
Keep these questions in mind as you decide on a communication style for your brand.
What type of person do I want to subscribe to my emails and follow my social media?
What should I change in my emails or social media posts to attract that type of person?
Do I maintain this same style between my different marketing strategies?
If not, how can I adjust my emails or social media posts to make them consistent?
If you have a different style between your email campaigns and social media posts, then people won't show interest in joining the other. After all, if you make lots of jokes on social media and keep it strictly business on email, people won't want to join the other one because they followed to receive specific content.
Keep in mind that your business should appear professional. When you show that you care about the small details and keep things consistent, you show that professionalism to others. They then trust your business more and will want to subscribe to your emails or follow your social media pages.
2. Look at Your Statistics
As you send out emails to customers or make posts on social media, pay attention to how your customers respond. You can collect statistics based on their activity, such as open rates, click-through rates, and social media shares. These actions, while important for spreading your business, also give you information about your customers.
For example, look at the subject lines of your email campaigns. Which subject lines have more clicks? Which ones increase the spam rate? By looking at the statistics you collect, you can figure out what information attracts the most customers. You can apply these statistics to both your social media and email marketing strategies.
If you gain more sales and social media traffic when you post deals for your website, then you know that you should also share deals in your emails. Keep in mind that your target audience will be the same between platforms, so you can aim your content at the same types of people.
Effective social media and email marketing comes down to knowing your customers and giving them the content that they want. By giving customers their desired content, you increase their loyalty and trust towards your business. This is because customers want companies to make adjustments according to their needs and react positively when this happens.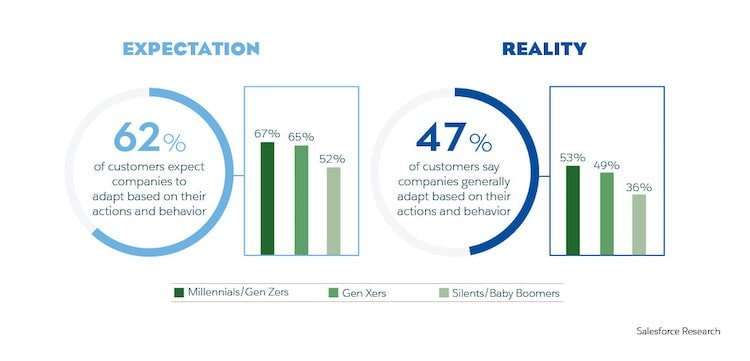 As shown above, most people expect companies to change based on customer needs. When you do this and turn a customer's expectations into reality, you gain a loyal customer that will purchase products from your business. You can find out what your customers want through statistics and make those changes according to the data that you find.
3. Cross Promote
Since social media and email marketing are separated, many people forget about the importance of cross promoting. When you remind your customers about your other channels of communication, you increase the odds of people joining those other channels.
People may join your social media page after coming across it. They see your posts and like the page, but they may not know that you send out emails. If a customer doesn't know about it, then they can't join it. This is why it's important to post reminders every once in a while to let new customers know about your other communication channels.
Some business owners may worry about overbearing customers with reminders and invites to join social media groups or to receive emails. This makes sense because they don't want customers to think they are pushy, which can drive away some customers. If this is the case for you, try using subtler techniques to cross promote your channels.
You can include social media icons at the bottom of your emails to your different pages. This will make it easy for subscribers to click on those icons and quickly get updates from those social media accounts. You can also provide links in your profile or in your posts so that people can subscribe to receive emails from your business.
You can occasionally post a call to action in your emails or social media posts to cross promote your other channels. Make sure to find ways that draw in more people without coming across as too strong or pushy. This will help you to grow each of your channels.
4. Provide Incentives Through Contests
People love free prizes and deals. If you can provide these to your customers, they will do what they have to for a chance to win those prizes. This is why so many businesses create contests to draw in more followers and subscribers. They know that it works and that people are naturally drawn to free prizes and deals.
You can post a contest on your social media account or your email campaigns to get more people to join the other channels. If you have a large social media following, offer a prize or exclusive deals by subscribing to your email campaign. If it's the opposite, offer similar rewards through your social media and inform your email subscribers about those prizes.
While prizes naturally draw in more people, the larger the prize, the more people will participate in the contest. As shown above, having prices under $99 only draws in 1.7 out of 100 followers on average. The average participants more than triples if you offer a prize worth more than $1,000. In short, the higher the value, the more participation you'll gain from followers.
You can use contests to grow both your social media followers and your email subscribers. It's a simple yet effective way to draw in more people, especially if your followers share the contest with their friends.
5. Recycle Content
When you share information in your email campaign or mention a deal on your social media pages, you can easily recycle that content in your other channels. This makes it easy for you to have content for both audiences while you keep things consistent between your channels.
While it may seem repetitive to do so, consider the importance of recycling content. Sure, you will have some people who follow your social media pages and receive your emails, but there are plenty of people who don't follow both. If you only share information on your social media, then people only subscribed to your emails will never hear about it.
Many people dislike missing important information and deals. If you only share information with one of your channels, then those that follow other channels may feel like you ignored them or overlooked them. This comes across as unprofessional and can cause people to turn away from your business.
People like to receive information: this is why they join your email campaigns and your social media accounts in the first place. They did so to receive notifications, information, and updates about your business. When they subscribe to these different channels, your customers show you their interest in your business, so you should give them the information that they want.
Recycling content doesn't only make things easier for you, but it extends the reach of the business and increases the traffic you receive. Customers appreciate when you reach out to them to share important details. You will see the traffic for your website, social media accounts, and email campaigns grow as you recycle and share information to as many people as possible.
A great way to achieve this is to use scheduling tools for social media and prepare your social posts in advance. Instead of remembering to post at a certain time every day, planning out future posts for the week is a great way to keep your strategy aligned and put your mind at ease.
Conclusion
Social media and email marketing campaigns are powerful tools to draw in more customers while sharing information about your business. When you combine both together and seek to grow them, you can reach more people and watch both channels succeed. By having them work together, you encourage people to join both.
Keep in mind that combining your channels won't just magically draw in more people. You should seek to combine them in a way that your customers appreciate. If you continue to provide the content, products, and information that people want, people will continue to follow your business to receive it. Doing so as you continue to combine your channels will lead you to further traffic, growth, and success.
See also: How do I use Social Media to Grow My Email List?