Australia will be one of the first country to discover Facebook Trending (lucky me). Facebook announced that they are rolling out their new feature called Trending. This right column tool might be an opportunity for brands to get more exposure for content if they achieve to feature content in the top stories.
How brands can leverage Facebook Trending Topics?

A Facebook spokesperson announced there are no opportunities for brands yet to sponsor or buy Facebook Trending topics. However brands can be qualified as a trending topic. This is a huge opportunity for advertisers to push real-time conversations:
1. Real-time content creation and distribution
For example, the Australian Open is the sport week's event. Brands have created content based on trending topics such as Lacoste that provides Dominika Cibulkova's outfits. This type of content would be much more creative and engaging for users. They cleverly incorporated their brand with the most talked tennis tournament.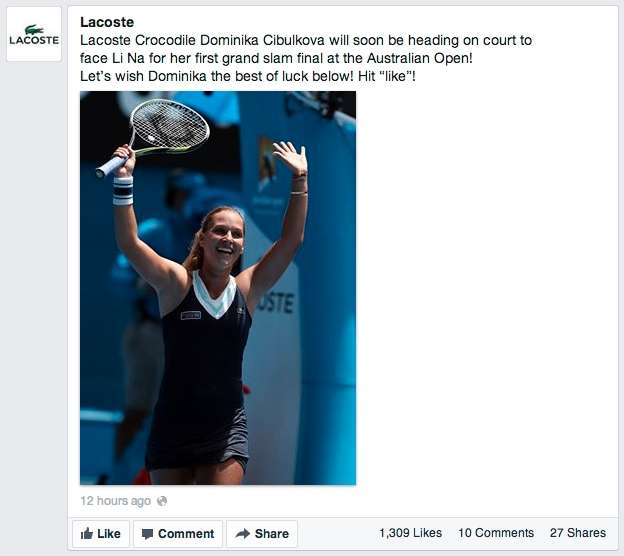 2. Engagement with users responding to trends
Brands would need to engage with Facebook users that post statuses related to the trends. For example, Lacoste can engage with someone who is saying how they are loving russian player outfits.This type of direct approach is definitely a new way for brands to keep engaged with their brands. Even Twitter has adopted this trending topic feature and has proven its success to generate more relevant content for brands.
As it stands now, it appears that mostly large brands will have the best opportunity with Trending. If a brand does an excellent job covering a trending topic, they will have a higher likelihood of being included in the feed of posts related to the topic.

Would you use Facebook Trending as a brand or user?  Add your thoughts in the comment box below.