We are months away from 2016 and prediction types of posts are getting wild. It is as if the mushrooms are growing after a rain!
You probably read a dozen of posts like this and you are still undecided and looking for more alternatives. In this post, you will find our social media marketing predictions for 2016.
Ready?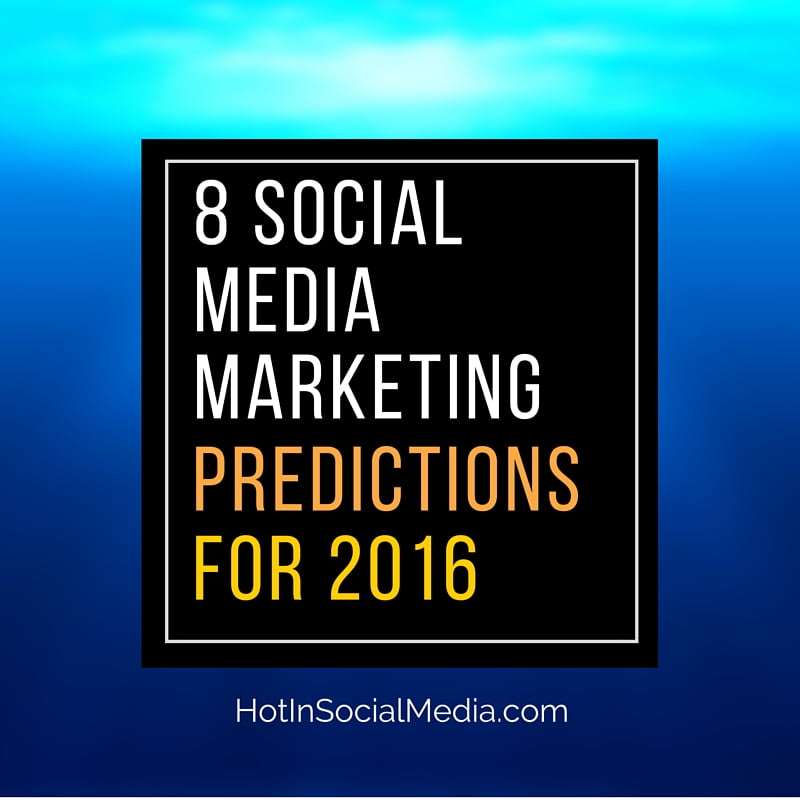 8 Social Media Marketing Predictions For 2016
1. The rise of visual in social media marketing
Visual marketing has long been a huge game changer for social media marketers and it will continue to surge in the coming years (at least in 2016).
An image or photo represents a thousand words and in marketing, that's 1,000 different possibilities and opportunities!
It doesn't matter which social media platforms you are in, aim for (at least) some form of visual in your social post.
If you are starting out visual marketing, here are some tips:
Use the right image size
Avoid using free images from Google (use free stock photos instead)
Provide clear call to action in the image
The image must represent the message you are trying to convey
Looking for visual marketing guide? Read this.

2. eCommerce is coming into social media
Facebook, Pinterest, and Twitter have all incorporated eCommerce features in social media. For example, here is a simple example of the "Buy Now" button on Twitter and Facebook.


I personally believe that the eCommerce will take over social media in the near future. If you are running or managing an eCommerce business, focus on integrating such features (such as "Buy Now") to triple your social media marketing results.

3. Mobile will be the main source for social media users
Mobile is already a big thing in social media today. Over 75% of Twitter users use the platform through their mobile devices and Facebook had claimed that over 50% of their users are using mobile as the main source in engaging with the platform.
Let's face it. Mobile is just going to be bigger in the coming years!
But wait! How can this affect your social media marketing strategy?
Well, for starters you are able to spend more money on right audiences using the right platform devices. This means that you are spending your marketing budgets correctly and more efficiently.

4. Live streaming is the next big thing in social media
It all started with Meerkat and followed by Periscope and Blab. The truth is… live streaming connects audience around the world in real-life.
Marketers who are serious about engagement see that and indirectly live streaming became the next level of communication for many.
Starting live streaming is simple. All you need is your smartphone, the right app (which you can download from the App Store) and WiFi connection.
Seriously, that's all you need.
Sure, you would require slightly faster Internet speed to have a smooth connection but most live stream works pretty well even with moderate or lower end Internet speed (minus the lagging).
New to live streaming? Don't worry — here's a full guide on live streaming.

See also: Blab –  A Game Changer For Video Streaming

5. User privacy will be a bigger problem
As social media marketing rises, user privacy will be an ever-growing problem for both the users and suppliers. After several high-profile security breaches (such as this one from Ashley Madison), users tend to be more wary about security.
And how will this affect social media?
For starters, there are billions who use various social media platforms daily across the globe. A security breach could easily see social media giants being slapped with lawsuits.
In 2016, be ready for more steady and more changes especially when it comes to user privacy.

6. New form of publishing will take place
2016 is also the year where new forms of publishing will happen. Let's take the example of the Instant Articles by Facebook. Publishers can potentially reach out to billions of highly sorted readers who will enjoy specific types of content.
And Facebook is not the only one.
Project Lighting (Twitter's upcoming project) is said to pub publication in the hands of its users and it is expected to be launched in a very dynamic manner (aiming at public's interest).

7. Microblogging on social media
Yes, social media was once a microblogging platform but thanks to the improvement and growth in technology, microblogging has pretty much left out of sight by many.
Personally, I believe that microblogging will make a huge return in 2016.
Here's and example: Platforms such as Facebook has been giving more advantages to longer post updates and popularity of the post is also measured with the number of likes and comments (engagement).
One huge advantage focusing on using microblogging (on social media) is that it requires fewer actions for the users/readers to read your writing. Instead of moving from social media platform to your blog, they can do that directly from the platform itself.

8. Video marketing is going to explode
"Explode" maybe a dramatic word to use but here's the truth: Video will be a huge game changer in 2016.
Again, take a look at social media giant: Facebook. Publishing a video directly to Facebook gives you an advantage over other posts thanks to Edgerank.
And apart from that, the videos are automatically played which potentially double the number of viewers.
Believe it or not, a video does a number of things; from providing step by step tutorial to sharing an introduction of your services to your audience.
It doesn't matter if you are shy in front of the camera because it is not mandatory to have a 'face' in front of the camera. You could use screen share to make some tutorial videos.
Plus, publishing a video is often considered more humanized in this competitive, marketing world.

Now it is your turn!
If you search on Google for the term "social media marketing predictions for 2016", you would probably be spoilt with hundreds or thousands of different ideas.
Personally, I am a strong believer in the above eight predictions and thought past records, I know I'm pretty close to the bull's eye.
What do you think and do you have your own predictions? Leave a comment below and let's discuss further!

See also: Top 3 Most Important Social Media Networks in 2015