For everyone, it's essential to convert a PDF file at some step. PDF format is a good format to store different documents, protect files from being distorted and keep them unchanged. But the big problem with this format is to edit such documents. Sometimes you need to add some changes into files, re-align them properly or make them look right. In this case, conversion of PDF to other formats, for example, Word, can be a great option to re-master your PDF files.
PDF to Word converter software allows you to access these very features. But in this article, our goal is to test and find a decent converting software that can really work for you and do that they promise in the first place. We've collected top 8 best PDF to Word converters to meet your needs.

8 Best PDF to Word Converters
Docs Zone is one of the most powerful tools that offers you great PDF to Word options with the user-friendly interface you would love in spite of superficial technical knowledge. The tool allows converting more than one PDF document at once using the "Select files" button.



As soon as you have added your files, you can select any conversion mode.  The flowing mode is great for most document purposes like tables, columns, graphics, page layouts, etc. The exact mode is ideal for making your Word files look good in comparison with the PDF one. And the OCR mode gives you an option to convert scanned PDF files into an editable Word file.


When it comes down to time, it's quite consuming, but it is a nice place where you can convert any PDF files you want.

CloudConvert offers free conversions of PDF to Word files. The advantage of this tool is the opportunity to select different files from your laptop, URL or storage services like Google Drive, Dropbox, etc. Once you select the file, click the button "Click Conversion". It offers some additional features like saving converted files into your storage services and email notifications.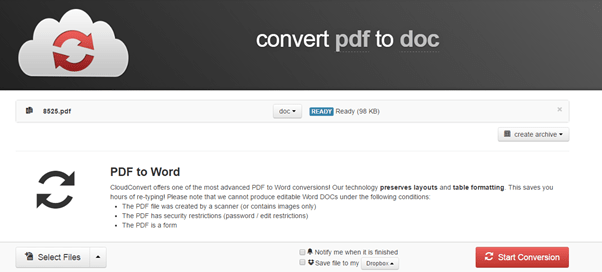 The tool takes much time to convert the file in comparison with other mentioned tools. The document file is high, but it can't perform editable Word files based on the following conditions: security limitations, scanned files and PDF form.

UniPDF is another free PDF to Word converting software that is easy and fast to use. It has a straightforward interface that is not bombarded with ads and difficult settings. You can convert not only text documents but also PDF files to image formats like PNG, JPG, TIF, etc.

SodaPDF offers a free kit of useful tools to transfer files of PDF format. The tool allows converting PDF documents to different formats like Word, Excel, HTML, TXT, images, etc. The worst aspect is that the conversion to PDF is not supported. The best aspect is the support of password-protected PDF files.


The converter has a simple and intuitive interface that converts docs rather fast and of high quality. Those people who regularly work with PDFs need this conversion feature.

This is a 100% free PDF to Word converter that produces files of decent quality. It keeps the exact format of PDF docs and allows you easy and quit editing. The tool is ideal for multiple conversions at one time. One of the disadvantages is that the tool can't handle with special characters not found on an English keyboard. Like all Boxoft products, it can be an effective way to run your online business.

ZamZar is one of my favorite free online file conversion tools without any need to download the software on your devices. The tool supports different types of formats like text, image, ebook, CAD, Audio and Web ones. One of the drawbacks is that one PDF file can be converted only at a time and takes much time to get the ready file. All target files are sent via email.

Nitro Cloud is another great converter of PDF documents. This is a web service and you don't need to download and install it on your computer. As the tool is cloud-based, you can convert your files into different storage services to Word. In most cases, downloadable PDF to Word converters doesn't support this feature. The tool has limitations, as you can only convert up to 5 PDF files per month and the file size should be smaller than 5MB.

Icecream PDF converter is handy to convert to and from PDF format, supports multiple formats like Doc, XLS, HTML, TIF, JPG, GIF, etc and provides you with powerful settings of high-quality conversion. It is simple to use due to the availability of multiple languages (over 20 ones). The tool supports password-protected PDF files and offers an option to apply passwords to output converted documents to PDF.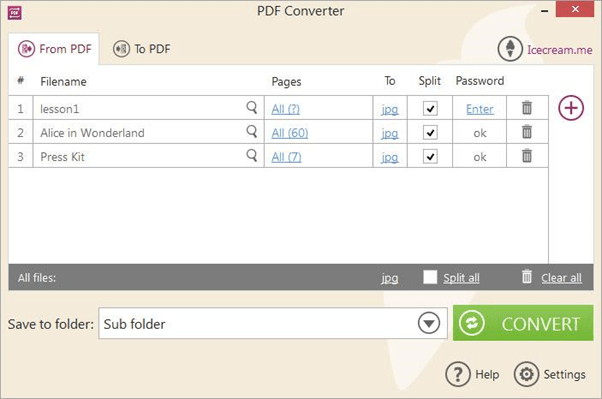 Finding the best free PDF to Word converter is a really hard task for anyone, but this article will serve as a good helper. Take a look at these 8 tools and find the best one for you.

See also: A Step By Step Guide for Converting PSD Design to WordPress