Are you using Pinterest as part of your social media marketing strategy?
If no (not yet or not sure if you should be using Pinterest), now is probably the best time for you to start looking at Pinterest seriously. Fortune Magazine reported that Pinterest hits the 100 million user back on September 16th.
For one, Pinterest is really the quiet type. They don't really share much stats in both financially and growth since it was launched. Now that they do, I believe that they are ready to take Pinterest as a form of social media marketing to a whole new level.
I tried Pinterest a dozen times but only to realize that not every trick works.
For starters, Pinterest is pretty much dominated by the females and this means that the tone of sharing (and communicating) is different from the opposite sex.
Puzzled? I hope not as in this post, you will find 7 simple but super actionable techniques to take your Pinterest marketing from nowhere to up there.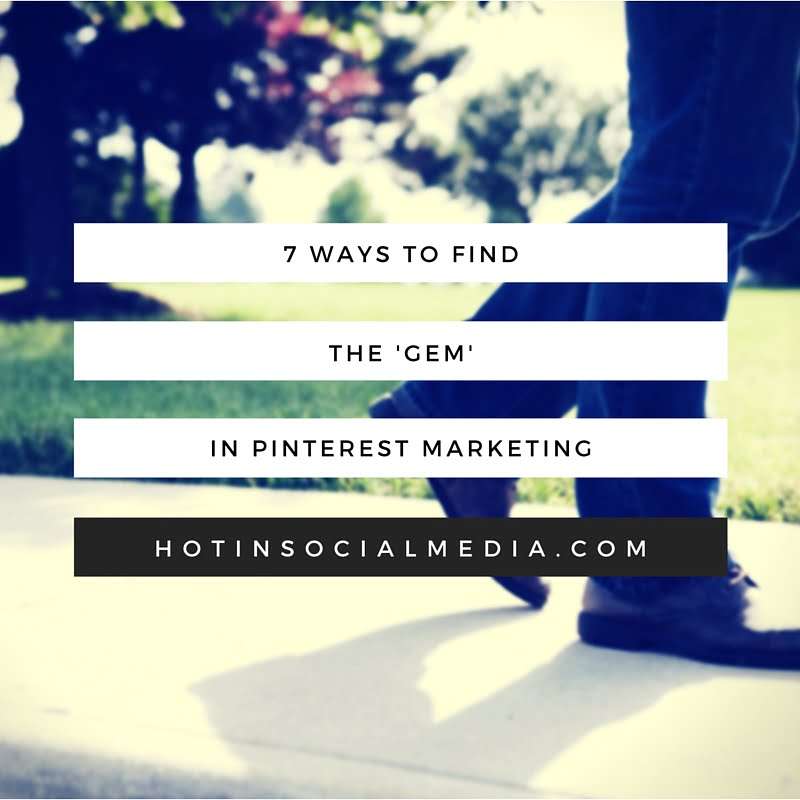 7 Ways To Find The 'Gem' In Pinterest Marketing
1. Start pinning your images
The first step is pretty simple. You aren't going anywhere if you are not pinning your images on Pinterest.
All you need to do is to create an account on Pinterest and select pin image from website or upload image from computer. The rest is pretty much history.
If you are managing a website or business, I would recommend you to create a business account on Pinterest instead of the typical basic profile. Don't worry, both types of account are free to use.
Uploading an image to Pinterest is your first step when it comes to marketing on Pinterest. Plus, the more you pin, the better the chances of creating a more 'colourful' portfolio of yourself (or business).

2. Make it easy for your readers to pin images
There are many tools which you can use to encourage pinners to pin your image. For example, here are several tools you can use if you are running on WordPress blogs or websites:
SumoMe
Easy Social Share Buttons
WordPress sharing (JetPack)
Shareaholic
The ultimate goal in Pinterest marketing is to ensure that you are constantly encouraging your readers to repin the images. You could also use powerful call-to-actions to further encourage the readers to pin the images.

3. Join popular Pinterest groups
Pinning images on Pinterest is not enough. You need to join popular Pinterest groups to increase your visibility.
Just like any other social media platforms, Pinterest allows you to search for relevant groups that you can join. Do note that some groups require the administrators to manually approve the application to join.
The trick here is rather simple. You need to ensure that you are constantly looking for the right group — for example, joining the groups which are closely related to your niche. You should avoid joining any type of Pinterest groups as you may share images that will not attract the followers due to the different niche and interest.

4. Participate in Pinterest groups
Participating and joining are literally two different things. Participating means engaging in the Pinterest group itself. This means that you share pins of others, comment and build conversation all around the specific group.
The key takeaway here is not about promoting yourself but it is all about creating brand awareness, visibility and networking with others of the similar niche as yours.
Social media marketing for business is not about promoting your product or services. It is all about engaging with others and even with your competitors.
5. Cross sharing from / to Pinterest
Sure, Pinterest is a social media platform among the dozens out there but it certainly doesn't mean that your social media activity (in Pinterest) evolves around that platform only.
Pinterest allows you to share images across various social media platforms; namely Facebook and Twitter.
When you cross share pins and images from Pinterest to other platforms, you are literally telling your followers that you are active on Pinterest.
Not only they may follow you as well on Pinterest, they may even share the images with their friends!

6. Create real conversations on Pinterest
Pinterest allows you to message and chat with one another. On the personal side, I see many social marketers using this feature as a method to share pins with other followers.
For me, this is a bad move and the reason behind this is pretty obvious. Pinterest chat is meant to create real conversation over Pinterest and not entirely about sharing URL's of the pins with others.
Sure, you could do this from time to time (to your really close friends) but certainly not to everyone who connect with you!
If you wish to share an image or pin via Pinterest chat, always ensure that you are sharing it at the right time and to the right person (to avoid any unwanted situations).
7. Pin it for later
I came across the "Pin it for later" on Google Plus thanks to several influencers like Rebekah Radice and Peg Fitzpatrick.
The whole concept to this "Pin it for later" is really simple and here is how it is done:
"Pin it for later" is used when you share social updates on other platforms such as Google Plus and Facebook
"Pin it for later" is add in between or ending of the social post to encourage your followers to pin the image (and using the pinned image as a bookmark to read the post at a later time)
Here's the real advantages using this method. You get more pin counts (which Pinterest love) and you get better chance of traffic back to your blog post.

A quick recap
There are many ways you can use Pinterest for your social media marketing needs. From using Pinterest as a platform to connect with like-minded people to creating real conversation with potential customers. The sky is literally the only limit when it comes to Pinterest marketing.
Before we end this article today, here's a simple question for you:
Which is the best Pinterest tactic that works for you (or your business)?
Leave a comment below and let's get the discussion rolling!

See also: 10 Pinterest Tips That Will Improve Your Visibility