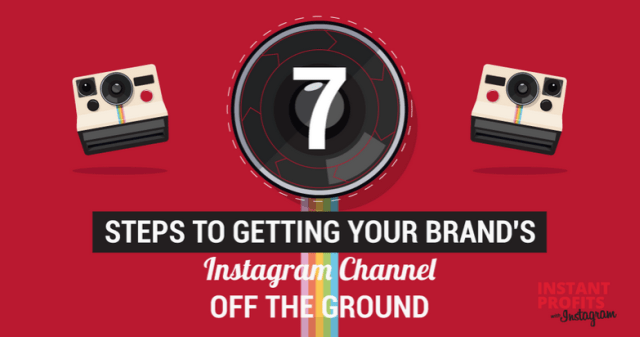 When it comes to building your brand, Instagram is a powerful platform to use. It's all about telling your story in the most visually-creative way possible and it's really helped to push forward many brands such as GoPro, Nike and RedBull.
It's not hard to see why Instagram is such a success when you realize that visual posts generate 94% more views than text-based posts. And with 300 million monthly active users now on Instagram, the potential to increase your brand's reach is huge.
But if you're new to this platform then what are you supposed to do to get noticed? I've put together an infographic to give you 7 steps to getting your brand's Instagram channel off the ground – check it out below! But first, I'll give you a few more handy tips on what else you can do…
Check out the Instagram business blog
Yep that's right, Instagram realize how important it is for businesses to succeed on their platform so they've created a blog that is dedicated to exactly that. The blog offers plenty of tips and examples of what other businesses are doing, so make sure you check it out to stay up to date with the current trends.
Keep it balanced
As with any social platform, you need to learn how to balance work and play. What I mean by that is you should show your followers less of the sales side, and more of the fun side. Social media is all about showcasing your personality – and nobody wants to follow a sales obsessed Instagram page.
Don't just take, take, take
If you want people to follow you then you need to make them feel valued. When a person comments on your photo, tags you, likes one of your pictures, or even follows you, then you need to engage back with them. It takes effort to build a following, but the more you engage with people, the more you'll boost your followers.
Integrate with other apps
There are plenty of third party apps out there that can help you reach the most potential with Instagram. You can check out a full list of Instagram apps here. Some of the best include Hashtagram, Statigram, Instagrid and Gramgrab. These apps do everything from providing you with stats, to organizing your images into folders.
Stay on trend
So there are a lot of trends that regularly take over the web each week. You know the ones – #throwbackthursday or #followfriday. By using these hashtags each week you'll help to build up your followers by adding your photo to a trending stream. If you want to do a bit of research to find out popular hashtags then check out hashtagify.me.
Check out the competition
Are your competitors on Instagram? Do they have a huge following? There's no harm in checking their profile to see the type of campaigns they run and how their followers interact with them. I'm not saying you should copy them, but there's no harm in getting some inspiration for your next campaign!
Offer exclusives
If you want to build up more followers then consider rewarding the people that do follow you. Offer something that only your Instagram followers can get. Make sure you promote it on your other platforms so people know that they have to follow you to get some exclusive goodies!
So those are just a few tips for you to takeaway and put into your Instagram strategy, but what else can you do?
Check out the infographic below for 7 more steps
If you want to find out more about how you can succeed with Instagram then download my free e-book – Instant Profits with Instagram by Issa Asad.