Do you think you are a great writer? Is that all you need to reach a wider audience out there? Whether it is a blog or content related to your business, it needs to be put in front of the right potential customers. Content has always been a great part of the promotion equation, but you also need a concrete method to make it work and that is usually your social media profile.
Social networks provide a great opportunity for sharing and advertisement. Talk to a social media manager and his advice is to bring the perfect combination of hard work and passion while promoting the content. All you need is the right strategy and effort to promote your content on social media. Start with these 7 proven strategies for promoting content across social media websites. Let's dig into the right method and find out more.
7 Proven Strategies for Promoting Content across Social Media Platforms
1. Create a Unique Post for Each Social Media Channels
With a busy schedule and the pressure of other responsibilities, creating unique social media content can be challenging. More so, you need to create different content for the different channels you are using in your strategy. After all, every platform concentrates on a different motive and that motive should be complemented by the content.
Every platform has its own set of rules and ignoring these rules will deteriorate your strategy. What works on one platform will not work on the other ones.
Here is an example from Facebook, it can be as descriptive as you want.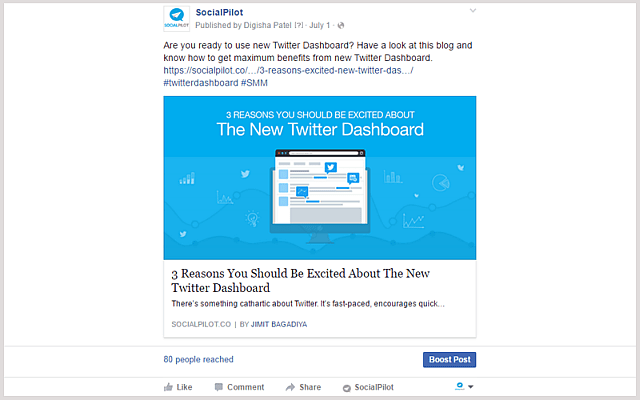 On the other hand, for the Twitter posts, there is a word limit and you have to be really concise with the posts:


Let's look at Pinterest. Being a platform that promotes visually rich content, Pinterest can't take the same post as what might have been posted on Twitter. Rather than witty quotes or lots of languages, you are better off using a captivating and high-quality image on Pinterest. Here is an example: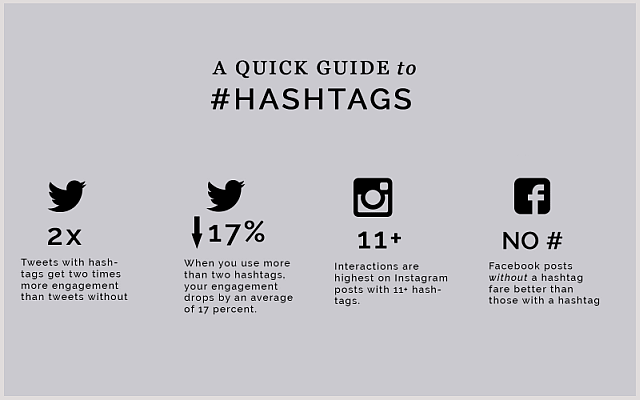 2. Optimize Your Posting Timing and Frequency
In social media, timing is everything. You need to set proper timing and frequency of posting your content on social media based on your audience's behavior. Using social media scheduling tool like SocialPilot, you can easily schedule a post in advance. This tool allows you to make your social media sharing easy and effective. But, for a meaningful connection and the right opportunity, first of all, you need to understand how time works for these platforms.
People use Facebook everywhere.  From home, work, mobile or desktop. And the surfing starts first thing in the morning. If you want to catch the attention of your audience, one thought is to post between 1.00 pm to 4.00 pm. Since most people have completed a good portion of the work responsibilities by this time of day, this period of the day is counted for a little socializing. Post your content that time and watch the magic.
Twitter, it's recommended to post content in the period between 12.00-3.00pm or 5.00 to 6.00 pm to post on this social media giant.
As LinkedIn entirely focuses on professionals, it is used more during the work hours. The best time to post on LinkedIn is between 7.30-8.30am and 12.00pm, and 5.00-6.00pm. The traffic increases in the midweek that is from Tuesday to Thursday.  Avoid using it during the weekends.
Being visually pleasing, Pinterest is an evening treat for its users. Try uploading your content after 5.00pm on the weekdays. The amazing part is Pinterest sights a surge in the visitors after 2.00 am and that can be your best opportunity.
We're seeing patterns that indicate that there really isn't a 'bad time' to try to reach your audience on Instagram.  However, Instagram tends to report a lull in engagement between 3.00pm to 4.00pm, so try to avoid that timeframe.
As for the frequency of the post, keep your posts confined to 2-3 every day.
3. Join a Blogging Community
There are blogging communities available on every social media platform. Join these groups and keep posting them. Becoming an engaging part of these communities allow you to reach a large part of their audience. Plus, you get an authoritative reputation via these communities.
Every social media platform has its communities like Twitter chats, Pinterest boards, Google Plus communities, and Facebook Groups. Get active in these groups, find the real communities and promote your content at a higher level.
The image below is an example of the Facebook Groups:

4. Build Relationship with Influencers
While you were concentrating on your newly set-up business and content, someone out there was amassing a huge crowd of social media. What if you get linked to that one person?
When you build your presence on social media, it's not just about how many people you are linked to, but who you are linked to. There are some connections that are passive for your account and there are others that can sky-rocket your reach. You have to concentrate on the active ones here.
Technically, there are three types of people who have to concentrate on:
Peers
Advocates
Influencers
You are not alone in the business; there might be someone who is equally desperate to gain the attention of the same customers.  So, if you combine efforts, the chance of building a huge base of customers starts to get higher. Team up on a blog post and share each other's content to make things easy.
Secondly, advocates are the ones who are going to stay connected to your brand and will also promote it for you by retweeting and sharing. You should stay in contact with these audiences and do not forget to support what they are doing. A free service will be great to keep them boosted.
Last, but not the least influencers. They are authoritative people on social media. Social influencers will typically already have a loyal database of customers and your goal is to leverage that database.
Tip: Tagging them in the post is the perfect way to start your connection.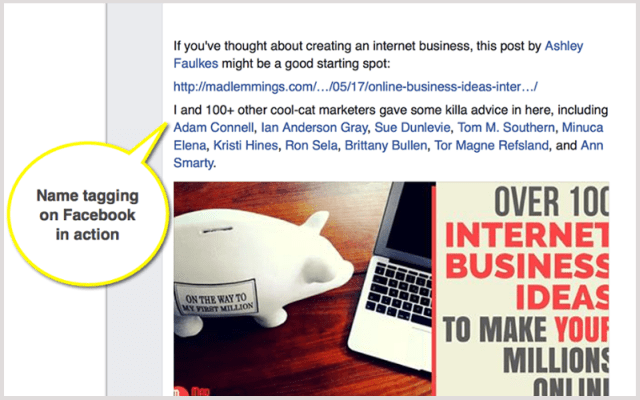 5. Embrace Visual Effects
Videos or infographics, get more attention than more the basic forms of content. A great example of this is the sudden rise of Instagram. With social media giants like Facebook and Twitter in the market, it would not have been easy for Instagram to survive if it was not about the classic image quality.
Video marketing is about to grow miraculously and you too can grow with it. 90% of users say that videos make the decision-making the process easier. That means going for videos is always a win-win for you. Take advantage of this revolution and promote your content with ease.
6. Promote Curiosity
Content with a question seems to gain more attention. There is always a place for emotions in social media, making it easier for you to reach your audience. The key will be –whether you are able to generate curiosity or spread a sense of urgency. Either way, you are going to achieve your objective.
Sometimes, it can't hurt to forget about the business side of things for a minute and focus on the personal relationship with your audience. After all, social media is first meant for connecting people across.
Ask yourself questions like:
What do they think?
What are they interested in?
What might they want to know about me/my business?
Here is some buzz language you can use to spread a sense of urgency:
"Last few hours of the sale"
"Don't miss the chance"
7. Don't Forget the Call to Action
What's the main reason behind the content promotion? You are ultimately focusing on conversion. That means you have to be clear about what you are asking of people. Whatever content you post on the social media, make sure it is linked to the right product page and contains a call to action.
Again, it's the sense of urgency that can call for an action in the best way. While adding in the call to action keeps the following tips in mind:
Make the benefits clear
Leverage great graphics
Be impactful with the designs
Incorporate the call to action into the post to spark the conversation
Use questions
Utilize words like "get free"
Keep it exclusive for the audiences
You will get some great ideas for a call to action here. Take help from this. Also, posts that invite people to using  "comment" tend to gets more responses than those that do not. See the stats below:


Conclusion
There is no denying that social media is a crucial part of content strategy. A bit of diligence, mixed with these proven strategies will take you to the right path. Take a cue from here and start working on your own specific content promotion strategy plan. Within no time you'll be seeing a surge in your channel traffic.
See also: 10 Most Possible Mistakes Done By Content Marketers