We have been talking a lot about social media tools; you know, the tools that you need to run or manage successful social media marketing. Trust me, those are probably the ones that most marketers are interested to read.
Today (and this post), will be no different, I will share with you the tools I use to manage my social media marketing. Make no mistakes as these tools I use had helped me to double (or triple) my leads and even projects I have always been waiting for.
If you find this post useful, share this around and leave a comment to tell me what you think about these social media tools!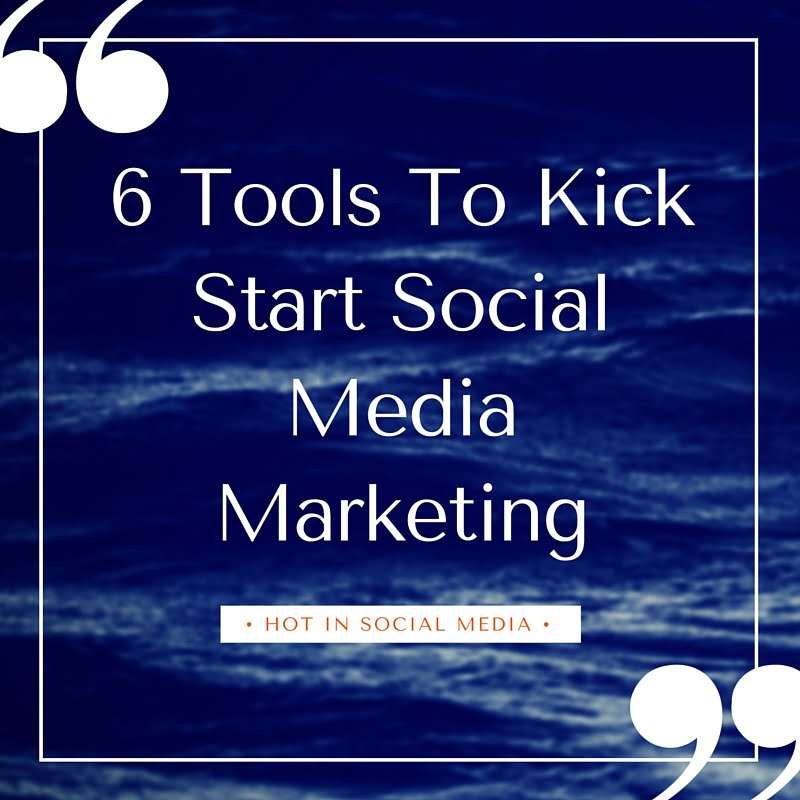 6 Tools To Kick Start Social Media Marketing
1. Facebook Audience Insights
Yes, Facebook Audience Insights or statistic is an important role in any of my marketing. Assuming that you have a page up and running, Facebook Audience Insights is definitely a must-must for any marketer who wants to be successful in social media marketing.
Facebook Audience Insights provides you with tons of statistics such as:
Age
Gender
Education level
Occupation
Location
Interest
Behavior
Long story short, you will be able to understand your audience much better and for those who are just starting out, you may even find the right audience to target (instead of targeting Tom, Dick and Harry type of audience).
Don't worry, it is a free tool to use and only useful for those who have an aged Facebook Page (not useable for brand new Facebook Page).

2. Alexa
Yes, you read it correctly. Alexa is known for its search engine optimization (SEO) advantages but it is still useable for social media marketing.
I use Alexa especially when I am starting out a new venture or business. Alexa comes in two different forms; free version and paid version.
Of course, the paid version gives you all the goodies that you can ever imagine. On the other hand, the free version gives you minimal features but it is (still) very useful especially for beginners.
When you start a business, you should have a list of competitors that you would want to compete with. Let's assume that your competitor is known as 'A' and type in the exact URL in Alexa search column.
Alexa will return a list of statistics (don't worry, some will not be visible) and important stats can be seen such as:
With the above information, you would be able to roughly determine the type of audience you will most probably have (or should target).

3. Hootsuite
I said this a thousand time and I don't mind repeating myself. I love Hootsuite for many reasons and it is a no brainer for it to be one of the best tools I ever use for my social media marketing.
You should use Hootsuite if you want to:
Schedule posts (automatically or manually)
Manage multiple social media accounts under one roof
Built in statistics for social media marketing (based on specific social media platforms)
Perform collaboration between teams
Hootsuite comes in two forms: free and paid version. The paid version costs $10 per month and you will be able to manage up to 50 social media accounts at one time.

4. Buffer
When there is Hootsuite, there is Buffer in the picture. Buffer is my alternative to Hootsuite. For the record, the cost of having the paid version of Buffer is similar to Hootsuite.
So, what makes Buffer so unique?
Buffer is easy to use and way much easier compared to any other tools I have used. Trust me, I have used zillion of tools and Buffer is still by far the best in terms of usability and interface.
Buffer gives you:
Drag and drop scheduling
Reposting previous posts with just a few clicks
Manage multiple social media accounts
5. Canva
A picture represents a thousand words. Yes, we know (exactly) how important picture is in social media. I have used Canva for over two years and it is one of the best 'image builder' that I could ever imagine.
With Canva, I could easily create professionally designed images without hassle. The best part, I do not need to spend thousand of dollars for that. All I need is some high definition photos, upload them to Canva and draft my image.
And yes, I certainly do not have any artistic mindset and I am not a graphic designer in any way. However, Canva comes with online tools that allow me to create beautiful images and pictures for my needs, especially in social media.
If you need help (and ain't a cheapskate like me), you can purchase Canva's images and designs as low as $1 per item. Once purchased, you will be given an amount of time to use it on your images.
Pretty awesome and it is definitely a life-safer for those who do not want to spend a bomb on social media marketing.

6. BeFunky
You can consider BeFunky as a good alternative to Canva but it goes beyond that. For starters, BeFunky provides pretty similar features that Canva has but with a twist. You can design pictures directly from your mobile devices with BeFunky!
As I am constantly on the move, BeFunky is a great addon tool for me. I could easily create pictures on my mobile while on the go and save it in the cloud. Once I am back to my workstation, I could easily pull up the image and perform the needed changes with some extreme and precise changes with my mouse (and keyboard).
Some may debate that Canva may be better than BeFunky and that is probably true. BeFunky's Designer feature (the one that allows you to create your own images) is pretty new in the industry and it still has a long way to go. However, it certainly looks promising to say the very least.
Furthermore, seasoned Canva users will enjoy (and even appreciate) BeFunky features that are not available on Canva. And yes, that includes me as well.

Summary
There are seriously many tools out there that you can use for your social media marketing needs. The above are my top favorite ones which I use them on a daily basis.
If you are looking to find social media tools which are either free or cost a fraction of the cost, I hope you find this post useful!
Leave a comment below and tell me what you think!

See also: 9 Social Media Automation Tools You Really Need To Use Nowadays