When was the last time you analyze your Twitter followers? Allow me to make a wild guess; maybe 2 months (or more) ago?
If you are having problem reaching your followers on Twitter, this may just be the right time to do some research and analytics.
Lucky for you, I'm not going to leave you in the dark. In this article, you will discover simple ways and tools you can use to start analyzing your Twitter followers. Yes, 6 tools to help you in making Twitter marketing work for you.
6 Tools To Analyze Your Twitter Followers
1. Twitter analytics
You can't go wrong with free tools, right?
Twitter provides analytics for their advertisers (and potential ones too). If you have not signup for a free access, you can do so by clicking here.
Here's what you see in a glimpse, upon login into Twitter Analytics.


By default, it will display a 28 days report for your viewing.
There are tons of information on this page that you can explore. In order to analyze your Twitter followers, I love to check on my Top Tweets and Top Mentions.
Both these information gives me a real idea of what my readers are actually interested in.
You can also head over to the Followers tab in Twitter Analytics. Here's an example snapshot for the information displayed: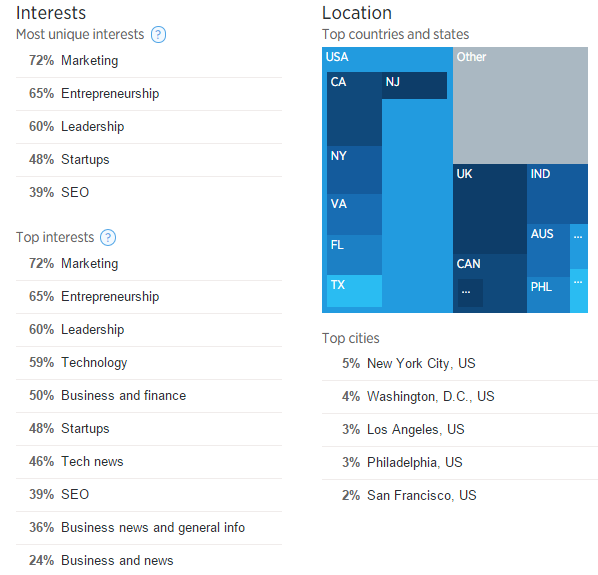 As you can see above, Twitter Analyics provides vital information of your followers and with the information collected, you can easily figure out the best time to tweet and the topics they may be interested in.
Pretty no brainer right?
2. Hootsuite
As a Twitter power user, I really appreciate the Hootsuite features. Hootsuite provides both basic and detailed analytics which is an awesome way to understand your followers.
Here's a snapshot of my Hootsuite Twitter report:


A few advantages using Hootsuite analytics:
Number of retweets
Klout score from retweeters
Topics that get retweeted the most
Custom report date / duration
Hootsuite provides excellent Twitter analytics data for you to understand your Twitter followers. However, the downside is that these information would require a little learning curve to have a complete understanding of the data.
3. Followerwonk
Until date, Followerwonk is one of the best tool to analyze your Twitter followers. What makes Followerwonk unique is that it allows you to find, analyze and optimize your Twitter marketing strategy for free!
If you want to analyze your followers, Followerwonk allows you to analyze them through:
Most active hours of the followers
Popular hashtags
Location base
Languages used
Social authority (refer to this for Moz's explanation)
Here are two sample reports provided by Followerwonk:


How often should you use Followerwonk to analyze your Twitter followers?
I do it once a month and there is no exact duration in this. Personally, nothing more than 3 months is good.
4. SocialBro
If you are serious in making Twitter work for you, you need SocialBro.
To be honest, SocialBro is one of the best and most complete Twitter analytic tool out there in the market.
A few godly features using SocialBro are:
Best time to tweet based on days and time
Audience insight
Analyzing competitors
Identify influencers within your niche
Manage unfollow and followers
The below is an example report from SocialBro:


SocialBro doesn't only give you the exact time where your followers are most action in, they also provides you the ability to export those time into your social media management tools such as Hootsuite and Buffer.
Pretty awesome right?
SocialBro comes with a free account (up to 5,000 followers) or paid accounts starting at $13.95 a month.
5. Bluenod
So you maybe thinking, "I am stingy and I have no plan to spend a dime with SocialBro".
Okay, I get it. I've been there myself.
Introducing Bluenod. This tool isn't as comprehensive as SocialBro but it does a great job in providing with a list of information about your Twitter followers.
Want more specific stuffs? It tells you who is engaged with you the most and of course, the rest is history.


The bigger the circle is for a specific user, the more connected they are to me. This means that there was some point in the past where we were having a conversation.
What to do with this information?
Engage, engage and engage!
6. Nuzzle
Last but not least, a tool that spy on your followers.
Basically, what it does is really simple. You link up your social accounts and it will analyze your social feed(s). It will provide you a list of topics that your followers are sharing and discussing.
And what does this means to you?
You know exactly (pretty close) to what their interest are!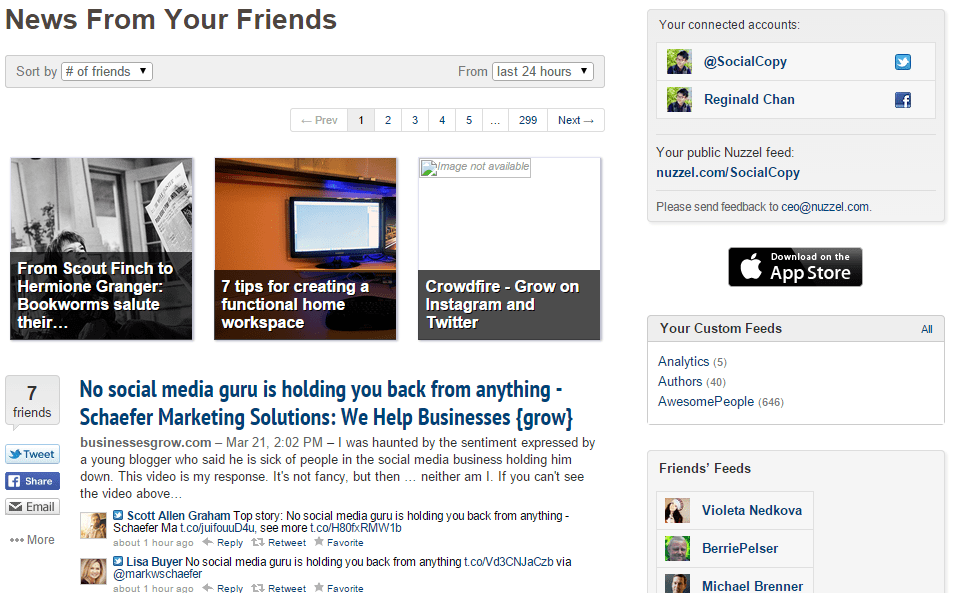 Take a look at the above example, 7 people which are connected to me are discussing about an article from the blog, Grow.
This means that there's real interest in it and most probably, more of my followers are interested with it as well.
Nuzzle also allows you to follow on specific feeds of your connection (bottom right of the image). It is pretty darn cool feature since I could integrate both my Facebook and Twitter account under one roof!
There is also options to check on feeds from:
News from friends of friends
Recent stories
News you may have missed
Over to you
I hope you find the above tools useful in analyzing your social followers and do you have any tools in mind which I have not shared here?
Tell me in the comments area below!
See also: 4 Simple Tactics To Get More Twitter Followers