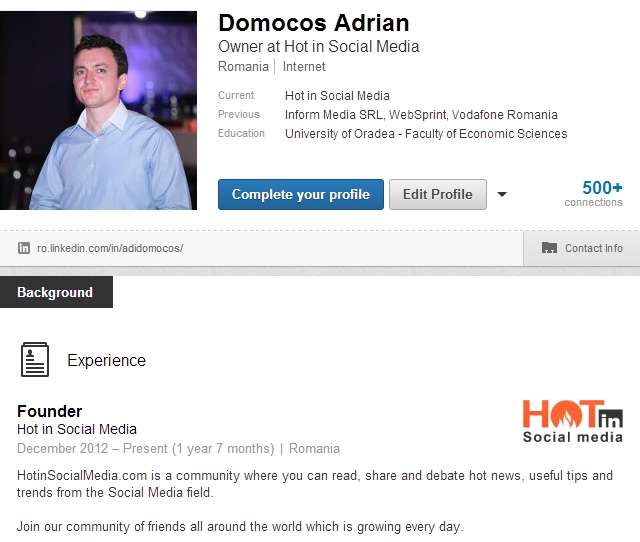 LinkedIn is the ultimate place to meet possible employers for any job seeker. Finding a potential candidate through LinkedIn has become the newest trend among employers. Thus your LinkedIn profile will be your gateway for a better career and a future. Following the tips below will help you to improve your LinkedIn profile.
6 Tips to Improve Your LinkedIn Profile
1. Complete your profile
Make sure to have a fully completed LinkedIn profile. It should contain a professional photo of yourself and all your qualifications. Make sure to add details about projects you are involved in. Use a descriptive headline which gives a proper idea on what you do.
2. Get recommendations
Recommendations are a great way to impress your potential employers. Try to get recommendations on LinkedIn for yourself by former employers, customers and supervisors. These recommendations are more significant than listed skills and experiences. Most of the employers are more interested to get an idea about yourself through third party people rather than from yourself.
3. Join LinkedIn groups
There is an option to join groups in LinkedIn. Search for groups that are related to your field and join. These will help you to make contacts with other people who have the same interests and new job vacancies will be advertised through these groups. Also you will be able to identify the trends in your field and you can choose to gain new skills according to those trends.
4. Update regularly
Regular updates are very important. It will give an impression to other people that you are active on LinkedIn and employers will like to make contact with active LinkedIn profiles. When you finish a project or get a promotion or acquired a new qualification, it should be updated in your LinkedIn profile as soon as possible.
5. Improve your contacts
Contacts play a vital role. If you have good contacts you can get more notifications of job vacancies. Most companies today have one of their HR staff assigned to LinkedIn. They will search for possible candidates and notify them about vacancies. Make sure to add those people to your contact list. Also make sure to connect with all of your current clients as well as former clients. They are your best source of referrals.
6. Follow companies
LinkedIn has the option to follow different companies. Make sure to follow few companies that you are interested in. It will help you to get notifications from those companies regarding vacancies and other stuff. It will also demonstrate that you are interested in working in that company and it will be an added advantage when applying for a job.
For social media tips and news don't forget to follow Hot in Social Media LinkedIn page.
See also: Useful tips to expand your business reach on LinkedIn