As 2017 is coming nearer by the seconds, I think it is time to take a look at the social media tools we are going to use in starting this new year.
As time passes by, we have seen social media tools evolved dramatically. Some were extremely successful while the unlucky ones fail to make the mark. Have you ever wondered what tools you should be investing and making a mark in the challenging, ever-changing social media world?
Take a read below and tell me what you think.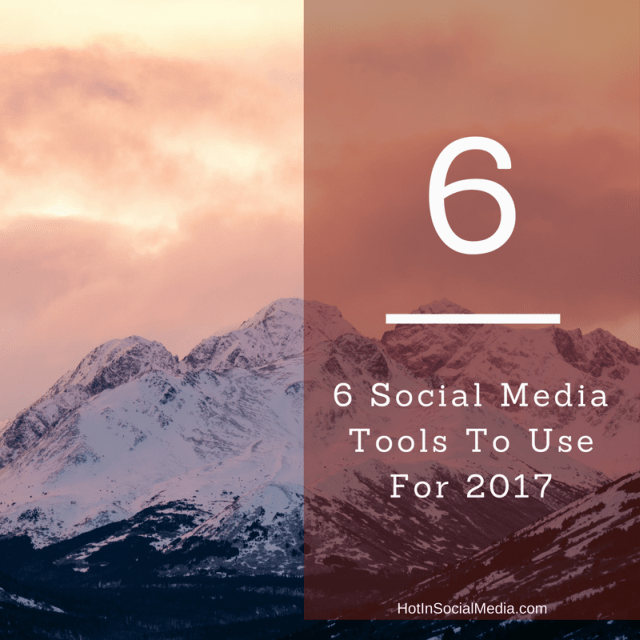 6 Social Media Tools To Use For 2017
With Quuu, you can sit back and relax. But wait!
What does Quuu do? Basically, it is a (rocking) hand-curated content tool. Basically, you can find powerful (and highly engaging) post ideas through this tool. As the tagline for Quuu is "Hand-curated content suggestions for social media", that's exactly what you will get!
Quuu is easy to use, highly affordable and it comes handy especially for those who are constantly short of time (and need help with generating social media posts).
In order to use Quuu, you need to firstly select the topics or categories that interest you (or your client). Here, it is important to be as specific as possible as you would want to share only posts that resonate with your audience.
After that, Quuu will send the curated content directly to your Buffer account (if you are wondering, I'm using Buffer and this is just plain awesome). In Buffer, you can edit the suggested posts manually or just schedule it directly.

Social media automation at its best and if I have to choose one tool, Buffer would be my go-to tools. For only $10 a month, Buffer allows me to connect up to 10 social media accounts and schedule up to 100 scheduled social media posts.
Buffer makes scheduling easy and it is also a very powerful curation tool as well. You can easily add RSS feeds of your favorite blogs or news sites and you can share that publication through the suggestion/content tab.
Also, Buffer comes with browser extensions to help you being more effective on social media. Plus, the power editor/scheduler using the browser extension is insanely powerful and highly recommended to all social media marketers.

Followerwonk is best only if you are using Twitter. In short, Followerwonk works like charm especially when you need to know about your Twitter followers.
Followerwonk is a part of the famous Moz and it is entirely free to use. All you need to do is to input your Twitter handler and Followerwonk will do an analysis on your account.
You will get information such as best time to publish a tweet, location of your followers and much more.
In social media marketing, this information is golden and you would need to gather as many of them to create a powerful and highly effective social media plan.

Hootsuite is an alternative to Buffer, if you like chunky and slightly more reporting features. This social media tool is extremely popular among social media marketers because it is affordable and very effective.
For example, a mere $10 a month would give access to their Pro account and you can manage up to 50 social media accounts at once. So, yes — this is a very good deal indeed.
The unique features of Hootsuite are the ability to automatically schedule posts based on the most optimum timing. This ensures that your posts will be able to gain the highest visibility, which will result in many positive returns.
Apart from that, Hootsuite is also able to generate graphs and many other reporting features which are extremely useful for analyzing.
While Hootsuite is able to provide a lot of features in it, the learning curve is literally non-existence and therefore, you can literally 'sign up and go' type of tool.

Did you know that you can use IFTTT for your social media marketing plan?
Yes, you hear that right. You can automate quite a lot of tasks with IFTTT. IFTTT is the short form for If This Then That tool.
Each task requires a recipe and each recipe has a trigger and action. IFTTT connects with dozens of other tools in the market and it is really a game changer for many.
One of my favorite IFTTT recipes is to add others based on similar interests into my Twitter lists. For example, I could easily add someone that talks about "BigData" into my "Big Data" list for future engagement.
Plus, adding them will also (possibly) trigger a communication between both parties. In social media marketing, you know how important communication is to all of us!

Yes! Canva needs to be in your social media tool bag.
As you are aware, Canva is a tool that helps you create awesome images and in social media, you know exactly how important it is!
Canva allows you to create images of all shapes and sizes. The best part, it comes with pre-made templates which you can choose from.
With Canva, you can create images for nearly all social media platforms such as Facebook, Twitter, Google+, YouTube and Pinterest.
And if you are looking for quality stock photos, you can purchase images and designs from Canva for only $1 per piece. This is just how easy Canva is for using and generally, Canva is an awesome social media tool for marketers!

Summary
There are many social media tools (and add-ons) that you can choose from, thanks to the level of technology we have today.
The truth is, there are many social media tools out there and most of them are pretty decent. However, you should not puzzle on this and as a matter of fact, you should take the time to understand what these social media tools can do to you (or your business).
Always remember that there is no one tool that fit all. When it comes to choices of tools, keep in mind that the right social media tools are hard to find. Try an error and sign up for those free trials to understand how the tools work for you.

See also: The Best Cloud Hosting Providers You Should Consider for 2017