eCommerce across the globe is growing at a rate never seen before. According to Statista, global B2C retail eCommerce will reach $2 trillion by the end of 2016.
Social media is one of the major contributors to this surge in eCommerce transactions. By the end of this year, social commerce is expected to account for a whopping $30 billion out of the overall eCommerce sales.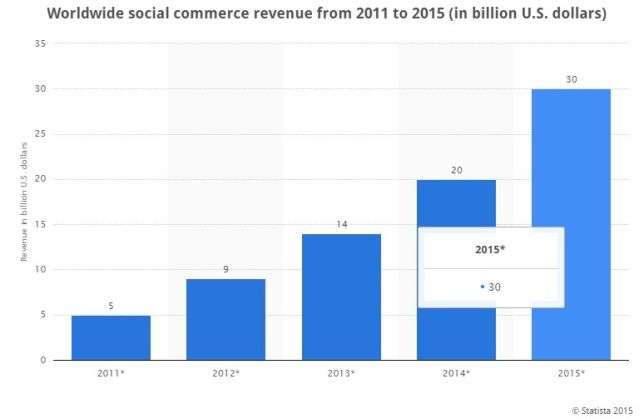 Millions of small businesses and entrepreneurs are using social networks to not only engage their target audience but also route them to their websites and online stores to boost sales.
However, Facebook clearly stands out as the most effective social network when it comes to eCommerce. More than 60% of all online retail traffic generated from social networks comes from Facebook. That is why the number of eCommerce retailers selling directly from Facebook is also growing. The same trend can be seen among digital marketers selling eBooks and other forms of digital products to their Facebook fans.
If you're a small business owner involved in eCommerce, you should seriously consider taking your online store to Facebook. Instead of routing your Facebook fans to your website, sell directly to them. This approach has several benefits. Below are just a few of them.

6 Reasons Why You Should Start a Facebook Store Now
1. Facebook is the Most Engaged Community on the Internet
Facebook hosts the world's most vibrant and engaged online community. Mark Zuckerberg, the CEO, and Co-Founder of Facebook, recently shared his platform's updated stats, and they are nothing short of eye opening especially if you're an eCommerce business owner.


More than a billion people log into their Facebook accounts every day, and an average American adult spends around 40 minutes on Facebook daily. More than 45 million small and medium-sized businesses already have their company pages on Facebook.
In short, Facebook is a goldmine for eCommerce businesses of any size. Your audience is already there on Facebook. If you have an engaged Facebook fan page, great. But even if you don't, establishing one from scratch is worth the effort.
By starting an online store directly on Facebook, you'll jump right into the favorite hangout place of your audience.

2. Selling To Your Fans is Much Easier
A Facebook store gives you the ability to sell directly to your audience. If you own a Facebook Page that has thousands of loyal fans, it is much easier to sell to them directly as compared to a complete stranger who's not familiar with your brand.
According to a research by Nielson, nearly 61% of global consumers, with internet access, prefer buying from a familiar brand rather than switch to a new brand.


Another research indicates that 84% of online shoppers refer to at least one social network before making a purchase.
These stats clearly indicate that consumers are more comfortable buying when they trust the seller, and when there is social proof in favor of the seller.
Both these factors are present when you're selling to your fans on Facebook. They already know you and engage with you regularly. You're also aware of their likes and dislikes.
So when you offer them a product they're more likely to make the purchase.

See also: How To Gain Loyal Followers On Facebook Pages?

3. Setting Up a Facebook Store is Simple and Easy
One of the best things about selling directly on Facebook is the ease with which you can set up a Facebook store. In just a few clicks, and within minutes, you can set up a fully functional online store that not only lists your products but also collects payments from Master Card, Visa, PayPal and several other payment options.
There are several Facebook store apps available online that you can choose from. My personal experience has been great with Selz, a digital selling app that can be integrated with Facebook.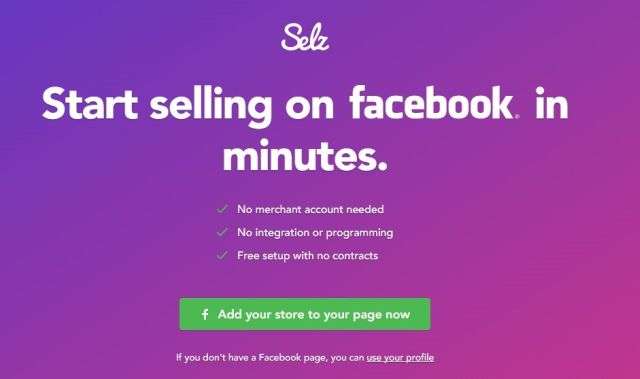 You simply need to sign up for a free Selz account and install its Facebook app to your page or profile to get started.
Along with the ability to sell directly from Facebook, Selz also allows you to collect payments from all major payment processors, and build your email list by integrating with your email marketing software. So every time a buyer makes a purchase, he joins your mailing list as well.


And since I'm a stats junkie, I really like the detailed stats Selz provides about my audience and buyers.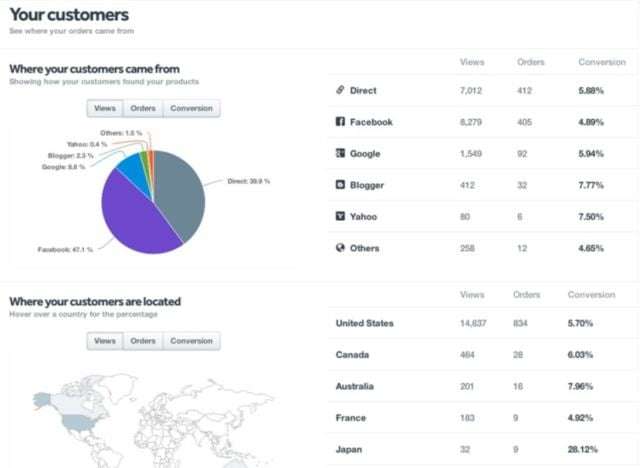 There are several other Facebook store apps like Ecwid, StoreYa etc. but my personal recommendation is Selz since I've used it extensively and found it a complete eCommerce solution for Facebook.

4. You Can Focus All Your Marketing Efforts on One Platform
When you manage your eCommerce store separately, you need to work on building an audience on multiple channels. You need traffic on your website, subscribers on your list and followers on your social media profiles.
However, if you want to start a Facebook store, you can focus all your marketing and promotional activities on just one platform. When your fans make a purchase from your Facebook store, they'll automatically join your mailing list and become a part of your email marketing activities as well. In the long run, this will impact your website traffic and returning visitor count.
You can simply focus on building your Facebook audience, and the rest of the channels will benefit from it automatically.

5. One Facebook Buyer Brings In Many Others
Facebook users generally love to share their likes, dislikes and activities with their friends and connections. With a Facebook store, you can use this tendency to your advantage and bring in referral sales.
When your buyers purchase stuff from your Facebook store, encourage them to share the news with their friends by offering incentives. They are likely to do it because they're already on the platform. Your incentive will only make the choice easier for them.
According to a recent study by BI Intelligence, Facebook is responsible for almost 50% of social referral sales.


This happens primarily because Facebook users are more vocal about their actions and share their activities with their friends, which leads to more sales

6. Facebook Has Better Marketing and Advertising Options
Facebook ads have quickly become one of the most effective forms of paid advertisements on the web. The advanced audience targeting features of these ads make them perfect for eCommerce marketing.
However, research shows that when you already have a Facebook page with engaged fans, it's much better to "Promote Posts" from your page instead of using ads.
Promoted posts are also a type of advertisement, but they work better with your fans and drive more conversions on eCommerce product offers. When you have a Facebook store, you can promote your products as posts, instead of ads, which increases your chances of driving sales.

Wrapping Up
Facebook is not just a social network anymore. It has grown into a platform where people follow brands, shop for their favorite products and express their views while interacting with friends and family members. As an eCommerce business owner, starting a Facebook store can give you an immediate advantage over your competitors, help you get closer to your audience and approach them with your offer where they're already hanging out.

See also: 8 Social Media Marketing Predictions For 2016