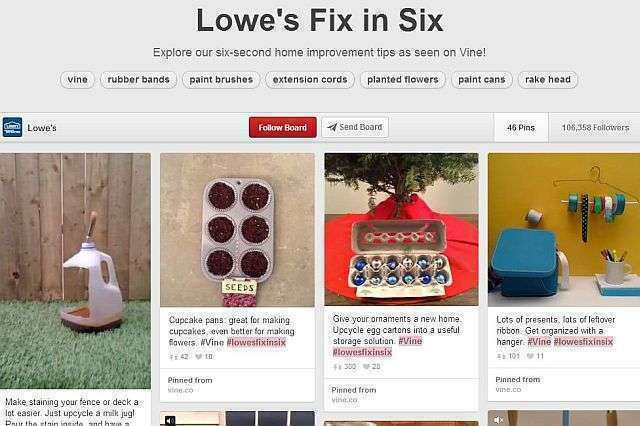 A social media site hasn't really "arrived" until companies begin taking advantage of its uses for advertising. Just as it took a while for businesses to catch on to Facebook and Twitter, companies are just now realizing the full potential of Pinterest, where people enjoy pinning things they'll either never make or never make as well as the picture they're clipping.
Therein lies the beauty of Pinterest. Unlike other sites, it's aspirational. When you post a photo on Instagram, you're not saying "this is what I hope I look like some day." You're saying "this is what I look like this morning." But Pinterest is what you'd like to look like or make or vacation to in the future.
No wonder, then, that retailers, which specialize in aspirations, have begun using the site in smart ways to promote their products on Pinterest online and offline, too. Here are five great ideas they're using.

5 Smart Ways Retailers Are Using Pinterest Online & Off
1. Posting Vine Videos
Lowe's home improvement store has a fun board called "Lowe's Fix in Six", where it showcases Vine videos offering six-second solutions to common home problems, such as using milk cartons to hold stain when painting a fence or planting flowers in muffin tins.
2. Pinterest-Inspired In-Store Displays
Nordstrom, which has more than 4.4 million Pinterest followers, noticed that some of its items remain wildly popular on the site for months at a time. It decided to start tagging those items in the store with special Pinterest tags, letting people know that the item is popular on its boards.
3. Use Hashtags in a Unique Manner
Caribou Coffee asked its Pinterest followers to share their biggest inspirations using pictures with the hashtag #caribouinspires. It then studied those photos and created a coffee flavor based on them, called Real Inspiration. The coffee house also pinned all the photos to one board so that people could see what inspired others, from gorgeous sunsets to children playing to delicate flowers.
4. Employing Place Pins
Kate Spade, the fashion house, used Pinterest's Place Pins to create guides to fashion capitals around the world, including New York City, of course, but also Tokyo, Mexico City, Monaco and Las Vegas. The idea? Fashionable women should have a place to show themselves off. The pins include photos of fun, eclectic local shops and beautiful hotels, making them feel like a trip around the world as well as a unique resource.
5. A Pinterest-Based Store
When people are pinning your merchandise on Pinterest, you know they're interested in buying it, and they're probably not alone. Hence the idea behind Target's Awesome Shop. It compiles the most-pinned items on Pinterest and serves them up into a one-stop shop where people can browse through the most popular items on the social media site. It's not only a great way to find new products, it's also a lot of fun to browse. It plays on our natural curiosity about what other people are doing and if our tastes match up with them.
By thinking outside the box, and sometimes outside the internet, retailers are coming up with great strategies to leverage Pinterest well beyond one or two clicks.

See also:  Pinterest Rich Pins Guide