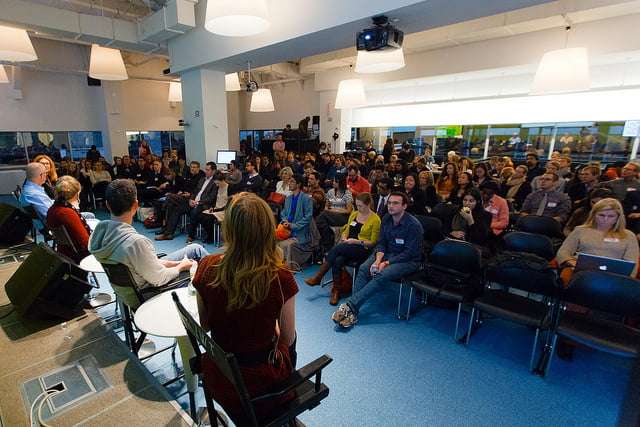 Here we stand, in the modern era, or as we call it-'the age of science'. An age where having an active Facebook account has become a pre-requisite to proceed even in the rudimentary stages of communication. On one hand, updates from Twitter and LinkedIn seem to buzz numerous conversations and on the other, propagation of movements and ideas touches a new velocity every time.
But, the most essential boon given by this platform is its advent as an alternate job search tool. Right from building and connecting with one's professional network to staying updated regarding the latest trends in an industry, ways it can serve at the disposal of a job-seeker are plentiful.
According to an article on Forbes, nearly 37% of the recruiters across the globe use social networking websites to scrutinize candidates. Isn't that a good enough reason to find how you can use this platform for optimum results?
Yes, indeed it is!
However, there still are certain myths which seem to hold people back from using social media to land in their dream job. Perhaps, it's the limited understanding or the fear of unknown being prominent at present.
The section to follow will talk about 5 of the most common myths about social media job search and seek to debunk them. Giving it a look might clear some inhibitions in your head.

5 Myths About Social Media Job Search Debunked
Myth 1 – Facebook doesn't help in Job Search
In fact, while it is the most social amongst the social networking websites, it's an effective job-hunting engine too.
You can utilize it quite well to build the desired network and contacts you'll need as future references. Moreover, you can continuously review your timeline for various job openings. This will become comparatively easier if you've dedicated your entire profile to business/work.
Facebook Graph search can prove quite effective too. It'll enable you to find friends and friends of friends, who can pass a referral or even arrange an interview.

Myth 2 – A LinkedIn Profile enables Headhunters/Recruitment Firms Find Me
While being a part of the largest business social network sure does boost your chances of being found by influencers and recruiting managers, nevertheless you need to be strategic if you really want to rank high in their searches.
Include and smartly place the keywords that you desire to be searched for (e.g. Marketing executive, finance auditor, content executive etc.). You surely won't pop-up in a LinkedIn search for words that aren't included in your profile. So make sure that it consists of all quintessential keywords related to your skills, work expertise and qualifications.
Do connect with your existing business contacts and join relevant groups for the same. This will not only help you gain contacts but keep you updated regarding the latest trends in the industry you wish to enter.
 Myth 3 – You must tweet regularly to stay active on Twitter
Yes it happens, you can benefit from Twitter without sharing even a single tweet. Those who're noobs might agonize over what to write and how to be active on this platform, but rethinking might be a better option. Rather than sharing how delicious were the pancakes you ate this morning, look for ideas that'll help you.
Whatever profession you choose, there are a zillion experts in your field sharing trends, thoughts, books, practices and much more that act as their source of inspiration. Follow them to succeed.
Lurking and learning might be the best thing for you, in case you're new to this platform. Observe how different users you follow interact with each other, you'll surely learn the etiquette of Twitter communication.

 Myth 4 – Building a Personal Brand requires For You to Blog Regularly
If you have the skills and ideas to write and share new things, then it might be the most lucrative alternative to stay conspicuous on social media. However, blogging is not everyone's cup of tea. Out of obligation if you rush into writing a blog, the lack of interest will be demonstrated in the poor quality of your content. Obviously, you won't prefer it, right?
While blogging might not be significant, but your personal website or online portfolio is an impeccable way of claiming your presence in the digital world.
You can consider purchasing a domain by your name, if it's available and build your own WordPress website. In addition to this, you can also create an online portfolio using free tools like About.me and Flavors.me. Creating one would help you centralize your social media accounts and links to be centralized at a single place, hence making you easier to reach.

Myth 5 – You Shouldn't Talk About Yourself on Social Media At All
While talking about yourself incessantly can put certain things off, but finding out creative ways to incorporate your industry knowledge, work experience and achievements will definitely work out the other way. Sharing these things might increase the chances of people to contact you for future opportunities.
To summarize, social media is the buzz word these days, but there's still a dire need to gain clarity regarding its reach and utilities. Until that happens, there'll be a persistent need to debunk myths like these.
See also: 5 Social Media Tips for Job Interviews