I'm sure you must've already read dozens of blog posts about Twitter conversion rates and highlighting the importance of a vibrant and engaging Twitter account for businesses these days. There's a reason why more than 73% of US companies have Twitter accounts.
But how many of them have been able to achieve any tangible success with Twitter?
Not many!
There's no denying the fact that Twitter is a super effective platform, even for driving product sales, when used correctly. But instead of telling you the best practices, let me point out a few mistakes that I see many Twitter users make every day.
For individual users, these mistakes don't matter much. But for a business, that is spending money and hiring dedicated social media managers, every one of these points is important. Many of these mistakes can prove to be the difference between a successfully closed sales lead and just another bounced visitor.

5 Mistakes That Are Hurting Your Twitter Conversion Rates
1. Incorrect Tweet Structure

Have you ever wondered why some Twitter followers always attract dozens or even hundreds of ReTweets, replies and favorites while most of your Tweets go unnoticed?
A tweet might appear to consist of just 140 characters but, even here, the structuring of your content is critical. There's a lot of science involved here according to Dan Zarella, a social media scientist at HubSpot.
Here are some of the most frequent Tweet structural errors that I've seen.
Neil Patel recommends limiting your Tweets to less than 120 characters. Dan, at HubSpot, backs this with data driven evidence. His study revealed that the most engaging Tweets were between 110 and 115 characters. In fact if your Tweet is less than 100 characters, it has a 17% more chance of engaging your followers.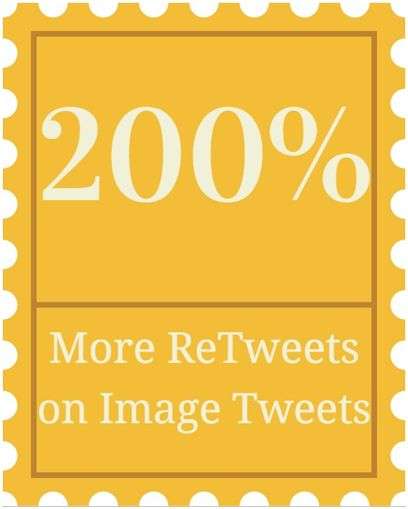 Tweets with links attract 86% more ReTweets. When sharing a post, most of us place the URL at the end of the Tweet. Studies show that the highest CTR is achieved in Tweets where the link comes around the middle of the content.
The majority of businesses on Twitter use simple text Tweets – you need to change that. Tweets with images have 200% more chance of getting ReTweets and replies. When Tweeting your own blog posts or product links, always include a high quality image.
Vines, short 6 second videos, and animated GIFs attract significantly more engagement than images. Making them a part of your content mix is crucial.
Hashtags make your Tweet visible beyond your immediate followers and help you become a part of the trending topics. Using them intelligently can help you attract new followers. But don't use more than 3 hashtags, it affects Tweet readability.
I always removed the quotation marks from my Tweets until I learned that they're actually good for engagement. There's almost a 30% higher probability of ReTweets if your Tweet is capped with quotation marks. Strange, but it works.
This is probably the most common structural error. When tagging someone in your Tweets or responding to someone, make sure their Twitter handle is not placed at the start of the Tweet. If it is, the Tweet will appear only to the person you're responding, and rob you of additional exposure. Keep this in mind especially when tagging influencers.

2. Broadcasting Not Socializing
Twitter is a social network and your followers are humans. So it doesn't make sense if your Twitter timeline is only filled with links to your blog or product pages. Link broadcasting can be done by automated apps. You don't need a social media manager for it.
Success on Twitter demands socializing not broadcasting. Engage your followers, be human. Have a personality, a face, a voice, emotions, moods, empathy – be yourself!
Start by adding a personal touch to your Twitter profile. Even on a business account, it'll help you connect on a much more personal level with your followers if you use a picture of your social media team, or your key decision makers, as the background picture. Use your logo for the profile picture.
If you have a team managing your Twitter account, use their initials when responding to customer Tweets so that your followers can identify your team. The team at BufferApp does a great job at engaging with their followers. Even with so many followers, they personally respond to Tweets within minutes. That's the sort of engagement that creates customer loyalty.

3. Using the Wrong Content Mix

As I said, Twitter isn't just about Tweeting links of your blog content and product pages. You need to develop a careful content mix in order to succeed and regularly engage your followers. If you use the same kind of content repeatedly you'd lose the attention of your followers.
Create content categories like blog post links, product links, shareable quotes, infographics, GIFs, memes, industry news, customer testimonials and content from other leading blogs in your niche.
Use a Tweet automation tool like BufferApp or Hootsuite to organize and schedule your Tweets in advance. The best time to Tweet is between 9AM to 6PM on weekdays, while the weekends attract the highest engagement levels. You can't stay online all the time, so scheduling your content in advance is a must.

4. Not Using Twitter Lists Effectively
Please don't be offended, but do you even know about the Twitter lists feature?
I say this because many of the business users I've met have no clue about this awesome feature. Twitter lists help you filter through the noise and monitor the accounts that you care about the most.
When you create a list and add people to it, you're actually adding them to a monitoring list where only the Tweets from the list members will appear. So, for instance, if you wish to keep an eye on your competitor's followers, you can create a new list and add them to it.
You can also join already populated lists created by other users.
Step 1



Step 2


Here's how you can add someone to a list: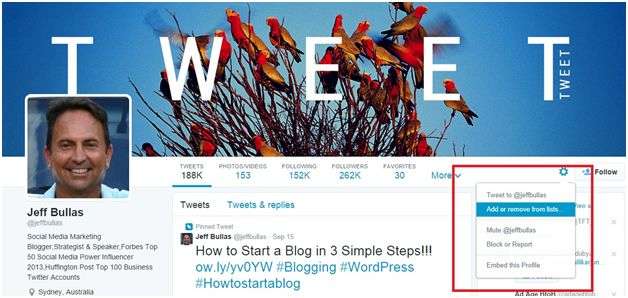 Without managing lists, you'll struggle to keep an eye on your target users and engage them properly. You can also use lists to track the different content categories that I mentioned in the last point.

5. Complicating the Product Buying Process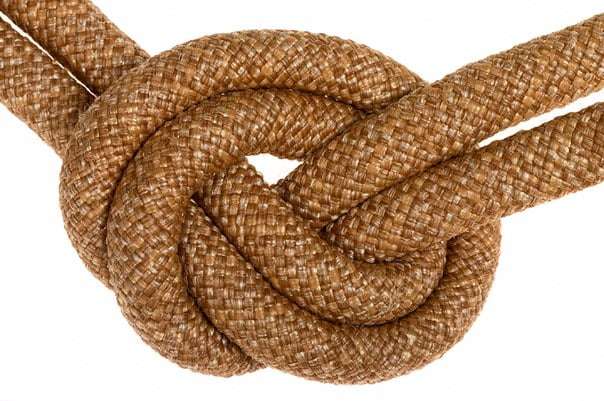 Perhaps the biggest reason why so many businesses struggle to drive conversions from Twitter is the way they share product links and sales pages with their followers.
Twitter is a fast paced platform. Most users follow hundreds of Twitter accounts because of which their timeline moves very fast. When you Tweet simple product links, they fail to grab the attention of your followers.
And even when your followers do click on your product links, the multiple page redirections involved from product page to check out and payment pages often lead to high bounce rates. Considering this challenge, Twitter is gradually becoming more ecommerce friendly, and has even introduced a direct Buy Now button in Tweets for limited users.
The solution for this, however, lies in one of Twitter's own features – Twitter cards. In a standard Tweet, you're allowed only 140 characters. But by using the Twitter cards, you can display additional content with your Tweets.
You can combine Twitter cards, with a tool like Selz. Using the functionality of Twitter cards, Selz displays additional product information with Tweets including product picture, stock details, product price and a short description, along with a direct link to the checkout page.


It also allows payment collection via Master Card, Visa and PayPal so you don't need to integrate any additional payment gateway.
Simplifying the buying process for your followers is crucial to ensure higher Twitter conversion rates and CTR.
Conclusion
Twitter has lots of great, and many underutilized, features. For businesses, it offers a great opportunity to get closer to their target audience, engage them regularly and convert them into paid customers. The challenge, however, is to approach Twitter scientifically and create Tweets that drive the highest engagement. Add a little buying convenience to the mix, and you'll be in a great position to take real and tangible business advantage from Twitter.

See also: Twitter the New Ecommerce Platform