If your business is not using Instagram, you are definitely at a huge lost. Instagram is more than a sharing application or a social media platform. Years back, Facebook was probably the first thing you look at when you wake up in the morning. In today's world, it's Instagram and the trend is growing by the day.
But, what do we know about Instagram? More importantly, what are the things that we should do with Instagram to boost our chance of traffic or sales? In this article, you will find Top 5 Instagram tips to help you take Instagram marketing to a whole new level.
Let's dive in, shall we?

5 Instagram Tips To Get The Most Out Of Visual Marketing
1. Instagram videos
Yes, videos. 
Okay, I know that the core of Instagram is all about photos etc, etc. But the truth is, Instagram allows you to publish both videos and photos. As you are aware, both of these are highly effective marketing, especially in the visual segment.
Back in June 2013, Instagram releases (the first ever) video sharing platform. It comes as no surprise since video platforms such as YouTube has been capping thousands of hours in video watching daily.
It also makes sense especially when a video has higher adoption rate compared to pictures. Have a look at the image below (credits to TrackMaven).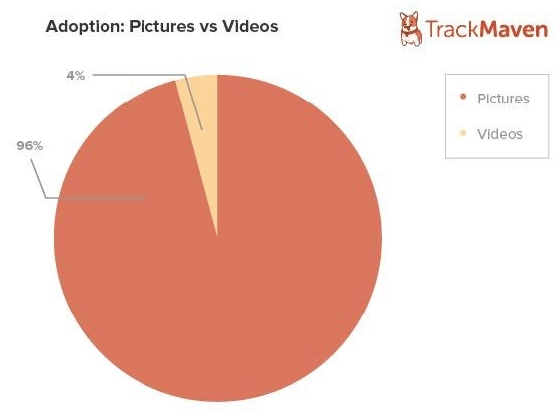 According to sources, (up to) only 4% of the mega brands in the world are using video as their marketing strategy. The above is entire on adoption rate between video versus photos and to the defense of photos, photos are getting a higher number of interactions compared to videos in most cases.
However, here's a question for most marketers. We have seen the growth in video marketing in the past few years. When will the time where videos overtake photos in terms of engagement and effectiveness?
Furthermore, it will also add more diversity mix into your overall marketing strategy.

2. Choosing between #nofilter (normal) or filters
One of the most common reasons for people using Instagram (apart that it is fun) is because it transforms average Joe like me who has zero knowledge in photography to a superb photographer's thanks to the filters. In others words, you can start publishing beautifully cropped photos in just a few clicks!
Let's face it, we all have our own favorites when it comes to filters. Mine is lo-fi and I got to admit that these filters are awesome to create great photos.
But, how about normal photos? Believe it or not, there are a lot of people who prefer to snap photos using Instagram with no filters on. Yes, they are going all natural in any way you can think of.
Let's take a moment to see the effectiveness of using a filter on Instagram (credits to TrackMaven once again).


Take a look at the graph above. The average interaction for no filter is very highly, especially when it comes to average interaction per follower.
For the moral of the story, filters may make your picture stand out from the crowd but don't underestimate the true power of nonfilter ones.
In most cases, people (your followers) may actually be more delighted to see images which are non-edited than the ones edited.
Yes, the tide has changed and we are going back towards #nofilter days!
3. Best day, best time
This is a pretty much old school but trust me, it still works.
It doesn't matter if you are doing the same strategy for email marketing, Facebook publishing or even content writing on your blog, publishing at the right time and day will determine the success level of your Instagram marketing.
Most people use Instagram on an hourly basis (maybe even more frequent than hourly) and yes, you can still reach a decent amount of audience if you do so. However, you will have a better chance of success if your photos or videos are published at the most optimum time.
Tip: Finding the best day and time will not be easy. As Instagram is extremely mobile and versatile, people are often using Instagram close to 24/7. If you are interested to find the best day of the week to publish on Instagram, Buffer recommends publishing it on every Thursday.

See also: 10 Ways to Grow An Engaged Audience On Your Instagram Account

4. Let's be specific. Best time for video
We have talked about video quite a lot in this article and how about a video?
Here's what you need to know. Video isn't fun when there is no voice and therefore, publishing videos for followers (during working hours) isn't really a good plan. I mean, it will be extremely awkward to watch a video with sound in the office, right?
Apart from that, you should always publish videos that are short and on top of everything, exciting videos to attract your follower's attention.
Remember the videos and GIF's people been doing about the funny filters on smartphones where you can be 'virtually' in animal or funny costumes? Yes, you've got the point.

5. Ask for comment, please
Statistically, you will get one comment for every 33 likes or so. So, you know for a fact that it takes a lot for your followers to leave you a comment. So, why don't you start encouraging them to do so instead?
For starters, Instagram posts and uploads must be interesting and eye-catching for your followers. But apart from that, do you provide any call-to-action (CTA) to encourage more comments?
In most cases, you should always ask your followers to leave a comment on what they think on the matter. Especially in the video, you should add a quick 5 seconds CTA to encourage them to take action. In this case, the 'action' could be from leaving a comment or even sharing the posts with others.
Either way, you want them to do something with your post (except reporting it for wrongdoing) which will help you (possibly) to reach a larger audience.

Now, it is your turn!
Instagram marketing is no longer a vintage marketing photo sharing platform. As a matter of fact, Instagram has evolved dramatically beyond the stereotype of old-school visual marketing. Things will get much challenging in the visual marketing and here's one question for you:
Are you prepare to take Instagram marketing to a whole new level?

See also: Top 10 Instagram Apps And Tools For Beginners and Advanced Users