Recently, I came across Business Insider Top 5 Digital Marketing Trends 2016 and I knew it was a gem. As a matter of fact, it is extremely useful where I know it will compliment my one of my recent write-up, 8 Social Media Marketing Predictions For 2016.
I hope you find this article interesting and feel free to share it around!
Today, around 43% of the world's population is connected to the Internet for various reasons. Communicating (chatting, talking etc), sharing photos and even performing multiple business transactions across the globe. With the Internet, we are able to break the barrier of distance and time. As a result, human-being are more effective than ever.
Technology (especially digital marketing and social media) has evolved so rapidly that we will continue to expect growth in this industry for the next five to ten years to say the very least.
In this article, you will find the top 5 digital marketing trends for 2016 (to look out for) which are:
Mobile communication
Automation in digital marketing industry
Mobile payment
Growth of eCommerce
Internet of Things (IoT)
So, let's dive into the latest digital marketing trends for 2016, shall we?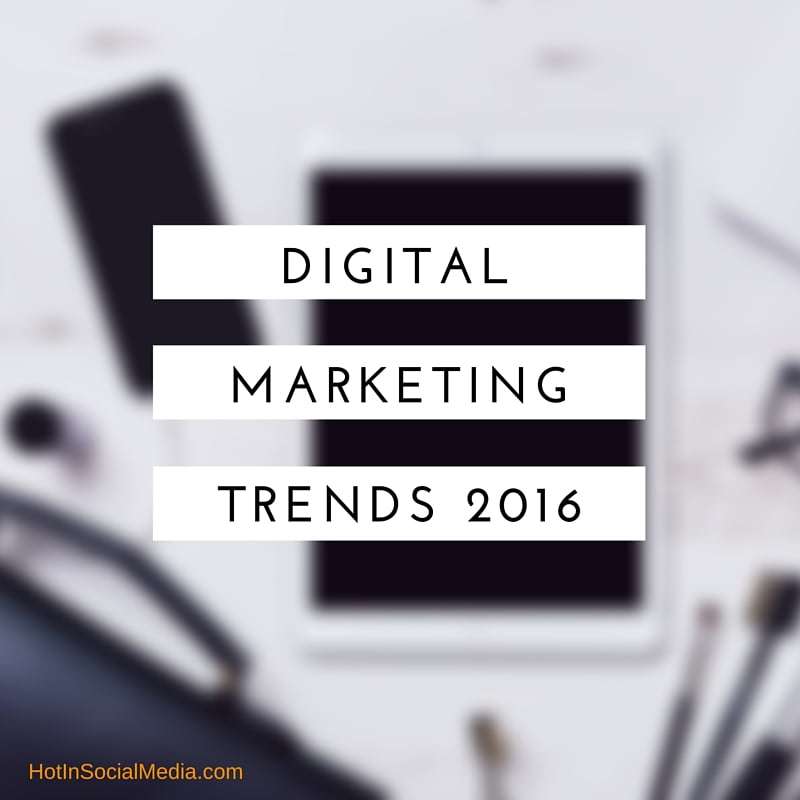 5 Digital Marketing Trends For 2016
1. Mobile communication
The first part that being discussed by Business Insider is mobile. To be more exact, applications used for messaging is becoming more important than ever!
Years back, all we had was a short messaging system (SMS) where we are able to send a string of messages to another person's mobile device. But that was it as the other option was to perform a phone call.
With today's technology, we have multiple technological advances and breakthrough such as Whatsapp, WeChat, Viber, Google Hangout, Skype and Facebook Messenger. These apps allow us to reach one another with minimum or no cost at all.
At this time of writing, Whatsapp is dominating the market with its feature followed by Facebook Messenger and WeChat.
Another great example of growth in the mobile application industry is when Facebook acquired Whatsapp.

2. Automation in digital marketing industry
Business Insider calls them as programmatic advertising. In other words, it is the process of automatic buying and selling of ad impressions.
This can be classified into three major parts:
The 'good bots'
The 'bad bots'
Actual human traffic
The 'good bots' are made up of around 30% of global Internet traffic. These bots are created to collect and track information for us, users. For easier understanding, consider tracking cookies for example. When these tracking cookies are stored on our devices, we will be shown relevant ads related to the product we are searching for.
On the other hand, the 'bad bots' are pretty much spam. They imitate user behaviour to boost website visits, increase revenue from advertisement banners and many more. Basically, these are the ones which you should avoid at all times. Plus, the 'bad bots' is capping around 20% of the entire Internet traffic and costing advertisers $6.3 billion dollars in 2015 alone.
Actual human traffic is pretty obvious. The traffic consists of us; real human doing site visits and research on the Internet. At this time of writing, it takes up around 52% of the entire Internet traffic.

3. Mobile payments
Mobile in-store payments are growing rapidly in line with technology. Take a look at Google Play store and Apple's App Store. Those are two of the early birds in the industry.
Apart from apps, payments (mobile) is contributed thanks to several reasons:
Growth of mobile wallet
Retailers are encouraged to participate
Benefits to the consumers
Mobile wallet is growing thanks to near-field-communication (NFC) and many more. This allows developers and companies to integrate payment gateways apart from the standard payment methods.
Retailers are also encouraged to participate in these forms of payment. When they do so, retailers could easily enjoy benefits such as discounted commission and ease of invoicing.
Lastly, consumers are also encouraged to use as technology could lead to many hacking cases and other security issues. With these mobile payments, consumers are guaranteed with better security and safety measures.

4. Growth of eCommerce
Gone were those days where we do shopping in malls. Sure, we still do but not as common as now. We shop online and we do most of our shopping without even living the comfort of our homes.
Here are several key points to back this part up:
Priority mail rates increased nearly 10%
Prices for parcel select lightweight increased by 23%
First class package international service rates increased 22%
When we shop online, we save time and more important, we can be smart shoppers. We can save a lot of time from window shopping and we are also able to compare prices to get the best deals.
With today's technology, starting an eCommerce store is easier than ever. We could easily start one (choose a freemium platform such as PrestaShop or OpenCart) and a web hosting solution. Once everything is in place, we can start an eCommerce business under a week at most.

5. Internet of Things (IoT)
IoT is often considered the next industrial revolution and is strongly agreed by Business Insider. Businesses are looking for solutions based on IoT because it helps to lower the cost of operation while ensuring that businesses are more efficient.
Sure, it is still debatable that implementation of IoT takes a lot of time and money. However in a long run, you will be surprised on how much you can save in just a short period of time (or after a specific duration of operations).
Several industries have already invested a lot of money into IoT especially;
Agriculture
Oil and gas
Retail
Healthcare
So, make no mistake; Internet of Things is definitely a growing trend in the digital marketing world for 2016 (and beyond).

Over to you
I am sure that there are dozens of other digital marketing trends for 2016 apart from the above, which was compiled by Business Insider. However, it is extremely true that these are the important ones which will definitely create a huge impact in the way we perform our business on a day to day basis.
What do you think? Leave a comment and let's discuss further.

See also: 22 Expert Predictions About Digital Marketing Trends in 2016