In my previous post, I talked about using Facebook advertisement to drive your business to newer heights. If you had missed that out, it is highly advisable to read it if you still have reservations using Facebook advertising.
But what happens if you are still looking for ways to reach your audience organically?
Sure, I get it. You may have read the above article but you still have your doubts. Well, don't worry. In this post, you will discover some awesome Facebook marketing strategies to get you the attention you wanted a.k.a. increase visibility on Facebook pages!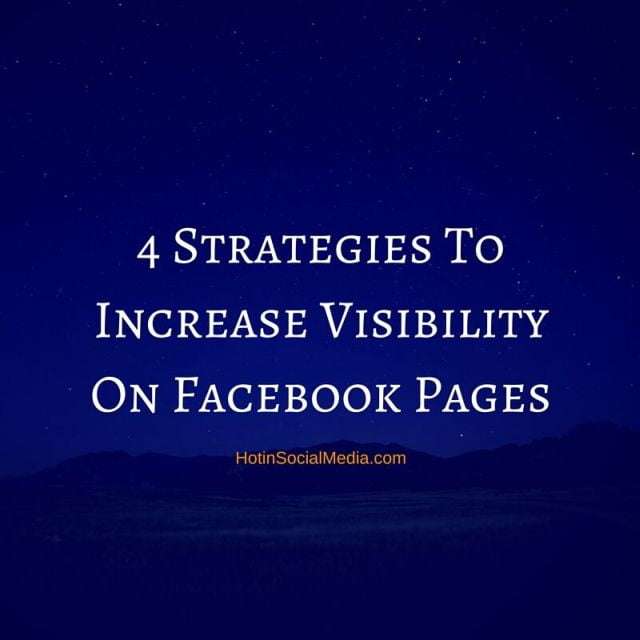 4 Strategies To Increase Visibility On Facebook Pages
Strategy 1: Complete the bio (about us) for the Facebook page
Hitting the "Create A Facebook Page" isn't going to open the floodgate to new followers and diehard fans. As a matter of fact, there is more than just that to ensure that people are able to discover your page and have a high chance to convert them into loyal followers.
Take a look at the popular, Kim Garst's Facebook page:


Did you notice that Kim Garst's Facebook page is loaded with information? I mean, every single column/section is packed with information.
There are several important takeaways that you need to pay super attention to.
Short description
This part basically involves a 150 to 300 words that describe yourself (or your company). It is recommended to share just key points in the short description to ensure that you are giving your viewers a nice, 360 degrees' view of who you really are (or what your business can do for them)!
Company overview
Company's overview is an extremely important section that most Facebook users do not update.
Here, you can write an essay long article about your company and make no mistake. People who are interested with your business will take the time and effort to read it to the T.
Therefore, avoid leaving this part out.
If you are planning to write a long company's description, make sure you use paragraphs to ensure that it is easier for the eyes and reading.
Bio
Bio is pretty clear cut and it is basically the longer version of the short description.
I literally call this the '30 seconds to fame' where you only have one shot to impress your viewers. At this time of writing, the bio section is positioned third from the top.
This means that people who are reading your bio has probably read the top two sections (short description and company overview) … which means that people who are reading your bio has a high chance of interacting / interest with you.
Again, you should use paragraphs to make reading easier.

Strategy 2: Use tagline that is catchy
Have you ever seen big brands using images with their taglines as posts on Facebook?
Take a look at this post by Nike below:


The picture represents a thousand words and a simple tagline infused perfectly in the picture worth even more.
Creating a tagline isn't an easy task – but spending some time and effort would go a long way especially for your business.
Want to create powerful taglines for your business? Here are a few tips and tricks you can use:
Create clear and memorable taglines
Shorter taglines are usually better (anywhere under 6 words)
The tagline must be relevant to your industry
The tagline must resonate with your potential customers (extremely important!)
Aim to be different from the rest (being bold has its advantages)
So, what do you do when you have a tagline? Well, you need to start adding to your Facebook page. You can add it sparingly in the short description box, cover photo or even in random images you share. Here, the sky is really the only limit.

Strategy 3: Use cover photo
I see most Facebook users are using a non-branded cover photo. In other words, they are literally using those images or photos found in Google search.
If you want your Facebook page to stand out from the crowd, create your own images!
For starters, you can easily use tools such as Canva to create DIY Facebook cover photos.



Alternatively, you can use third parties or tools such as Freelancer, 99designs, and Adobe Photoshop to create professional looking Facebook cover photos.
Here are some examples of popular Facebook users with excellent cover photos: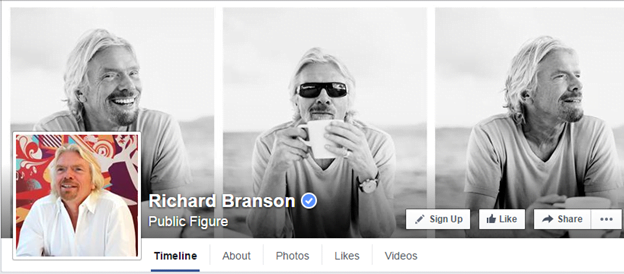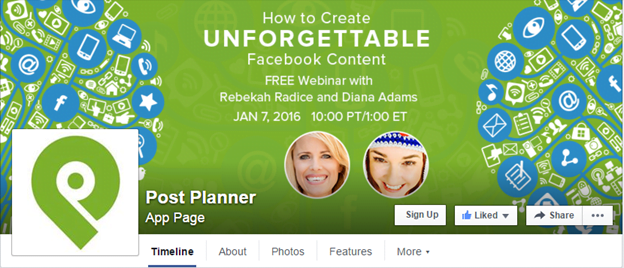 Strategy 4: Why are you NOT using video?
In the last 6 months or so, video been pretty much taken over our Facebook newsfeed and I am extremely surprised that there are still Facebook users who do not use video as a part of their marketing strategy.
The video isn't just great to increase engagement; it also helps to generate more visibility for your brand!
There many forms of videos which you can create. For example:
Converting popular content into video as an alternative form of media
Capturing short videos (anywhere below 5 minutes) to share thoughts of the data, words of wisdom and even tips for your fans
Sharing upcoming events or trailers to build up the race
Take a look at Unbounce's videos on their Facebook page:


Important tips
If you are planning to use video, you need to make sure that you publish and incorporate videos at a consistent pace. Once you have a 'cycle' running, your fans are going to have more expectations from you.
This means that failure to update would lead to turn downs and, even more, negative thoughts about your business.
At the same time, you should aim in creating evergreen content as a video form to ensure that it can be used over and over again. Sure, there is content that you would not be able to constantly reuse them but it doesn't mean that you are not able to repurpose them for future usage.
This means that the old videos can be used as parts of the series or used to further enrich the information you are sharing.

Final thoughts
Are you ready to maximize and increase visibility on Facebook pages? Leave a comment below and tell me what you think!

See also: Facebook Advertising Trends 2016