We all love the variety in everything we do. Regardless if you are choosing the best iPhone color or creating social media content, variety plays a huge role in your marketing success.
Imagine this… You are an avid fan of a brand on Facebook. On a daily basis, the brand shares dozens of similar posts on its products and services. Now, it may be fine in most cases but what happens when it starts publishing different types of posts? Obviously, you are attracted (even more) to it and wonders what the next thing they will do.
Humanly craves for variety and if you want to be successful in social media, variety is what you need. You need to give your readers something to anticipate with, and different types of social media content will ensure that you reach a wider audience.
So, what are the powerful and highly effective social media content strategies that you can choose from?
Head on down below and let's discuss further!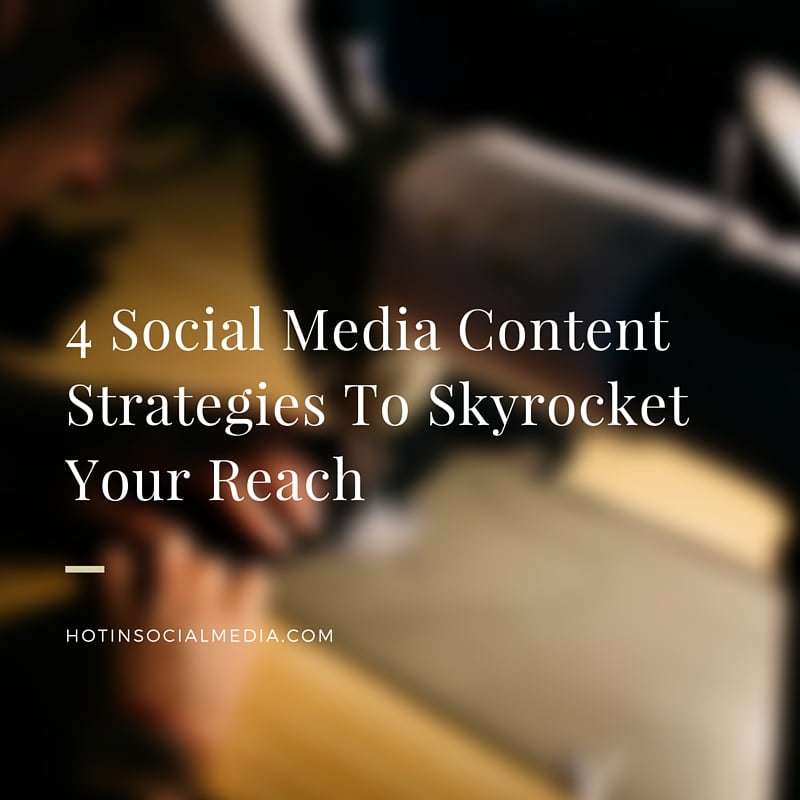 4 Social Media Content Strategies To Skyrocket Your Reach
1. Have some fun with GIFs
Make no mistake, there are many types of social media posts that will attract me but nothing comes close to what GIF can offer.
GIF is also known as Graphics Interchange Format.
GIF is a powerful visual that can be packing with tons of value. If a photo represents a thousand words, so does GIF!
When it comes to GIF, there are two ways to go around that. You can either build your own custom GIF or use existing ones (which require you to scout around).
If you are thinking of going custom, here are several tools to help you kick start your first GIF project:
Building your GIF isn't that hard either. It takes a little time, some try-an-error and of course, creativity. GIF needs to be short but packed with tons of value. Here's one GIF that was published not long ago by NASA:

What's up in the sky this month? Saturn, plus good views of Mars, Jupiter & Jupiter's moons: https://t.co/DtqLrkzAwS pic.twitter.com/TBhvLY5H6d

— NASA (@NASA) June 11, 2016
As you as you can see, NASA doesn't create a nice and compelling GIF, the team took the time to create more information within the GIF to ensure that people are attracted to it even more!

2. Tell your story using Snapchat
Snapchat is the thing and the trend is growing. People use it for communication and recently, marketing! As not many businesses are using it yet, the chance of grabbing the opportunity on Snapchat is very real.
According to L2 (a research firm), there are around 40% of businesses who are registered with Snapchat — when compared to Instagram, 93% of them have accounts on it.
I get it. Joining a new social media platform like Snapchat could be very intimating. There are so many things to learn and in such a short time.
However, that shouldn't be the reason stopping you from doing it.
Need an example? Take a look at Shopify's Snapchat profile. It tries its best to create funny and creative stories on Snapchat to attract users. Here's one that attracted me:


Want some Snapchat tips that are proven? Try any of these four right now:
Create title cards so that it gives a good idea to the readers (for some storylines)
Performing Snapchat-ting with celebrities or authority figures (also known as Snapchat takeovers)
Use URL shorteners for easier tracking (you could use Hootsuite or Bitly for the matter)
Adding some music (groove) to the snaps for more fun and excitement.
3. Going old school with user generated content
If you are in the industry for some time, you would know that user-generated content goes a long way back. As a matter of fact, this is being discussed dozens of times on the effectiveness and strategies behind it.
And if you are wondering if this works, trust me — it does. Take a look at Instagram. User generated content is able to drive (even) more engagement, especially on Instagram.
Now, how does this work? The answer is simple.
Your customers are your heroes of the story. This means the-the content you create circles around them.
If Instagram is your tool of choice, take photos with them, post them and even capture their happy times at your store. Trust me, smiling face and happy times go a long, long way.
Of course, always ensure that they are aware and fully agreeable of publicly publishing their faces on your social media accounts.
This strategy worked like a charm, especially for Buffer's Instagram account. Sharing user generated content a few times a week will generate over 200 likes and comments on each photo. And the engagement is pretty much insane. These followers (whose materials are being shared) will be extremely thankful and you are most probably going to get a die-hard fan for sure. Also, you will be surprised that they start to send you the unique content of their own.
User generated content are great because it doesn't only allow you to interact with your followers, every share will encourage them to further engage with you (simply because you are sharing their content).

4. Infographic is NOT dead
With the recent "boom" of live streaming, the infographic has taken a bad seat in most segments. However, the infographic isn't dead and there is absolutely no reason why you shouldn't be focusing on it.
Infographics are great ways to tell your story in visual. Instead of writing a 1,000 words article, you can do gracefully in an infographic. And if that doesn't convince you, this will: Adding pictures into your message will easily make the message 25% more comprehensible.
There are many tools that you allows you to create powerful (and beautiful) infographic:
Infographics are best used when you want to illustrate (or recap) everything in an interesting form of an image.

Which social media content suits you best?
Choosing the right social media content can be a huge challenge. However, the entire process is often fun because it allows you to participate in various activities. In this case, the activities would be creating GIFs, videos, live streaming and even infographics.
Also, using different types of social media content will allow you to tap various segments which you have never reach out to. For example, the different social media content will allow you to reach more people and audience, thus giving you an edge in your marketing.
So now, it's your turn. Which is your favorite social media content methods and why? Leave a comment below and let's talk about it.

See also: Convert Social Network Audience into Paying Customers