Understanding your audience on social media is more than just important. As a matter of fact, it is extremely crucial especially when you are looking for success in social media.
Sure, there are many social media tools (both paid and free ones) which you can use and as business owners, we are often facing challenges when it comes to choosing the right social media tools.
When you understand your audience, you will discover more information which is extremely important for your business. For example, you will understand their challenges which will help you to create a product or services which are more effective and useful for them. Indirectly, you are creating a product which will solve their problems and boost the sales revenue.

4 Tools To Help You Understand Your Audience On Social Media
Why is "understanding your audience" important?
For starters, you want to create content that resonates with your followers. The right content (or social media marketing strategies) will not only engage with your followers, it will also save you more time and provide better results from your social marketing efforts.
Also, when you understand your audience, you will tend to learn (and understand) the types of social updates which gain the most popularity. For example, you will be able to determine:
The best time to post an update
The best content updates which receive the most engagement
Providing the best solution to their problems
And without much delay, here are the top tools to help you understand your audience on various social media platforms.

1. Facebook Insights
Facebook Insights is an extremely powerful tool, to say the very least. It is said that over 1 billion users are engaging with Facebook on a daily basis.
Apart from that, we know exactly how useful Facebook Insights are when it comes to advertisements. Cookies are tracked when Facebook users use the application or clicking on a specific post.
If you are interested in understanding your audience on social media, Facebook Insights is able to provide you with a lot of advantages.


Facebook Insights is a popular tool to understand your social media audience because it doesn't cost any money to use it and the information is gathered through the billions of users who use Facebook on a daily basis.
Therefore, the accuracy of the information is much better compared to other tools.

See also: Top 10 Facebook Tools For Serious Marketers

2 . Twitter Analytics
If you are a Twitter fanatic, using Twitter Analytics is a must. For starters, Twitter Analytics is absolutely free to use and anyone with a Twitter account could use it.
Here's what you will get with Twitter Analytics:


As seen in the image above, Twitter Analytics will provide a detailed breakdown of your Twitter followers.
There are many segments that you can choose from, such as:
Location
Gender
Interest
Occupation
Household income
Apart from that, reports can be generated based on overview, demographics, lifestyle, consumer behavior and mobile footprint.
When users select either one of the above, the analytical reports will be converted to fit into the specific requirements.
This allows you to have more detailed information and it is also extremely important for planning your social media marketing strategy.
Twitter Analytics also allows you to monitor your follower's growth on a daily, monthly or yearly basis. For me, this is a great way to gauge your Twitter presence. Of course, if you are using the right social media strategy, you would certainly enjoy a better Twitter follower growth.

3. Pinterest Analytics
One word = Powerful
If your business is focused heavily on images, Pinterest Analytics is the way to go. Here's a quick view of the Pinterest Analytics dashboard:


There are several reports that you can generate from Pinterest Analytics, such as:
Country
Metro
Language
Gender
Interests
Personally, I love the Interests analytics where it allows me to understand my audience even better.
Here's an example: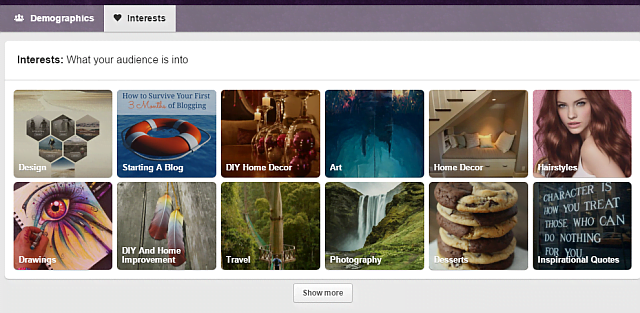 The above shows a list of segments which my audience are extremely interested in.
Can you imagine what you can do with this information?
Apart from that, Pinterest Analytics also provides a list of businesses that your audience constantly engage in.
Here's a screenshot of it:


If you are an affiliate marketer, this information will be golden for you! You know exactly where your audiences are constantly looking at and finding the right product to promote could easily skyrocket your earnings.
If you are a business owner, the above information will share a list of locations where your audiences are hanging out. This allows you to be more focused and targeting the right social media platforms for growth.

4. Hashtag monitoring
Make no mistake. Hashtag monitoring can make or break a business.
In hashtag monitoring, you need to identify and follow the right hashtags for maximum impact. There are thousands of hashtags used in a specific industry or segment and monitoring every one of them is literally impossible.
Instead of targeting various hashtags, you need to focus (and use) the right hashtags. For example, there could be 100 hashtags used for a specific topic but only a few of them are extremely popular.
Therefore, using the right hashtags will increase your visibility and as well as keeping close loop on things your audience are sharing. For example, challenges and problems they may face.
If you are looking for tools to monitor hashtags, consider using Hashtagify.me as it is one of the best in the market. Not to forget, it is also free to use!
This tool allows you to listen and discover trending hashtags. In other words, you are able to target your audience using the right hashtags.
If you are an avid social media marketer, consider integrating information from Hashtag if to third party tools such as Hootsuite and Buffer.

Conclusion
There are many ways (and tools) that you can use to understand your audience. Of course, it boils down to your target segments, social media platforms and even budget.
But the fact remains the same. Having the right tool will help you understand your audience on social media and this step is extremely crucial when it comes to growing your business.

See also: 9 Social Media Tools To Handle Social Media Like A Pro