According to HubSpot, over 63% of all content shared on social media involves one or more images. The saying of, "a picture represents a thousand words" is extremely true here.
Images don't only express more than what words could do, it also leave a huge impact in our mindset (and that you will bring it with you for some time after seeing the image).
And if you are still not convinced that you should build a visual image of your brand on social, here are some serious facts that you should know:
Did you know that users are more likely to reshare or repost a video they see online than just a status update?
Content that has images, usually receive 94% more views (and engagement) compared to content without images
Tweets with images included get 150% more retweets
Potential customers are more likely to engage with companies that have images that appear in search (hint: Google search)
Believe it or not, visual marketing is important for your business. If you are planning to grow beyond your current state and compete with your competitors, you got to be ready to build a great brand, visually.
So, below are three straight and highly effective strategies to integrate visual marketing into business. Remember to share this around if you find this useful!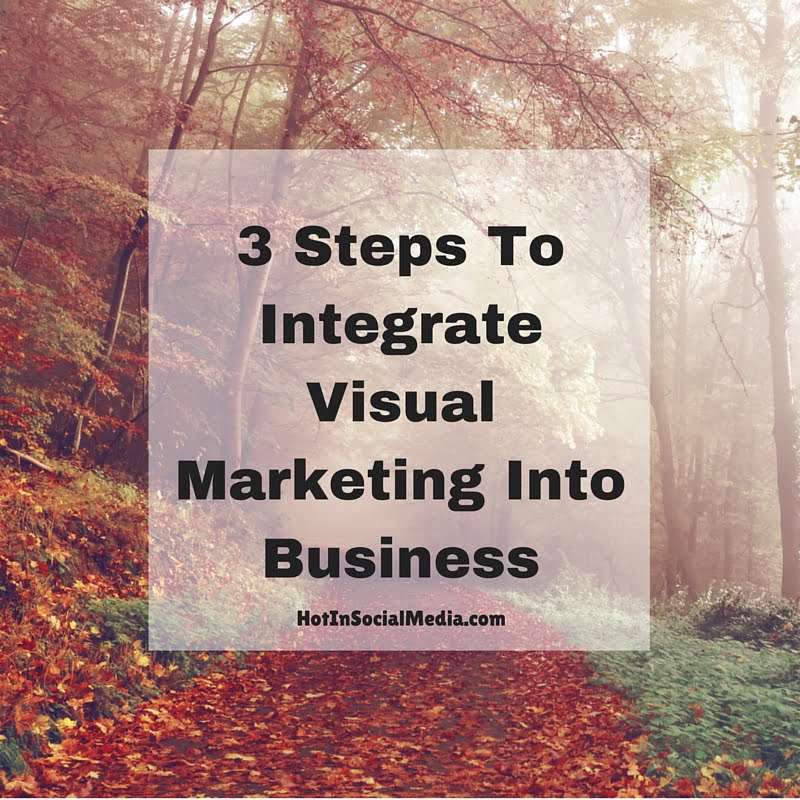 3 Steps To Integrate Visual Marketing Into Business
1. Visual images – getting the basics right
Yes, the first step for any form of marketing is getting the basics right. For starters, you need to have several visual images ready for your marketing plan (whatever they could be) which are:
Official brand images
Stock photos
Photo editing software (optional)
Official brand images
This is really simple. You need to have brand images up and running. If you don't have one or you are still unsatisfied with the current one, you can head over to sites such as 99designs or Fiverr to find for freelancer specializing in image building.
Make no mistake with brand images as they represent your brand in both the online and offline world. It is always recommended not to go on a small budget when it comes to images.
Stock photos
Stock photos are extremely important in creating visual images.
Most of us are using images found on Google … and trust me, that is not recommended at all. There are many royalty free photos services out there that provide excellent images as well as images that will resonate with your customers.
Photo editing software
Tools and software are not entirely vital but having them would ease your work by miles.
These tools will help you perform simple and complicated photo editing that will make the image stand out from the crowd.
A few examples of photo editing software are Cyberlink PowerDirector and Adobe Photoshop.

See also: Top 5 Visual Marketing Apps To Create Social Media Graphics

2. Understand the types of visual that attract your customers
Visual marketing is just like any other marketing out there. You are marketing a product (or products) towards customers.
And when it comes to visual marketing, you need to understand what 'tick' your customer the most.
There are many forms of visual that you can choose from, such as:
Gifs
Memes
Video
Infographic
Standalone image (single image like featured image)
Once you have figured out what attracts your customers the most, the next step is to create a working strategy. You can find more on this in the next point.
Understanding what your customer needs is important as without strong understanding, you will be wasting a lot of time, money and effort into marketing strategies that will provide very less or no return at all.
How to determine what form of visual attracts your customers?
This requires a little analysis and monitoring. To be exact, social media monitoring.
One of the simplest steps is to check on your competitor's fan page. Are they constantly sharing images, video or any form of visual? If yes, what are the engagement level (track them base on likes, retweets, reshare, views and comments).
Another step is by running several tests on a weekly or monthly basis on your own social accounts. Analyzing your own social profile would take a long time (and lots of hard work). Therefore, using tools such as Hootsuite and Buffer would save you a lot of time.

3. Creating a visual marketing strategy to stand out
Strategy is everything in marketing. The right strategy allows you to reach out to a bigger audience while improving your revenue and sales. The opposite happens when wrong strategies are used and implemented.
So, how do we actually create a visual marketing strategy to stand out from the crowd?
This part relates very closely with the above. Here, you would need to identify and diversify your marketing strategy.
For example, there are several different criteria you can use in visual marketing is time and type of visual used. Using tools such as Hootsuite, you will be able to publish content at times where a majority of your customers are online (on social). Always remember that publishing content at the right time is the most important (instead of the number of times you publish).
In types of visual to be used, analytics reports from the third party social media tools could give you an idea on visuals that are the most appealing to your fans and customers. As said, several gauge would be the number like likes, comments and reshares that you had obtained.
At the same time, analytics also allow you to read trends. For example, you may get more engagement on video during the weekend compared to weekdays and, more memes and gifs are reshared on weekdays compared to weekends.
When this happens, write these findings in Excel (Google Docs or any relevant note taking tools) for future usage. These are very important information which can double and triple your marketing effort with very minimum effort.

Before we end …
I have several questions in mind and I hope you can answer them for me. Here are two of the questions:
Is your business focusing on visual marketing (yet)?
If yes, what is that one strategy that you will constantly use in every visual marketing effort?
Leave a comment below and tell me what you think.

See also: 5 Instagram Tools To Skyrocket Your Visual Marketing