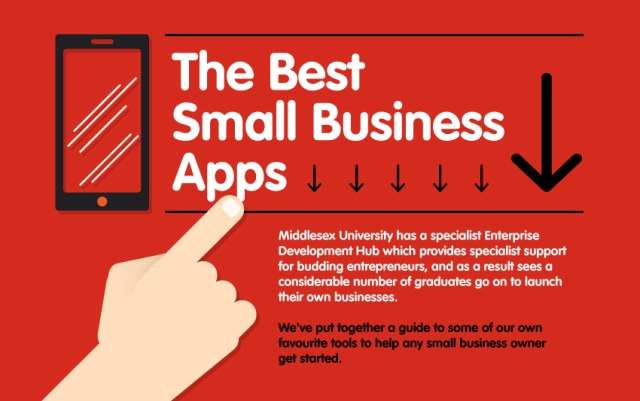 When you are at the beginning of the road and you have a small business to grow, is important to have some smart solutions in your pocket.
There are a lot of tools for your business, but the team from Middlesex University Business School put together 20 Best Apps for Small Businesses into one practical Infographic.
This 20 BestApps for Small Businesses were divided in 5 categories
1. Paperwork
The 6 paperwork apps are:
– Abukai
– FreshBooks
– QuickBooks
– Kashflow
– One Receipt
– SignEasy
2. Sharing &  Communication
Here are 5 sharing & communication apps that will help you to maintain communications even when you are not in the office
– HyperOffice
– You Send It
– MailChimp
– Pinpointe
– Air Sharing
3. Security
Below are 3 apps that will help you to keep your data and your contacts protected from intrusion and system failures
– Fing
– KoolSpan TrustCall
– Mozy
4. Software
3 software apps that you must be aware of
-Tribe HR
– Zendesk
– Resumator
5. Other clever apps.
Other best apps for small businesses than you can install and use in order to maximise your working time
– Shopify
– FormMobi
– Win8 Metro Testbed

Which of this apps have you used it already?