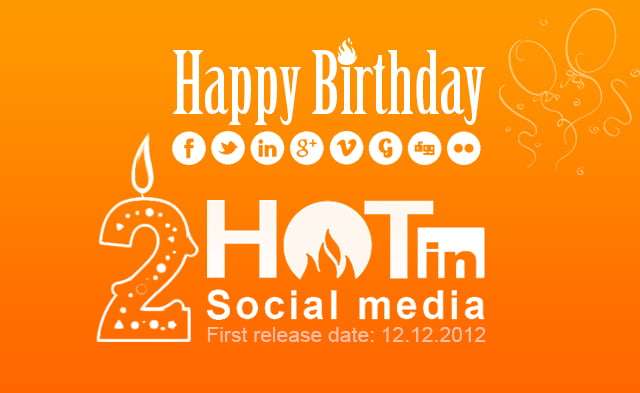 Today (December 12, 2014) we celebrate 2 years of Hot in Social Media. We are still on the beginning of the road with this project but, we make progress in all areas. Below you can find some figures about what we have achieved in this 2 Years of Hot in Social Media:

16.000+ followers from all our channels
900+ images
460+ articles
70+ passionate contributors
Top 10 Most popular articles in 2 years of Hot in Social Media:

1. Tips for Writing the Best Instagram Captions
2. 10 Things to Never Do on Instagram
3. Devil Baby Attack: Viral Campaign Of The Week
4. 6 Rising Social Media Networks to Keep an Eye on in 2014
5. The first 10 people who have made a Facebook account
6. 2014 Social Media Marketing Trends to watch for
7. How Often Should You Change Your Social Media Profile Pictures?
8. 30 Top Social Media Monitoring Tools You Need to Try
9. 6 Lessons from Miss Indiana: How to Become a Social Media Phenomenon
10. 4 Free Infographic Tools To Make Your Posts Visual

We are working on some useful articles regarding the social media trends in 2015. Also, in a couple of days will be publishing our first infographic with the most important social media news in 2014.
What is the hottest social media news from 2014, from your perspective?