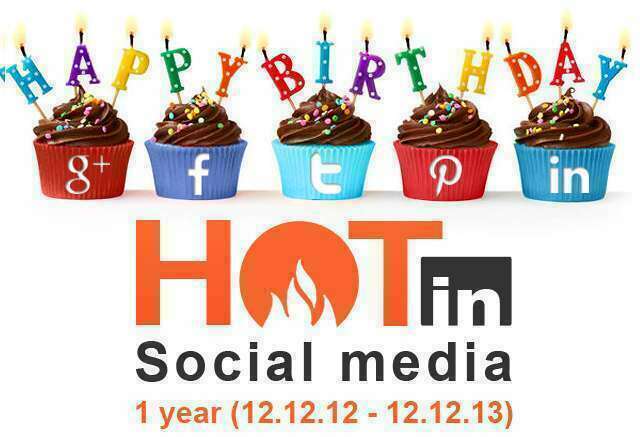 Today (December 12, 2013) our blog: Hot in Social Media celebrates 1 year since we started to write articles about the latest news and trends in Social Media.
Below you can find some figures about what we have achieved working with passion, mostly in our spare time, in the past year:
210+ articles
440+ images
21 passionate contributors
3600+ followers from our social media channels
We have been trying to collect news and useful information from the Social Media. Here are the Social Media topics you will find on our site:
– Social Media News                                         – Social Media Tops
– Useful Tips                                                        – Social Media Events
– Recommended Tools                                   – Infographics
– Contests                                                            – Social Networks
If you have a passion for Social Media and for writing articles, you want to share your knowledge and want to be one of our Hot in Social Media Contributors, please read our write for us page and contact us as soon as possible.
The Top 10 Most popular articles from HotinSocialMedia.com in our first year of activity have been:
Top 6 Social Media Monitoring Tools
5 Ways to Get More Followers on Twitter
A Viral Facebook Campaign raise 1 Million Likes in seven hours
Effective Ways to Promote Your Blog Through Forum Posts
How to find the right Father's Day Gift with Pinterest?
How many of my Twitter followers are fake?
How To Replace Gmail Ads With Social Contacts
14 Ways For Viral Sharing On Facebook
10 Most Useful Twitter Keyboard Shortcuts
The first 10 people who have made a Facebook account
What do you think we should do to improve our blog so that it continues to grow every month? Give us a reply in the comment box below.
See also: 15 Things You Didn't Know about Google on Their 15th Birthday