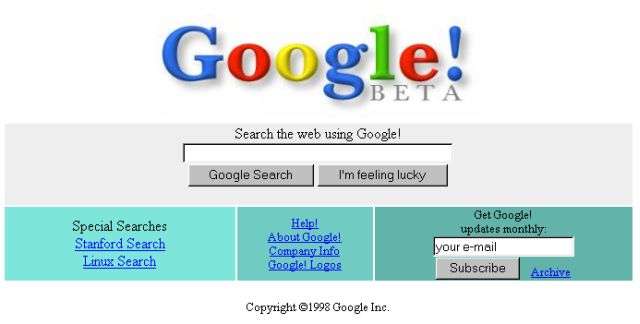 Google is celebrating 15 years today. There are a lot of interesting things around this tech giant but we gathered 15 things you didn't know about Google on their 15th birthday.
Which of the things below are the most interesting in your opinion? Give us a reply in the comment section below the list.
15 Things You Didn't Know about Google on Their 15th Birthday
1. Although the two founders of Google: Larry Page and Sergey Brin began working together on the search engine in 1995, the company was founded on September 4, 1998
2. Google was originally named BackRub.
3. Google's original homepage (the image of this article) had a simple design, because its 2 founders were not experienced in HTML language
4. Google's first employee was: Craig Silverstein who was Director of Technology at Google until last year, when he left the tech giant (2012).
5. The "I'm Feeling Lucky" button, which takes users directly to the first result of their search, cost Google about $100 million in lost ad revenue every year.
6. Google has acquired an average of one company every week since 2010, Waze was Google's last big acquisition for $1 Billion (June 11, 2013).
7. You can use Gmail in more than 50 languages, including: Malayalam, Telugu, Welsh, Basque, Tagalog etc
8. Google founders Larry Page and Sergey Brin own just 16% of Google and their combined net worth is around $46 billion.
9. Almost 1,000 of Google's employees became millionaires when the company went public in 2004.
10. Masseuse Bonnie Brown is one of those millionaires who worked at Google,  giving back rubs for $450 a week back in 1999.
11. In 2009, Google rented around 200 goats for a whole week to eat the grass and fertilise the soil at its California headquarters.
12. The first Google doodle was a Burning Man symbol. This first doodle was added by founders Larry Page and Sergey Brin in 1998 to let users know they were away from the office in that weekend (they went to the Burning Man festival).
13. Almost all of rival company Mozilla's money comes from Google: they pay $300 million every year to be the default search engine on Mozilla's web browser Firefox.
14. A new Google employee is known as a "Noogler" and a former employee is named: "Xoogler".
15. Larry Page's brother: Carl, helped the start of the eGroups.com company in the 90s, who was acquired for almost half a billion dollars by Yahoo (2000).
On the same topic:  Getting To Know Google (Infographic)