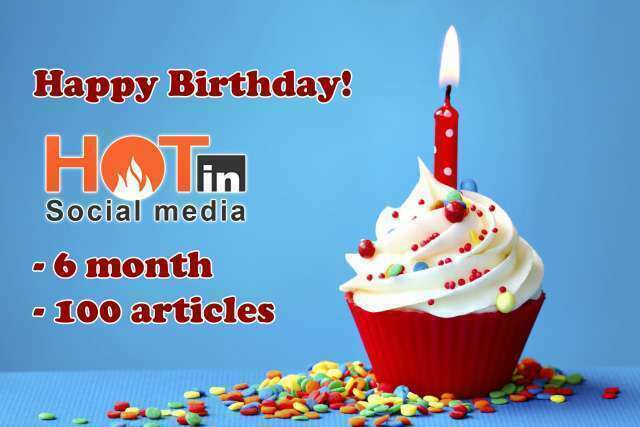 Today (June 12, 2013) HotinSocialMedia.com celebrates 6 month from when it was original launched. This is the article with the number 100, so is a double celebration for us. We are still at the beginning, but I really like to think that we bring some value in our posts and together with you, social media lovers, can put a little social feeling in everything.
Below you can find the most important Hot Social Media News, during this six months of HotinSocialMedia.com in a chronological order:
'Gangnam Style' passed 1 Billion Views on YouTube
LinkedIn crossed 200 million members
A Viral Facebook Campaign raise 1 Million Likes in seven hours
Facebook Graph Search will be the most important search engine on internet?
Make short videos with Twitter's Vine
Viral Video of the week: Paperman
Instagram passed 100 Million Active Users
3 Important Updates for Facebook News Feed
Pinterest New Look For Everyone
YouTube Passed 1 Billion Monthly Users
Facebook Finally Add 'Reply' Option to Comments
Twitter For Business Or What Can Your Business Do in Just 140 Characters?
Facebook Home – Facebook take control over Android Phones
Google+ New Look with 3 Major Updates: Stream, Hangouts, and Photos
Yahoo bought Tumblr for $1.1 Billion
Facebook Launches Verified Pages For Celebrities
10 Years Of LinkedIn (Infographic)
Google Bought Waze for $1 Billion
Facebook Finally Introduced Hashtag