You just 'hit published'. Well, a job well done and Google is going to start sending traffic over to your blog post.
In most cases, you won't see a traffic spike. Unless you are publishing on sites like Entrepreneur Magazine or LifeHacker, chances are you will get just a couple of visits, some spike on the second day and it will go flat line after the third day.
That my friend, is a sad reality of most bloggers. There are over 500 million blogs out there and 2 million blog posts are published on a daily basis.
You-are-going-to-fail … if you don't follow these steps to promote your latest blog post.
For starters, anyone can start a blog. Fire up a shared web hosting on BlueHost could cost you less than $5 a month (plus, they give you free domain as well~ yipee!), install WordPress and some plugins. Next, write some 600 – 800 words article and publish them.
That's how fast you can start a blog and there goes your blogging journey.
This post is all about bite-size traffic generation methodology which I use to promote my new posts … every single time without fail. Carry on reading and tell me what you think.

10 Useful Ways to Promote Your Latest Blog Post
1. Write really good content
It doesn't matter if you are writing an article for your own blog, or guest posting. You need to write d*mn good ones.
With thousands of blog posts (or millions in this case), reader's don't have time to read every single word. So, get used to writing good content.
And it doesn't have to be in English. Write in the languages which you are comfortable with. You will perform better that way, trust me.

2. Sharing on Facebook
Facebook is visited by over 1 billion users daily and there is absolutely no reason why you should't be active in it. But here's the real deal; getting noticed on Facebook is tough unless you go for paid ads and it could cost you a lot of money.
Focus in getting engagement for every post of yours. And for that, ask questions and engage with your followers. The more 'actions' you get on your Facebook post, the easier (and more chances) for your post to visible on their Timeline.
Facebook algorithms work in a very simple manner. Engagement in the form of likes, shares or comment. Take a look at this post I did recently on Facebook.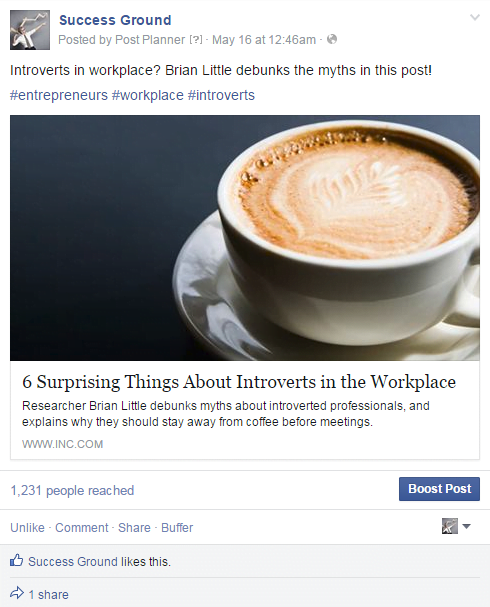 This post had one share (yes, only one) but it reached over 1.2k readers, 85 clicks and a few direct engagements (likes, share and comment).
Did the traffic skyrocketed? Go figure 🙂

3. Promoting to Twitter
Twitter is still my number one source of traffic after Google. 140 characters make you think out of the box and find more ways to generate traffic (and traction) to your blog post.
In terms of social media platforms, Twitter allows you to reach more people and the algorithm is much easier to determine. More retweets = Bigger win.

4. Promoting posts on Google+
Google+ is (still) here to stay and you got to be really smart to get more engagement over there. And to be honest, only a few who really able to pull it through.


Take a look at Rebekah's post. She has:
Bolded headlines
Summary in italic
Description of the post
Powerful image
And the number of engagement are 59 pluses and 20 shares.
Does this give you a quick understanding on how to promote your post?
For many, Google+ is dead but the truth it, it is not … at least for now. You got think out of the box if you want to be successful in various social media platforms especially Google+.

5. LinkedIn for targeting corporate industry
If you are targeting B2B readers, LinkedIn is the right one for you. Unlike other social media platforms, LinkedIn is all about sharing your expertise (not your blog post).
Once the momentum is gained and you build an 'influencer' status in LinkedIn, you can start getting involved in LinedIn Groups and share just your best posts with them.
Some studies also conclude that LinkedIn generates more quality clicks compared to any other platforms.

6. Triberr
If you have not used Triberr, you are losing out especially in promoting your blog posts. You need to:
Create an account (it's free)
Create a profile (a good one)
Add your RSS feed
Join various Tribes (or groups as layman called it)
Once you are accepted into a Tribe, you have to apply to become a member before your post would be visible to the rest.
The magic happens when you are a member and your posts will then be shared across other tribe member's social account. Imagine the number of shares you can get just by publishing one post.
A few hundred or thousands to be honest (and if you join the right Tribe).

7. Blog syndication network
Syndicating your blog post across various platforms is vital. A few great syndication networks are:
Syndication allows you to reach targeted audience and if you have selected the right category for your blog post, you can easily gain traffic from them.
At the same time, blog syndication is also an excellent search engine (SEO) strategy because if you gain enough engagements, you will enjoy some page rank value from the original site.

8. Use IFTTT
Do you have multiple social media accounts? I bet you do and I totally agree that sharing each post on them is time consuming.
At times, you may want to throw your keyword away because of that!
IFTTT allows you to automate actions (you can read more on: automation using IFTTT). I use IFTTT to ping my blog and send it across various social platforms such as:
Tumblr
Yammer
Digg
Reddit
Delicious
Diigo
Sina Weibo
And yes, this can easily be done once and 'forget'. The automation will work for months (and even years) which is pretty, plain awesome.

9. Promote using Buffer and Hootsuite
There are still social media sits like Facebook, Twitter and LinkedIn where you want to manually share them. In this case, use Buffer and/or Hootsuite to ensure that your posts go out at the right time where your followers are mostly active.
Sharing posts is pretty simple (you can use browser extension or the web apps) for the matter.
A comprehensive guide on Buffer and Hootsuite can be found here and here.

10. Video marketing
Do you know that video marketing is a great way to promote your latest blog post. Through my own case studies, blog posts with video in it actually generates better search ranking especially on Google.
And instead of counting mainly on Google search, you are also leveraging the power of YouTube or Vimeo video search.
I recommend using video to promote your post because it helps to put a voice behind the blog post and create more 'humanized' reaction.

How do you promote your latest blog post?
I want to hear what you have to say about this. Leave a comment below and let's discuss further!

See also: Top 10 SEO Tools You Should Be Using In 2015