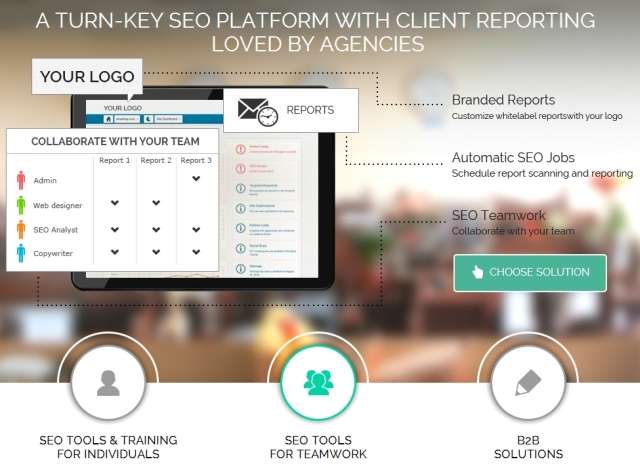 Compelling internet presence is all about keywords. It brings traffic, converts visitors into customers and increases domain value.
One of the prime tools to measure the success of your SEO campaign is somewhat still based on your keyword ranking, after all the clients demand it. Depending on your requirement, we have research 10 Best Paid and free tools which includes software as well as some of the online tools out there. Here is the list:

Search Engine Position is a nifty little tool which simply asks you to enter the website name, select the search engine, and limit the number of search engine result pages.
Next, you need to type in the keyword which best describes your website or target your competitor's domain/keyword combination. Click the search button. The website/page rank displayed reflects the influence of your keyword's.

SEM Rush offers an all-in-one solution for your page and Ad ranking requirements. It offers comprehensive information which focuses on competitor's organic position. It searches for the most influential keywords and delivers comparative data in graphical format. It penetrates deep within Google and Bing SERP's offering relevant organic data vis- a -vis your competitors and your own standing.
SEM Rush is used to track large number of organic keywords which can be based on domain name level as well as inner pages. This broad based page tracking translates into high organic traffic. With SEM Rush it is easy to measure the value of organic traffic and the net worth of the concerned domain. Its complex algorithm tracks an array of metrics and data to provide a near perfect standing and keyword worth.
Keywords are tricky. What works for one website might not work for others. SME Rush offers information about how successful a specific keyword is for a particular domain.
Visually pleasing graphic reports is a treat. Compare several domains based on filtered metrics of your choice.

Simplicity is the hallmark of this tool. Keyword search and ranking is quick and the results are presented on the same page as URL's and that too for multiple search engines.
Search engine optimization goal is straight forward; to find a place in the first three pages of search results. This goal is typically achieved through manipulation of several metrics; prominent among them is keywords. Finding the right keyword for your website may take time and may require tracking regularly till the desired result is achieved.
This is where Keyword Position Tool comes into the picture.  A user needs to enter the domain name, keyword and the search engine for which the results are desired. That's it!
However, this tool doesn't offer help pertaining to several AdWords metrics such as ads traffic, ads traffic price, PPC keywords etc.

Are your looking out for the following features in your keyword tracking tool?
Profitable keywords for your website.

Website and inner page ranking.

Ranking across several influential and popular search engines.

SEO data, organic data which are not overwhelming to interpret.
If your answer is yes then look no further. Rank Tracker does all the above and more. Rank Tracker is available in two flavors; professional version for $99.75 and enterprise version for $249.75.

 Simply fire up Rank Tracker, and see the results in various filtered format, including graphs and charts. Apart from the above features Rank Tracker also boasts keyword search frequency, their influence, its relevance and several crucial metrics.
 
Page rank checker is for those people who want to check their page ranking and track keyword rankings regularly. Page rank checker offers buttons which can be embedded in any <HTML> document and therefore the search can be initiated from any where. No need to visit the parent site.
Add one to your site or demo page for regular page rank chore. It is free and easy to use.  The PR checker tool enables you to check the current page rank of your web site instantly through an intuitive form.

This enterprise class, web based keyword and page tracking application is available in several flavors; Enterprise, Pro-plus, Pro, Plus with price tags of $450, $225, $99, $49 respectively. However, it is free to sign up.
Mentioned below are some of its salient features.
Users can add multiple domain names and pages. It depends on the type of account held.

Track thousands of keywords for each domain and get ranking on daily basis for your preferred search engine.

Domain group tracking allows users to keep a watchful eye across several domains of similar type, track and monitor competitors popularity and also scan across multiple countries.

It offers an insight into the competitor's working, an essential chore for a successful SEO campaign. Add their domain name and the keyword similar to your own website and see what makes it tick.
CuteRank is a keyword tracker free tool which measures the position and the ranking performance across multiple search engines.  It offers several compelling data which makes keyword tweaking a joy. One of the best tracking tools which incidentally is free and absolutely safe to use.

Yet another best keyword ranking tool and for track keywords is RAVEN. It tracks ranking from Google and Bling, compares organic data, and presents the information via reports. Raven also compares and analyses Adwords. It offers feedback about your performance in search engines, allowing you to tweak keywords and improve your standing. It offers a 30 day free trial.

Keyword Spy is a great tool to study and compare what your competitors have been using in their Adword campaign. PPC keywords can save a lot of money and also enhance ROI. In short, KeywordSpy is an amazing tool to create ad campaign by analysing Ad-copies of your rivals. It also offers other information such as statistics, budget and affiliates.

Web CEO offers all that is required of keyword ranking software; compare competitor's website and keywords alongside your targeted domain. It also offers country based results targeting different search engines.

Which is the best keyword tracker tool from your experience so far? Give us your answer in the comment box below.

See also: SEO PowerSuite Review – The Complete SEO Package